About WinTeam
WinTeam is a cloud-based enterprise resource planning (ERP) solution, which helps janitorial and security service contractors manage the productivity of employees and handle financial operations. Features offered are attendance tracking, budgeting, bank reconciliation, real-time updates, benefits planning, and reporting. Supervisors can use the scheduling feature to manage work tickets, view upcoming tasks and track overtime scenarios. WinTeam also lets HR managers record employee details, track absences/time-off, configure benefit plans and monitor training requirements. Using the analytics module, professionals can view performance via charts and graphs and discover growth opportunities based on revenue generation, budgets and more. WinTeam offers integration with multiple third-party applications such as ADP, Avalara, FileBound and Kwantek through an API infrastructure, Concourse. It comes with mobile applications for iOS and Android. Pricing is available on request and support is provided via phone, email and documentation.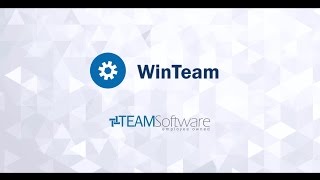 WinTeam does not have a free version.
Starting Price:
Not provided by vendor
Industry: Facilities Services
Company size: 51-200 Employees
Used

Daily

for

2+ years

Review Source
---
Great software to run my entire business
Overall, Winteam has helped me streamline my back office, while also controlling things in the field. It has saved me money by allowing me to in-house payroll and by preventing the timecard errors we used to have when our employees were filling out timecards by hand. The alert system allows me to know if a building is not being cleaned, so that one of my supervisors can handle the issue before the customer opens in the morning, so that we never have a client going without service, even if their regular cleaner can't get there.
Pros
I love that Winteam designed a software specifically for my industry. From estimates & scheduling to timekeeping, payroll and invoicing, and even benefits management tools, this software can handle every aspect of my commercial janitorial company.
Cons
I would find it very helpful if all reports were able to be printed. Not only do I find it a bit difficult to design custom reports, but some things simply cannot be printed. Also, the accounting piece is not as simple as something like Quickbooks. I can really drill down into the nitty-gritty of every aspect of my company, but I need my accountant to help me do it!
Industry: Facilities Services
Company size: 51-200 Employees
Used

Daily

for

2+ years

Review Source
---
RCS
Pros
The modules are laid out very similar so it makes it easier for set up. The system makes it possible for many people in the organization to have important information at their fingertips. The reporting functionality is pretty good. We especially have liked the ease of payroll with timekeeping and different pay rates. The ability to do alot of customization has been both a pro and con. We have figured out many ways to customize the software for several areas of our business to have benefits.
Cons
Ehub frequently has issues. Many of our end users are not tech savvy so it causes a lot of training issues.
Updating to GL for all transactions can be tedious. Reporting is pretty good but paying extra for BI has made a big difference. It would be nice if that was just included in the software price. The ability to do a lot of customization has been both a pro and con. It dies often make more basic processes more difficult than they need to be.
Industry: Facilities Services
Company size: 1,001-5,000 Employees
Used

Daily

for

2+ years

Review Source
---
What is not new
Team has a good mobile application for payroll logging. This is not unique today with a lot of competition and user interfaces that are just as robust or more so than Team.
Pros
integrated package with a mobile platform that ties payroll with accounting functions.
Cons
Lack of HR package and the partner is not a viable solution. Platforms need to be updated with emphasis on user ease with analytical capability in all applications. BI is not a solution and requires the software provider to work with users to develop analytical reports. Of course that is also an opportunity to charge the user additional fees for something that should be part of the package. This is very yesterday in feel and use. Other software platforms are more robust and have many more features as a standard.
Industry: Facilities Services
Company size: 201-500 Employees
Used

Daily

for

2+ years

Review Source
---
Payroll made easier
I love their customer service - they have an excellent response team to help with any problems that arises. I also like the Software Academy where I can log on at anytime and teach myself how to use a module or learn how to do something I have not done yet.
Pros
WT Software has made my job with payroll so much easier - we went from paper time cards to a much more accurate way to provide information and a time saving process of collecting the data
Cons
I came from a QuickBooks background and I did like that I could produce a Form 940 and 941 from the system - it's a feature that I would like to see from WT
Industry: Facilities Services
Company size: 11-50 Employees
Used

Daily

for

2+ years

Review Source
---
WinTeam
Business Intelligence option in a game changer for date reporting and analysis
WinTeam is only as good as the work you put into it, garbage in/garbage out. The initial set up of things is cumbersome but if you take the time to do it right then day to day use is worth it.
Customer Support and WinTeam employees are top tier
Pros
The amount of date you can get out of the system and its ability to be more customized and tailored to our business needs
Cons
Canned reporting sucks. AP module hasn't been improved in many years. Many of the modules do not talk to each other causing duplication of work.