About Adobe Connect
Adobe Connect is a web conferencing software solution used by companies for conducting online meetings, webinars and training sessions. The solution is for adhoc collaboration as well as planned online meetings. The solution enables online audio and video collaboration across devices (including mobile platforms). Participants using desktops can join meetings without installing any software. Adobe Connect Webinars offers features such as email integration and conference rooms that can be customized by users. The application also includes visualization tools such as polls, chat, whiteboards, and a console for mixing video streams for increasing participant engagement. Adobe Connect has a web-based learning solution designed for interactive training. Presenters can monitor participant engagement, create persistent virtual classrooms, and integrate the software with an existing learning management system (LMS). Features such as games, quizzes, tests, and surveys allow businesses to use Adobe Connect in place of learning management system (LMS). Trainers can train employees directly from their mobile devices. The software is available for a limited period free trial.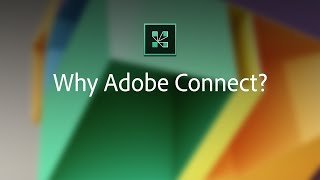 Adobe Connect has a free version and offers a free trial.
Starting Price:
Not provided by vendor
Alternatives to Adobe Connect
Industry: Hospital & Health Care
Company size: 1,001-5,000 Employees
Used

Daily

for

1+ year

Review Source
---
A very sophisticated software and with the best options to make videoconferences.
Adobe Connect is one of the best options available on the market for high-quality video calls and video conferencing that meet demanding business standards. Using this software in my work I have improved my communication channels with both our patients and staff. In addition, we use this software for the training of personnel through formative videoconferences on preventive health, medical safety, improvement and care for our patients and other aspects. I recommend that you acquire this software and apply it in your work.
Pros
I use this software very regularly in my work, as it is one of the most efficient web videoconferencing platforms I have ever used. With Adobe Connect I can quickly establish communication with our clients and co-workers thanks to their wide conference rooms, which I manage by activating a password which I distribute to the participants of our meetings. Another very positive factor of this software, is the quality in audio and video in their videoconferences, the best. Adobe Connect has one of the best video conferencing systems, ideal for training personnel and to establish contact with customers and co-workers who are in other cities nationally and internationally. This quality offered by this software has perfected our work dynamics, improving the scope of our work and our business competitiveness. The communicative environment offered by this software is one of the best because you have the videoconference room and you have an interactive chat where you can add comments, upload search links, attach documents and much more. In addition to all of the above, Adobe Connect offers you an application that you can use on your Smartphone and use Adobe Connect anywhere you have an Internet connection.
Cons
It's such sophisticated software that you'll need a computer technician to make the necessary configurations to use the software at its maximum capacity. Apart from this difficulty to use it I have no more negative aspects to mention of this software.
Industry: Education Management
Company size: 51-200 Employees
Used

Daily

for

6-12 months

Review Source
---
Adobe Connect - Live Conferencing Tool
The tool is excellent for my job as a tutor, which is to relay and clarify information.
Pros
The software allows for files to be uploaded to the server for the group to download. For a business presentation this can be invaluable for distributing notes and plans. The boxes in the presentation are organized into 'pods,' which are used to organize and present certain information. The pods can be customized to your liking. The software is able to record the presentation for future review and use.
Cons
The software requires a strong internet connection in order to work. Some features such as voice connection does not work all the time. A way around this flaw would be to use a voice conference phone number as a back-up or initial plan for recording voice.
Industry: Writing & Editing
Company size: Self Employed
Used

Daily

for

2+ years

Review Source
---
Good
I like it .it's help me my daily work
Pros
Photo editing options is my favourite things in this software.when I use it my photo quality is better than any normal photo.
Cons
Normal I like it very much.And it's help me a lot
Industry: Primary/Secondary Education
Company size: 11-50 Employees
Used

Daily

for

2+ years

Review Source
---
Online teacher using Adobe Connect as virtual classroom
After using Adobe Connect for 3 years on a weekly basis, I have a appreciation for its potential as an educational tool, while a frustration with the severe limitations and lack of functionality. I can tell this is a program meant first and foremost as a tool for meetings, and I cannot endorse it as a regular digital classroom until some of the above issues are addressed.
Pros
Relatively straightforward to use. Allows for stable use of audio and visual communication with large groups. Layout feature makes transitioning between different topics smoother. Downloadable apps allow for the potential for customization. The recording and attendance function make disseminating information easy. Mobile apps allows for more diverse applications. Breakout rooms are an excellent tool for small group learning.
Cons
Base functionality is extremely limited. Notepods don't even have the sort of text modification present even in e-mails or notepad programs, making them extremely limited in use in a classroom. Most educational tools are locked behind a pay wall. The inability for more than one person to write in a notepod hinders collaboration. Inability to use presenter only area while in breakout rooms causes problems. The white board function is virtually unusable due to poor interface and inability to switch between functions smoothly. PDF files require constant resizing to get to a point where they are readable, and often have lots of wasted dead space. Word Files cannot be shared at all. When screen sharing it is difficult to access the functionality of the room itself. When using link pods, one person clicking the link opens it on everyone else's computer. There is severely limited flexibility when it comes to learning options for a classroom, especially for creating interactive experiences, such as games or worksheets. Private messages cannot be seen by the host, allowing students to talk to each other without supervision creating a risk for bullying and off topic conversation, and while private messaging can be turned off in the main room, it cannot be in Breakout Rooms, and turning off private messaging makes it difficult to provide SPED support to students without drawing the attention of classmates.
Industry: Computer Software
Company size: Self Employed
Used

Weekly

for

6-12 months

Review Source
---
Sophisticated and Great Video Conferencing Tool
It is one of the best tools I have personally come across, even given its drawbacks. It helps maintain a consistency in the product delivery and by far, I have not faced any major problems. I would certainly recommend this over the competition.
Pros
The software stands out in comparison with competition as:
- Quickly connect with clients and co-workers inter large conferencing rooms with a password protection.
- You can chat and do video conferencing simultaneously - you can share links, and even upload documents
- Pods - the software allows us to upload files into the server which are organised or grouped together for easier downloads. These are highly customisable.
- Easy to do recording of sessions and has a special attendance (roll count) section for better customer use
- Has a great playback quality enabling better recollection for later.
Cons
Though a very straightforward software, it has its own challenges:
- It seems very cluttered to begin with. You have to do customised re-arrangement for better visual appearance.
- Sometimes it randomly removes people from the conference room. It was a major issue in the beginning but seems to be improving with time.
- There is a problem with uploading certain files like word document, while some like pdf documents need to be resized constantly.