About Screencast-O-Matic
Screencast-O-Matic is a video recording and editing solution built for schools and workplace teams of all sizes. This solution can be used by schools with distant/blended learning environments. Educators can use Screencast-O-Matic to create video content for lessons and assignments. Additionally, this solution can be used to help teams that work in HR/training, marketing, product development, and others to create videos that require screen recording capabilities. Editing tools include zoom in/out, highlight areas, adjust colors, create video transitions, plus more. Users can also import voice narration, add music to videos, and create video playlist channels with password-protected access. A secure video backup feature is also available. Screencast-O-Matic offers a mobile app that is compatible with iOS and Android devices. Videos created with Screencast-O-Matic can be published directly to YouTube as well as saved to online platforms like Google Drive. Pricing depends on the number of computers with access to the platform and is on a monthly subscription basis. Technical support for Screencast-O-Matic is available via online guides and video tutorials.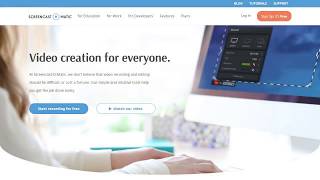 Screencast-O-Matic pricing
Screencast-O-Matic has a free version. Screencast-O-Matic paid version starts at USD 1.65/month.
Starting Price:
USD 1.65/month
Alternatives to Screencast-O-Matic
Screencast-O-Matic Reviews
Industry: Retail
Company size: 2-10 Employees
Used

Monthly

for

2+ years

Review Source
---
Has all of the essential screen capture/editing features but super easy to use
Pros
Screen-Cast-O-Matic is the easiest screen capture software I've used, and in 20 years as a corporate trainer I've used a lot of them. Capturing the screen is very similar to other software of this type. It's the editing features that make the big difference. I'm able to easily cut, blur, highlight, zoom in, etc. in just seconds. No other screen capture software that I've used is this easy. I also like the video picture in picture feature.
Cons
The only issue I've had with this software is when I got a new computer with a high resolution monitor. The software isn't made to work at high resolution and the interface is very tiny. I have to record, and then relaunch allowing the system to adjust the scaling in order to the editing. I did report this to the company but it doesn't seem to have been fixed yet.
Industry: Information Technology & Services
Company size: 51-200 Employees
Used

Weekly

for

1+ year

Review Source
---
Video editing tool for multiple
Pros
The best thing which we liked about this product is that we can work as an organization instead of an individual and we can share our content with our peers and make it password protected.
Cons
needs more improvement towards adding more content in its library for font types, background, interface, audio, and transitions from one slide to another.
Industry: Education Management
Company size: 1,001-5,000 Employees
Used

Weekly

for

2+ years

Review Source
---
Rapid video generation for classroom support
I have used it for a few years to support my classrooms. I love the publish to youtube feature. But by far, the most useful tool to me is the narration option of cut or speed up silence. This feature allows me to complete lectures and software tutorials in a single take, click cut or speed up silence, and post a video very quickly.
Pros
The very simple interface. Extremely short learning curve.
Cons
Lacks chromebook support. The website says it supports Chromebooks, but the link to the app is dead. Have to suggest competitor WeVideo for Chromebook video content editing
Industry: Computer Software
Company size: 2-10 Employees
Used

Monthly

for

1+ year

Review Source
---
A decent enough web recorder that has been surpassed.
I enjoyed it while I used it, but have since moved to using Loom instead.
Pros
It works - it records videos, gives you the ability to upload them and has basic editing options. For most people it will cover what they need.
Cons
It's clunky, it's slow - and needing to open the desktop client each time to use is a hassle. They need to invest in making it more seamless.
Industry: Education Management
Company size: 201-500 Employees
Used

Weekly

for

1+ year

Review Source
---
Amped up screen recorder that is still easy to use.
I have used many tools from simple to complex and this tool has all I need, when I need it.
Pros
Screencast-O-Matic has been a welcome addition to my weekly online learning tools. It can be used for giving anyone a direct link to video directions you create to weekly lesson plan coverage. All videos can be edited from items ranging to adding music to blurring out unwanted images on the video. This comes in handy as a staff leader for creating "How-to" videos for our staff. It also is easily integrated with most learning management systems like Schoology and Google classroom for example.
Cons
There are many tools to choose from when editing, which can take a bit to use, but most are not needed, but can be useful when needed.