About Revit
Revit is a building information modelling (BIM) software that helps constructions companies, structural engineers, architects and mechanical, engineering and plumbing (MEP) service providers manage designing, 3D visualization, analysis and other construction operations. Revit includes communication management tools, which lets teams share files, simultaneously work on projects and add notes or annotations on designs in a shared workspace to facilitate collaboration across multiple departments. Features include process design and documentation, 2D sheets import/export, construction coordination, fabrication management and more. Additionally, engineers can generate a variety of model-based designs such as elevations, floor plans and 3D views. Revit supports integration with Autodesk Insight 360 application, which allows managers to gain insight into operations and utilization of resources to handle energy and environmental performance throughout the construction lifecycle. Pricing includes monthly/annual subscriptions and support is extended via phone, documentation and other online measures.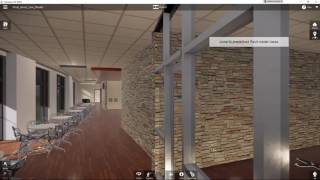 Revit does not have a free version but does offer a free trial. Revit paid version starts at USD 290.00/month.
Starting Price:
USD 290.00/month
Industry: Maritime
Company size: 1,001-5,000 Employees
Used

Weekly

for

2+ years

Review Source
---
Future is here
BIM will certainly change the construction industry in ways we cannot fully appreciate yet. Revit is of the best solutions that are pushing this revolution forward.
Pros
- Game-changing and full-featured building BIM design software (Building Information Modeling)
- Simplified the design process beyond belief from the days of AutoCAD
- Quantity take-offs are now byproducts of the building model, not a separate business process.
- With BIM (Not only Revit) the plans, sections and quantity take-offs are all dynamically related. Any change to one of them is immediately reflected on the others
- Works well for Architectural, Structural, HVAC, and MEP modeling.
- Easy to use yet very capable.
- Seamless integration with other Autodesk solutions (NavisWorsk, Robot .. etc.)
- Plenty of training resources online.
Cons
- The price is too steep for companies in developing countries especially since it uses an annual subscription for each user.
Industry: Civil Engineering
Company size: 10,000+ Employees
Used

Weekly

for

2+ years

Review Source
---
Become a self taught Architect!
I have used Revit for 3+ years and I have loved it. I have designed and built many projects in it. I have built many .rvt files using AutoCAD and then imported it into Revit to build a detailed model. Then I have used the same model for energy analysis using add ons. You can perform life cycle cost analysis, lighting analysis, solar analysis and energy analysis using Revit. all you need to know is the science behind using the technique.
Pros
Revit is one of the most versatile building design and modeling software. It can literally design any kind of building infrastructure with the same precision as an architect does. Revit is the foundational software for Building Information Modelling. It provides us features like parametric modeling and smart object import. It basically reduces all the repetitive drafting work in building design. It provides features and a basis for Performance analysis.
Cons
When it comes to creating a complex geometrical model or any model with lots of curves, Revit handling becomes difficult. Using Revit for complex shape modeling is difficult. Revit does not support high end, performance analysis tools. lt has its own add ons which do not give accurate and precise results. You need to export the model to any other software and perform the energy analysis.
Industry: Architecture & Planning
Company size: 201-500 Employees
Used

Daily

for

2+ years

Review Source
---
Hard to use electrically
Overall Revit is a great program that is an essential tool in the MEP industry. Any time I start a new project I hope that the arch is using Revit over autocad
Pros
Overall revit has alot of good features for integrating engineering systems with a project. having families link between arch/mech/plbg/fp/elec models and have parameters that interact with each other helps to maintain consistent coordination.
Cons
Electrically revit seems to lag behind quite a bit. Lighting design is still quite difficult to implement in a model. Quite frequently electrically you have to work against revit to get the proper info to show up which can be frustrating. i hope new systems to help display lighting controls are implemented.
Industry: Architecture & Planning
Company size: Self Employed
Used

Monthly

for

2+ years

Review Source
---
Happiness
Revit is fast and extraordinary
Pros
I love more about Revit that you can share your project wiht anyone in everywhere. And everybody can work the same project, in diferents part of it, in the same time.
Cons
I don't like that you can't open a project that was made in a new version of Revit, using a old version o it. For exemplo: You made something in Revit 2020 version. You can't open it in a Revit 2019 version anymore.
Industry: Education Management
Company size: 51-200 Employees
Used

Daily

for

2+ years

Review Source
---
Powerful, but space consuming
Overall is definitely positive. Program allows students to learn basics (and more) of architectural design. Some more expansive tutorials would be nice as only beginner workflow has really proven useful for students.
Pros
It is very easy for beginning users to become quickly proficient by following tutorials. The software is also very robust. Students can design, furnish and create renderings/walkthroughs all within the same program. They can also import any components not included in the software from a number of support pages as well as some vendors who have created .rvt files of their products that allow it to be put into the space digitally with all correct measurements.
Cons
Very robust, but takes up so much disk space it sometimes freezes computer before even opening. A LT version may be beneficial, but an entirely online version, even if it's a "light" version, would be preferred. Students aren't using all available features so it would be nice if the education version took less space, so students could have access on computers other than the one lab with enough computing power to run the software.