About DelivApp
DelivApp is an on-demand delivery management software designed to help restaurants, delivery companies, and dark kitchens handle delivery logistics from a single platform. Key features include route history, dispatch management, live driver tracking, route optimization, territory management, two-way communication, and order management. Teams using DelivApp can process and distribute orders, receive alerts and track couriers in real-time. The application enables organizations to monitor the pulse of businesses on an hourly, daily, and monthly basis and receive detailed reports to gain insights into business performance. Additionally, it allows customers to track order status, view courier movements, and leave feedback. DelivApp helps delivery partners manage delivery pricing based on region and distance, compensate couriers on the basis of custom metrics, performance and customer ratings. Mobile applications for Android and iOS devices are also offered, allowing users to remotely manage business activities.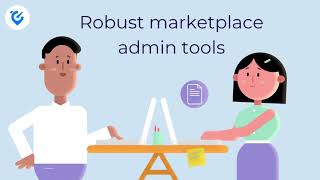 DelivApp does not have a free version but does offer a free trial. DelivApp paid version starts at USD 139.00/month.
Starting Price:
USD 139.00/month
Industry: Logistics & Supply Chain
Company size: 201-500 Employees
Used

Daily

for

1+ year

Review Source
---
It's a mission-critical software for our business
great
Pros
We are a delivery company for restaurants and we handle about 100k deliveries per month using DelivApp, and we usually have more than 70 couriers on shift on a daily basis. We've grown to these volumes using this software and I like most that the system works well regardless of the volumes. Dispatcher portal is very fast and automation is good, the new version of the courier app received a very good feedback from our guys. For several years, we'd been using only logistics module, but we are now rolling out our marketplace, which we setup on DelivApp. The overall experience was also great, I worked on the menus with restaurants and we managed to get more than 100 businesses onboard very quick.
Cons
In the beginning, we had some challenges with the courier app, but they were resolved in the new version. At times there are minor bugs but they get resolved quickly.
Response from

DelivApp

Thanks so much for the elaborate review! We value all the feedback that helps us improve the product, and appreciate your trust. We are happy to support your growth going forward!

Replied 25/08/2021
Industry: Restaurants
Company size: 51-200 Employees
Used

Daily

for

2+ years

Review Source
---
magnificent product
Simplified our logistics and payroll, cutting down the costs
Before DelivApp, we had very complex logistics operations and complicated staff management processes, when a simple task of understanding which courier should receive how much was extremely labor-intense. Once we started working with DelivApp, we were able to streamline all the logistic processes as well as the payroll and compensation management, and when we did that, we gained a sense of control and much better visibility into what is going on, we saw an opportunity to optimize our expenses. We are now running very efficient and lean operations and we calculate our courier compensations literally in one click.
Franco restaurant, Nadav K, the owner
Pros
Not only is manpower saved
Even the existing workforce does not need to be skilled The software does everything for you
Cons
No cons
It sound that everything is perfect
And no flawes
But it really is in the macro
Just insignificant things
Response from

DelivApp

Thank you, Nadav! Weare happy to serve you!

Replied 08/12/2020
Industry: Transportation/Trucking/Railroad
Company size: 11-50 Employees
Used

Daily

for

6-12 months

Review Source
---
ninjas.jetzt
Pros
pretty easy to operate, support is really quick
DelivApp is also doing changes only for our needs
Cons
Does not fit 100% for all our needs, but they are pretty unique.
Response from

DelivApp

Thomas, appreciate your feedback and inputs on how to improve the product! Proud to be powering NINJAS.jetzt growth!

Replied 11/10/2021
Industry: Logistics & Supply Chain
Company size: 11-50 Employees
Used

Daily

for

1-5 months

Review Source
---
Best driver management software in the market
Pros
The intergration delivapp provides us to Intergrate with multiple system have helped us to move away from manual process. The team have been super helpful for us to mange the whole process of changing from existing system to their platform.
Cons
We couldn't find any problem with their system after using 2 months. Even when we needed some changes to be done they provided us with instant solutions
Response from

DelivApp

Thank you very much for the trust and kind words! We will do everything not to disappoint going forward.

Replied 05/07/2022
Industry: Food & Beverages
Company size: 11-50 Employees
Used

Daily

for

6-12 months

Review Source
---
The real game changer for the courier and delivery management
Pros
This SW helped us in many ways in regards to delivery management. The most straightforward outcome was during rush hours. Especially when we were running 1+1 (buy one - get one for free) campaign. The campaign itself was working like a charm - we were getting tons of orders, but operation wise it was a nightmare: lost orders, angry customers, non-stop "where is my order" calls. At the end of the day we were hardly see any actual income from these few hours due to all compensations and canceled orders.
It all changed at once when we started to use DelivApp. It helped us to create well organized delivery routine, eliminate delayed and late orders. Our customers satisfaction changed 180 degree.
Cons
Well, as with any new solution, it takes you some time to get used to it and change your existing routine (even though it was very inefficient). But the DelivApp team was with us during the whole process so after all it was quite painless
Response from

DelivApp

Thank you for sharing, Barak! Decreasing the number of "where-is-my-order" is one of our favorite impacts!

Replied 08/12/2020