About Retail Express
Retail Express is a powerful cloud-based retail POS software solution. Built with advanced, enterprise-level integrations and features at a competitive price, it's ideal for single-store, multi-store (1 – 100+) and enterprise retailers. Since launching in 2004, Retail Express has helped thousands of Australian and New Zealand retailers integrate their bricks and clicks, eliminate manual processes, increase productivity and profits, reach new customers, dramatically enhance the customer experience and rapidly grow their business. Various retail industries choose Retail Express, including furniture, fashion, footwear, pet stores, homewares, sports and outdoors, nutrition, discount variety, toys and hobbies, rural supplies and workwear. Retail Express POS Software: Retail Express is packed with smart algorithmic inventory management features. These features allow retailers to automate stock replenishment, use a Google-like predictive product search and track live inventory levels. Retail Express has powerful supply chain and fulfilment features — built to help even the most complex businesses. These features allow retailers to set up split and partial fulfilments, make special and pre-orders easily, and track incoming orders — all from the POS. The Retail Express POS system integrates deeply with popular eCommerce, accounting, marketing, fulfilment and supplier platforms to build a comprehensive wheelhouse of retail management in one system. This advanced POS and back-office system was designed by retail experts for retailers. It's easy to use for in-store and back-office staff, enabling them to conveniently complete numerous tasks with just a few clicks. Based in the cloud, you can look forward to 99.9% uptime and the robust security that Microsoft Azure provides. There's an offline POS mode, perfect for remote work or when the Internet fails. Staff can keep selling with the offline POS. Then, once back online, the system automatically syncs all data. Use the software anywhere and on any device — in-store or online. Every retailer receives outstanding Australian-based assistance during the set-up process and ongoing support. A dedicated personal Success Manager guides them through the entire implementation process. Staff can be provided with on-demand training — and ongoing responsive support is always available — with phone calls answered in under 60 seconds. Here's what you get with a free demo: When you organise a free personalised demo with one of Retail Express' expert team members, they'll show you how you can do the following: 1. Integrate accounting data seamlessly 2. Remove manual reporting and stocktaking tasks 3. Manage a large product-line inventory or complex fulfilment supply chain 4. Reduce countless (and costly) back-of-house labour hours 5. Use one pool of stock across every store location and online 6. Launch eCommerce and omnichannel features like Click & Collect, Live Stock in Store and Ship from Store (decentralised fulfilment) 7. Get a single detailed view of your customers and their history for personalised — and far more profitable marketing campaigns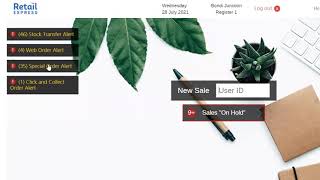 Retail Express does not have a free version and does not offer a free trial. Retail Express paid version starts at $129.00/month.
Alternatives to Retail Express
Industry: Retail
Company size: 2-10 Employees
Used

Daily

for

1-5 months

Review Source
---
A Fantastic System for all Retailers, big and small
From the initial Sales manager, to the Implementation Manager.... all staff were fantastic, enthusiastic and more than capable of handling any questions/issues I had.
Pros
The easy to use system means my staff picked it up quickly.
The detailed Back of House reporting is a managers dream.
Cons
The only thing I've seen missing is an ability to sell an item via weight ($$/per kg), but it's minor. Our previous system never had this either so we're well placed to get around it. Would be great in the future.
Reasons for Choosing Retail Express
MYOB was great..... in the 90's/early 00's. We needed a POS software program that was more up to date with the current technology we use. It's allowed us to have a second register again without much effort at all.
Reasons for Switching to Retail Express
1. Staff all have retail experience.2. Your [SENSITIVE CONTENT HIDDEN] has extensive retail history.3. Easy to use program with heaps of features.
Industry: Retail
Company size: 11-50 Employees
Used

Daily

for

1-5 months

Review Source
---
Retail Express Implementation for a Small Multi Sectioned Retail Business
The Overall Experience has been great very easy to transition . The On-boarding Program for Training was Great and the Access to Resources Fantastic. The Implementation Manager and other Points of Contact were all great to deal with.
Pros
Modern Cloud based system that has all the Reporting Requirements needed but all the Functionality of a Modern System in a Age of Technology Advancement . It seems as though it has been designed for this Purpose not the " that's something we are going to develop in the Future attitude" that other Systems seem to have.
Cons
At this stage I believe it is still the Honeymoon Period so just " Training Training Training" to get the Most out what we can Do with Retail Express
Alternatives Considered
Vend
Reasons for Choosing Retail Express
The Server and POS Systems we were using were very powerful and great for reporting . But was very dated and had no cloud based functionality and there was no bridge to be able to set up an online presence.
Reasons for Switching to Retail Express
Seems like Retail Express was the best option providing all the Power in Reporting and great Cloud based Functionality and Performance with a very sleek modern styling . Best Option Hands Down.
Industry: Retail
Company size: 11-50 Employees
Used

Daily

for

2+ years

Review Source
---
Feedback
Pros
easy for sales staff to raise invoices. easy to enter new customers. easy to add new staff and modify existing ones.
Cons
Have to manually do the upload to Xero each day.
Can not give customers a 7 or 14 day account.
Receiving stock when not all products are supplied is a nightmare.
Can not make it compulsory to put a customer PO on an invoice.
Can still process an invoice to a customers account when on stop credit.
Unable to set own compulsory fields when entering new stock/customers
Unable to set own preferences and shortcuts
unable to setup credit card surcharge to be added automatically when we select that payment method.
we provide service as well as sales. Can't set up a service item - has to be done as stock.
Pink pricing always changing/incorrect
Disabled products can still be added to PO's
Comments on invoices don't upload to xero
If an invoice that is in xero has been paid cash, and it has been rounded up it wont upload
Credit Notes don't upload to xero
Industry: Computer Hardware
Company size: 2-10 Employees
Used

Daily

for

6-12 months

Review Source
---
Great POS Cloud System
Excellent service, quick responses to queries, very helpful support. Updates are provided via overnight uploads done automatically with no downtime to your system. New update information is provided in detail via email. They respond well to customer suggestions and are constantly improving the system.
Pros
The implementation of this software is fantastic. A team of experts is available to help you transfer your database of stock, suppliers and customers with ease. Retail Express has a comprehensive knowledge database including video tutorials and instructions which all staff can access. The software is friendly, easy to use and navigate with email and internet integration.
Cons
Special customer orders are tricky to handle. We are yet to understand how to order/manage customer orders and are currently doing this through the lay by option which is difficult unless you have one staff member managing this are (IE: you can over order stock). Back orders are a little cumbersome but can be adapted to suit your business needs. Overall though the positives of this system outweigh the small negatives.
Industry: Electrical/Electronic Manufacturing
Company size: 2-10 Employees
Used

Daily

for

1-5 months

Review Source
---
Professional Support with Friendly Service
This software is great for a business with multiple locations. It seems to contain a large scale fulfillment section which smaller businesses (such as ours) don't really need. Overall it's been a positive step forward for our business.
Pros
Retail Express is easy to use. The point of sale is simple, yet very clever and allows you lay-by, sell and invoice all in the one transaction. It's search feature is fantastic, letting you view transactions from the day, week or via your own custom dates. We love the ability to email our customer invoices and receipts, saving us both time and money. Working with multiple screens in a web browser is a great bonus for our business.
Cons
Retail Express doesn't really cater to customer orders that well. It categorizes them as lay-by's. It does not enable the customer order to be identified in a purchase order (IE: there is no automatically fulfill mechanism). It's difficult to search for a product and you can't seem to view who the customers are that purchased the product, based on the product.