About ManageEngine PAM360
PAM360 is a web-based privileged access management (PAM) solution that defends enterprises against privilege misuse by regulating access to sensitive company information. Through powerful privileged access governance, smoother workflow automation, advanced analytics, and contextual integrations with various IT services, PAM360 enables enterprises to bring different avenues of their IT management system together, facilitating meaningful inferences and quicker remedies.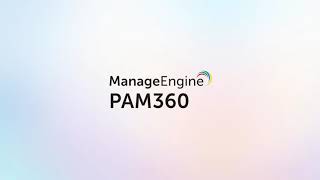 ManageEngine PAM360 pricing
ManageEngine PAM360 has a free version and offers a free trial.
Pricing Details:
ManageEngine PAM360 pricing starts at $7,995 and scales with number of users and features. Features expand across Enterprise Edition and Enterprise Edition Multi-Language plans. PAM360 Enterprise Edition: 10 Administrators (Unrestricted resources and users) and 25 keys - $7,995 20 Administrators (Unrestricted resources and users) and 50 keys - $12,995 25 Administrators (Unrestricted resources and users) and 100 keys - $14,995 50 Administrators (Unrestricted resources and users) and 200 keys - $24,995 100 Administrators (Unrestricted resources and users) and 300 keys - $36,995 150 Administrators (Unrestricted resources and users) and 500 keys - $44,995 200 Administrators (Unrestricted resources and users) and 1000 keys - $49,995 PAM360 Enterprise Edition Multi-Language: 10 Administrators (Unrestricted resources and users) and 25 keys - $9,595 20 Administrators (Unrestricted resources and users) and 50 keys - $15,595 25 Administrators (Unrestricted resources and users) and 100 keys - $17,995 50 Administrators (Unrestricted resources and users) and 200 keys - $29,995 100 Administrators (Unrestricted resources and users) and 300 keys - $44,395 150 Administrators (Unrestricted resources and users) and 500 keys - $53,995 200 Administrators (Unrestricted resources and users) and 1000 keys - $59,995
View Pricing Plans
Alternatives to ManageEngine PAM360