About Airtable
Airtable is a cloud-based project management solution targeting small to midsize businesses as well as departments within larger companies. This system focuses primarily on data organization and collaboration. The system uses a spreadsheet format to organize data. Related data can be linked together; for example, contacts can be linked to their companies or inventory items can be linked to their vendors. Airtable is compatible with multiple devices. On desktop computers, users see data in a spreadsheet format, while on mobile devices, data can be viewed as tappable cards. On both devices, users can add and remove data, attach files and share tables. Airtable integrates services such as Dropbox, Box, Evernote and Google Drive. Tables in this software are shareable, and users can track who is making changes to documents when. A chat tool is also included, which allows users to chat each other while working on tables. Airtable was founded in 2012 and is offered worldwide. This software is priced on a per user per month basis. A mobile app is available for iOS.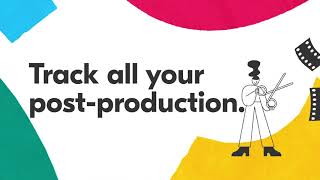 Airtable has a free version and offers a free trial.
Industry: Computer Software
Company size: 11–50 Employees
Used

Monthly

for

2+ years

Review Source
---
Airtable is excel and a database with an api
Great experience overall. Had a two year free run with it too.
Pros
Airtable is easy to use and has all the functionality or excel and a database. We use it for many different things. Onboarding staff right through to actual end user software we provide.
Cons
It's not really designed for mass scale/real time solutions. Overall it's a great tool with limits.
Industry: Information Technology & Services
Company size: Self Employed
Used

Weekly

for

2+ years

Review Source
---
Everything Excel should be
It's been a really enjoying journey learning how to work with Airtable, eay easier switch than I thought it would be. Within days I moved every critical element on there and since, we never had any problems.
Pros
Getting into Airtables is one of the easiest table experience you can work with. A couple of minutes in and you instantly understand the philosophy behind it which is pretty intuitive.
Cons
There's not much not to like about Airtable, I've yet to find something I couldn't do with it.
Industry: Food Production
Company size: Self Employed
Used

Daily

for

1+ year

Review Source
---
Airtable leaves potential on the table
Pros
Airtable presented a lot of diverse data in a concise, easy-to-understand way. Airtable safely contained project details shared among many participants, and was a central resource for completing and tracking our work.
Cons
When there is a large data set, X and Y axis headers are condensed in a totally unusable way. Even if the window is expanded, the data labels are completely illegible. Is there a way to remedy this? Probably, but who has the time to find it within Airtable's bloated universe. Excel and Google Sheets are probably sufficient for average users, but Airtable is the trendy new guy in town.
Industry: Marketing & Advertising
Company size: 11–50 Employees
Used

Weekly

for

6-12 months

Review Source
---
Neat AF Content Management for SMM
Overall I am so glad we chose to set up on this platform! It keeps all our posts so neat in one spot.
Pros
I think Airtable is the best tool out there for a team to prepare social media content. We took inspiration from other Social Media Manager's setups and adapted them to our needs. I love the way we set up each column as text, links, uploads, etc. so that we could repeat our flow every month. I really love how the comments work, especially on the videos where I can click and drag to leave a comment on an exact timestamp and section of that frame. Lastly, I appreciate that Airtable has a mobile and desktop app so that I can see the little red number notification that signals that I have to respond to something.
Cons
I wish we got notified by email for leaving a comment even if it didn't @ mention our teammate. Also, I wish a Google Doc-type form could live with a project.
Alternatives Considered
Notion
Reasons for Choosing Airtable
My Social Media Managers used Google Doc to share my monthly content ideas. It was so awkward scrolling through a vertical document. I hated how the comments came through to my email. I actually paid them to set me up on Airtable and then they loved it so much that they shifted their flow with their other clients.
Reasons for Switching to Airtable
Airtable didn't require code to make it look sleek and easy to use
Industry: Nonprofit Organization Management
Company size: 51–200 Employees
Used

Daily

for

1+ year

Review Source
---
When it comes to managing information, we trust Airtable
The way I organize my app development tasks has been revolutionized by Airtable. The ability to automate mundane, time-consuming procedures is one of my favorite benefits of this software. Smooth linkage between distinct tables and capacity to connect varied data.
Pros
Opportunity data may be stored and managed effectively with Airtable. It is easy to use, inexpensive, and constantly evolving. When it comes to managing and receiving business possibilities for our marketplace, Airtable is a godsend. I really like how it relates to softrand. WHAM! Now I have a fully operational subscription app.
Cons
At first, Airtable may seem complicated. There are many features and customization possibilities, making it first difficult to grasp if you are not already proficient with relational databases.