About Clio
Ranked #1, Clio is the leading law practice management software used by over 150,000 lawyers and with the most 5-star reviews. The only legal software with 1,500+ reviews on Capterra. Lawyers can access and manage their work in one central system - with matters, contacts, documents, billing, payments, and everything you need in one place. Schedule a live demo to learn more. Clio is a cloud-based legal practice management solution suitable for small to large law firms. The platform enables lawfirms and other businesses in the legal industry to track important deadlines, manage client cases and documents, bill clients, and accept payments. The Clio dashboard displays billable hour targets and goals and and tracks performance based on these measures. Clio Payments allows lawyers to receive payments directly into a client's trust or an operating account. The billing feature allows users to create custom bill plans, manage fee structures, carry out automatic or manual time entry, bill via email, and let clients access information via email or the secure client portal. The document management features include document automation, custom field creation, electronic signature capture and more. The Clio mobile app for iphone, iPad and Android allows law firm employees carry out client interactions, document management, billable hours tracking, case management and more, from anywhere. The mobile app also offers push notifications and messaging tools to help users stay connected. Clio pricing varies based on whether law firms purchase the Clio Manage app, the Clio Grow app, or the entire Clio Suite. The Clio platform offers integration with over 200 third party software apps including other law practice management software solutions, marketing tools, payment platforms, and more.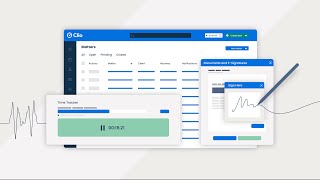 Clio does not have a free version but does offer a free trial. Clio paid version starts at $39.00/month.
Starting Price:
$39.00/month
Industry: Law Practice
Company size: 2–10 Employees
Used

Daily

for

2+ years

Review Source
---
Clio is the best option for a solo or small firm law practice
After 3 years, I am still working at discarding habits and practices built up over 25 years as a practicing attorney to better incorporate Clio's feature into my daily work flow. One of Clio's driving philosophy's is to make lawyers more productive with their time, and make lawyers services more accessible to persons that need legal advice. Clio's focus on providing multiple access points, including mobile apps designed from the ground up with these two goals in mind, will pay off for both Clio and my practice in the long run.
Pros
The Clio platform is not intended to be a closed, proprietary system. Instead, it forms the foundation for the day to day management of leads, clients, time, documents, and billing, supplemented by almost 200 third party integrations, with new offerings coming on line each month. Clio offers unlimited cloud storage and IOS/Android apps making all of your firm information, clients, and documents available 24/7. Clio continues to innovate and as the leading provider to small/medium law firms throughout the world, I don't worry about whether they will be in business a few years from now. Finally, all, yes all, of your data saved in Clio is easily exportable should you decide to change to a different vendor.
Cons
Clio's growth means that feature changes must be more fully vetted as they are used by more than 150,000 legal professionals. As they broaden their perspective to encompass larger firms, the pace of change may continue to be more deliberate. The movement and management of files without a third party integration, such as FasterLaw, is cumbersome. Clio's own integrations with Office365 for emails and calendaring remain a work in progress.
Reasons for Choosing Clio
At the time I decided to look at alternatives, in 2017, the product was getting worse, not better.
Reasons for Switching to Clio
Largest user base and least likely to get assimilated or go out of business, forcing another vendor change.
Industry: Law Practice
Company size: 2–10 Employees
Used

Daily

for

2+ years

Review Source
---
Clio - A Necessary Application for Law Firms
Pros
Clio makes it easy to manage a case beginning to end. All of the client information is contained in one place. We can work on documents right in Clio and share documents to the client through the Clio Portal. Clients can safely upload their documents to us via the portal. We can communicate with clients through the portal or text messaging right in Clio. The Clio Support team is very helpful and has taken our enhancement requests back, some of which have already been implemented. We are able to keep everyone at the firm on track by using the task feature of Clio. There is no more wondering what is happening in a case because everything is tracking and tasked.
Cons
Our clients pay a monthly payment until their flat fee is paid in full. My current enhancement request is for Clio to have payment plan details written out on the client invoice. Currently we have to type this information out in the footer notes.
Industry: Law Practice
Company size: 2–10 Employees
Used

Daily

for

2+ years

Review Source
---
Clio has great customer service
Increased productivity and ease of management of my team and tasks.
Pros
Responsiveness, knowledge, professionalism, and follow-up of their Customer Service representatives.
Cons
Cost and Client connection is cumbersome.
Industry: Law Practice
Company size: 2–10 Employees
Used

Daily

for

2+ years

Review Source
---
You cannot rely on anything that employees of Clio tell you to be true.
Onboarding was a nightmare, with technical glitches that caused hours and hours of additional work and clean up. Syncing our contacts resulted in the destruction of our already used and curated list. Misrepresentations were made by salespeople as to what the software was capable of doing. As a result of all of that, we were made reasonable promises, in writing, as a condition of our not quitting Clio right then, and cutting our losses and time. Now, the first time a change has come up where that promise needs to be implemented, we were told it would not be honored. This resulted in many more hours of back and forth with "customer service". We have wasted two years of integrating our firm with this company, which we now have to undo to go to another service, costing us untold more hours of work. If they had not offered these promises, we would have left Clio during the onboarding process. Although we would not have been happy with our experience with Clio, we wouldn't have felt as strongly about not doing business with this company. Now, we have no option but to leave this service, because we cannot continue to do business with a company that places such little value on their clients and on the promises that they admit were made.
Pros
I have nothing positive to say about Clio at this time. Integrating our firm into their software was a major learning experience, which will guide me with the next software I choose.
Cons
The items added in the time that we have been with Clio have caused no improvement to our use of the product, although they use these additions as an excuse for raising their prices significantly. The "client portal" that they added does not even allow you to see if clients have viewed documents, which their old version did. Their new payment system only adds to their profits, so why would they utilize that as an excuse to pass on additional costs to their clients?
Reasons for Switching to Clio
Even though Clio was more expensive than our other final possible choices, we were made representations about what this software could do that exceeded the other offerings in assistance with our needs. However, once we started with Clio, we were immediately told that some of those representations were not functions of Clio at all.
Response from

Clio

Hi Kathy,
I'm very sorry to hear that about your experience with Clio. A member of our team is contacting you directly with you to work through these challenges
Kind Regards,
Jessica

Replied 27/01/2023
Industry: Human Resources
Company size: 1,001–5,000 Employees
Used

Weekly

for

1+ year

Review Source
---
Clio develops the WIP budget in my company
Clio is designed for freelance professionals and small businesses. It handles a small portion of complicated cases and handles date management and payment. I think it would be outstanding in a massive class. Clio has more features and seems to be working on constantly improving. I recommended some suggestions for work that I thought would be helpful. Those suggestions went into a black hole, with the insinuation that I would attempt a confluence application of various bugs. Clio is getting quite a bit of money because of the legal experts who use their program.
Pros
All I need to do is turn on Clio in the morning and press the button to start the timing if I feel lazy to casually type a few words. It is possible to see how far behind or ahead of budget I am in terms of jobs, payments and invoicing. There is some repetition (database skills), and he has another colleague to manage the data for him when he is on vacation and doesn't have Clio, but these are minor quibbles.
Cons
This feature is likely to be useful in many people's practices, but I don't use it. Clio must find a way to accommodate all the documents that have a certain name that I can access through Clio. On the contrary, I use Hazel and Dropbox.