About Employment Hero
Employment Hero is a cloud-based human resource (HRM) management system available to businesses of all industries and sizes. The solution helps manage the entire employee lifecycle, with modules for recruiting, onboarding, payroll, time and attendance, performance review and more. Employment Hero's other features include a supporting law firm that keeps contacts and HR policies up to date and employee self-service functionality that allows workers to request leave, view payslips and timesheets and edit personal or banking information. In regard to recruiting, Employment Hero allows users to create their careers page, post to the Employment Hero jobs board, create questionnaires for candidates and do things like background checks. An onboarding checklist ensures that all workers are compliant and allows to automate the manual paper-based processes. From there, timesheets can be filled out by employees and approved by managers, payroll can be outsourced to Employment Hero for accuracy and reporting can help gain insight into an organization's performance.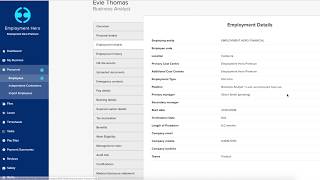 Employment Hero has a free version and offers a free trial. Employment Hero paid version starts at $7.00/month.
Pricing Details:
Employment Hero offers 4 price plans: Free: $0 Standard: A$7 per employee/month Premium: A$10 per employee/month Platinum: $14 per employee/month Payroll Standard: A$4 per employee/month Payroll Premium: A$6 per employee/month Add payroll for an extra A$4 per employee/month or add rostering/time & attendance/modern award interpretation for A$2 per employee/month. Prices are in AUD.
View Pricing Plans
Alternatives to Employment Hero
Industry: Legal Services
Company size: 11-50 Employees
Used

Daily

for

2+ years

Review Source
---
Soltuion to our Cost Centre Reporting!
We've been using Employment Hero for more than two years now. We started with one entity and then decided to move all our entities to it. The HR and Payroll platforms are very easy to navigate. We very much benefited from the Cost Centre Reporting and integrating that with our Bookkeeping software made our reporting very easy. The HR platform is our employees first point of contact to find any data about our organisation, policies and procedure, agreements... etc. On top of that most of our employees are finding it much easier to track their Leave balances and status through the mobile app.
The Online Support is very quick in general and there is always a solution to any query we put through to the team,
Overall, a great deal to our organisation!
Pros
Most likeable feature we found in the system for our organisation is the easy integration of our Bookkeeping software and the ability to import the payroll journal. That made our cost centre reporting very easy and accurate.
Cons
It would be great if it can be linked to the Outlook Calendar!
Response from

Employment Hero

Hi Rania,

Thanks heaps for taking the time to review Employment Hero! We really appreciate your support and are chuffed to see that you've been able to streamline your HR and payroll processes.

Thank you again,
Anna from Employment Hero

Replied 22/02/2021
Industry: Logistics & Supply Chain
Company size: 11-50 Employees
Used

Daily

for

6-12 months

Review Source
---
Employment Hero is Hero
My experience with EH has bee great and very satisfactory. I will recommend this software to anyone wanting to make a difference in Human Resources processes in their company
Pros
Employment hero is user friendly and so easy to use. With the click of a button you can automate a variety of Human Resources and Payroll process within you company.
The customisation and ready to use functionality of this software allows you to implement this internally without any need for third party specialist.
Cons
Inability and restriction on scheduling report, announcement etc means you cannot customise this .
It will be great if more research and development is done on scheduling reports, announcements etc .
Reasons for Switching to Employment Hero
As a small business the easy of implementation was the key selling point. For a finance and HR person to implement this by themselves and run and customise it within a week with no need to have third party specialists is the winner. And the price is great value for money.
Response from

Employment Hero

Hi Deep,

Thank you for taking the time to share your experiences with Employment Hero with others. We're so happy to see that you've had such a positive experience with the platform and so user-friendly.

Thank you also for sharing your feedback regarding scheduling reports and announcements. Employment Hero spent over $8 million on product development last year, so our platform is always adding more functionality to keep up with our customers' needs. I've passed your feedback on to our product team who will factor it into future development plans.

Thank you again,
Anna from Employment Hero

Replied 08/09/2021
Industry: Retail
Company size: 51-200 Employees
Used

Daily

for

6-12 months

Review Source
---
Hero by name, hero by nature!!
The company I am employed by (Scooter Hut) use Employment Hero for rostering, staff communications, some* bonuses, documentation of employee certifications and much more. I am so thankful they do use it as it has made my life much easier and more rewarding from an employee point of view.
Pros
Employment hero has made my transition into a new company so simple and pain free over the last 9 months. It has taken the pain out of scheduling and I have received some great discounts and benefits. Every company would be better off with this setup. My Hero!!
Cons
I would love the opportunity to have a dual benefit system where I could earn Hero Bucks whenever I have spare time by completing data entry or other online tasks. An added bonus would be to be rated on your performance of said tasks and get bonuses for great ratings. This would not only reward any quality content being delivered but ensure whoever is getting the tasks completed can be assured of the best possible quality completions.
Response from

Employment Hero

Hi Brett,

Thanks for taking the time to share your experiences with Employment Hero with others! We love seeing the impact our platform from an employee's perspective, so thank you!

Have a great day,
The Employment Hero Team

Replied 11/11/2021
Industry: Hospital & Health Care
Company size: 51-200 Employees
Used

Daily

for

6-12 months

Review Source
---
Think twice.
If a seamless user experience and reliable software that's easy to use is important to you, do not choose Employment Hero. It has been working OK (just) since ironing out most of the problems but not work the time and money to get to this stage.
The HR and Payroll software are clearly sold separately because the look and feel is different and you need to instruct managers to perform actions in one platform, despite being able to do it in another, causing confusion.
Pros
The ability for employees to update their own personal information. Contract templates are helpful for those who don't have an internal legal or large HR department.
Cons
The integration between the two products - HR and payroll is awful. They often don't communicate with each other seamlessly and you are required to learn by trial and error due to the poor deployment processes and cumbersome workflow regarding setup. Customer Service is helpful most of the time but you will be passed through numerous people who do not explain the fundamental use of all the features. Too much emphasis is on knowing the hundreds of pages of instructions and features. Timekeeping apps (Clock Me In/Workzone) are simply terrible.
Response from

Employment Hero

Hi Kim,

Thank your for your feedback. We're sorry to hear that your experience with Employment Hero hasn't been as seamless as we'd like it to be.

We'll be reaching out directly to reach a resolution and hope that we can get things back on track.

Thank you again,
Anna from Employment Hero

Replied 21/02/2021
Industry: Construction
Company size: 51-200 Employees
Used

Daily

for

6-12 months

Review Source
---
Great holistic hr and payroll software!
The initial implementation was a little labourious, but the implementation team was always on hand to assist with any issues. The software is considerable in functionality so it can be rather noisy. However, once you become familiar with the system, it is packed full of great features.
Pros
A broad range of functionality. Easy to navigate interface. Great benefits are available to staff.
Cons
You are able to customise the pay week in the Payroll portal but not in the HR portal which means staff are having to complete 2 timesheets per week. This has caused some issues when processing pays.
Reasons for Choosing Employment Hero
Jobpac lacked payroll and HR functionality compared to other well-known software packages.
Reasons for Switching to Employment Hero
It was a holistic payroll and HR software that seemed to have most of the functionality that we needed as a business.
Response from

Employment Hero

Hi Valeria,

Thank you for taking the time to share your Employment Hero journey with others!

Thanks again,
The Employment Hero Team

Replied 11/11/2021