About Wimi
Wimi is a cloud-based and on-premise project management suite that helps users in document management, project collaboration, portfolio management, task management and time tracking. It offers document sharing and synchronizing in a Wimi Drive where documents can be uploaded and are stored in the cloud for quick access. Calendar synchronization allows users to access meetings, deadlines and appointments from a single system. The solution provides native iOS and Android apps. Wimi's communication tools include AirTime, an audio and video conferencing feature that allows users to create remote meetings and share screens. It also provides a chatting module for discussions, initiated privately or in groups. Wimi allows users to keep a control over how each team member accesses company documents with Wimi advanced access rights management. It is recommended for mid-size and large companies in most industries. Pricing is per user on a monthly subscription basis. Support is provided via knowledge base, online videos and phone.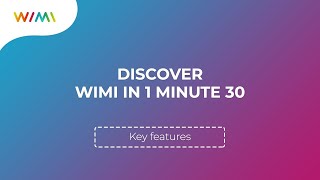 Wimi has a free version and offers a free trial. Wimi paid version starts at EUR 3.00/month.
Industry: Design
Company size: Self Employed
Used

Daily

for

2+ years

Review Source
---
Wimi will soon become the world's number one ?! Read on and you will understand why.
I have been a full-stack Webmaster for 10 years. I use Wimi for 2 years and believe me, Wimi has changed my productivity in just a few days .. A real revolution!
Exceptional ease of use and I weigh my words! for having tried his 3 main competitors - complicated or obscure interfaces ... without comments.
Wimi knew how to use our collaborative working software our natural habits of use of our computer.
This has the enormous advantage of not having to learn for days how a new software works.
Wimi is as easy to use as when the very first iPhone came out in the world of telephony!
Everything is intuitive and rich in features!
Do like me be productive, organized with disconcerting ease! Save time, win your employees, customers and partners by using Wimi, the next-generation software that brings professionals from all over the world together in a central location and in a real office.
The success of your projects and those of your clients and partners only depends on your curiosity to test Wimi free for 14 days. So do not wait!
It is by testing a product that one really makes one's efficiency, not letting it absorb through cleverly constructed advertisements.
Tesla, Total, Sephora, Shazam, SNCF, Publiciseto use Wimi, you know why?
Test Wimi 14 days for free and you will understand why for yourself! ;-)
It integrates OneDrive, Dropbox, Box Google Drive, Skype, Zapier etc.
A huge congratulations to the developers and the CEO who had the idea of this French innovation
Pros
All "real" professionals use team tools to collaborate effectively and maximize their time. Team work. Effective. Powerful. Organized.
Wimi is THE solution!
To achieve this organizational excellence, the choice of the tool is absolutely crucial.
To boost your productivity easily with confidence and without having to spend hours or days training on software often too complicated or a gas plant that ultimately causes the opposite effect and wasting time.
With Wimi it's the opposite! :-)
Make the "intelligent" choice of formidable efficiency without any compromise!
A very powerful tools, suitable for all! Freelances, freelancers, communication agencies, small and medium-sized companies and companies listed on the Cac 40!
Cons
For the moment I have not noticed any inconvenience.
I just wish to see these improvements happen soon .. I hope ;-)
- The ability to create shortcuts for files, URLs, or folders (as on computer) to duplicate information from one project to several others.
- the ability to drag and drop a URL into the Wimi window that will automatically create the URL link and automatically retrieve the title and be visible in Wimi Drive!
- View the acknowledgment of reading Chat messages on mobile smartphone, tablets and in the browser of a computer when the correspondent read our message while he read our message on mobile.
- The drawing board: drawing and commenting our drawings to illustrate ideas and store the different drawings in thematic folders.
Industry: Program Development
Company size: Self Employed
Used

Daily

for

Free Trial

Review Source
---
Wimi is among my preferences.
Pros
I try these kinds of apps a lot to find the most callers for my job, having a free trial is a big plus for me. Wimi offers you beautiful solutions with a great interface. It's really flexible.
Cons
It takes some getting used to at first, but this decreases as you use it.
Industry: Investment Management
Company size: 1,001-5,000 Employees
Used

Daily

for

2+ years

Review Source
---
After years of searching the perfect tool
We use to have tasks, calendars, sharing system.... none allowed me to do exactly what I needed. Then we found Wimi....
In one sign in, my team and I were able to share documents, tasks, follow projects, keep a historical log of the work done by projects and clients.
We used logos and images for each client, so quickly and with just one look we're able to go to the client project. I'm glad we found wimi
Pros
Very user friendly.
Does 95% of what we needed in project management and sharing tools.
Cons
At first we had some interface issue. But with each upgrade, it became better.
Industry: Research
Company size: 11-50 Employees
Review Source
---
Smart communication tools
I've been using Wimi for years. I've seen the platform evolving and new functions appearing. The document sharing tool offers advanced functions and took into account users' feedbacks. From the moment the synchronisation of the documents in a local folder has been possible, Wimi really became a core tool in our daily work, greatly facilitating the interaction among people, working in different departments, places, even working home, as well as with partners.
Pros
- the possibility to manage several accounts on the same device (online and off line), great for complex organisations
- the on line plateform offering a good overview of everything
- the possibility to precisely define participant's rights to access folders and documents
- the visio conference with airtime, no need for your contacts to have an existing account
- useful tasks management functions and a friendly interface
- a helpful support team
Cons
- the number of account simultaneously synchronised on mac is still limited
- exporting tasks in a nice scheme for project management is not yet available
Industry: Information Technology & Services
Company size: 2-10 Employees
Used

Daily

for

6-12 months

Review Source
---
Finally...A Truly Complete (yet affordable) Collaboration Platform!
As a "power" user of the Wimi platform since September 2016, I feel like I have finally arrived at collaboration "Nirvana". This "arrival" comes after years of cobbling together dozens of single-purpose tools like - Skype, Slack, Trello, Basecamp, Dropbox, WebEx and many others that are fine for what they were designed to do. However, each of these single-purpose tools addresses only single part of the complete collaboration challenge.
Fortunately, in recent years a number of players have come into the market with platforms that attempt to move beyond cobbling together single-purpose tools. Bitrix24, Redbooth, Sandglaz, Zoho Projects, Smartsheet and dozens of others fall into this category. However, I find three main problems with these solutions. They are prohibitively expensive with per user pricing structures that actually discourage adding new collaborators, especially when it is not possible to pass on this additional cost to the collaborator. Many of these solutions are also overly complicated by unnecessary features that do not match a "purest" collaboration use case. Lastly, many of these platforms tend toward a project management use case which I find to be no substitute for a "workspace" use case.
Now, given the widely varying expectations around collaboration, it may be helpful to describe my particular use case before going too much further. I collaborate with students, clients and entrepreneurial startup teams. Each of these groups require segregated workspaces with the ability to add individual group members to any workspace while maintaining vary granular control over what each member can see and do in each workspace via permissions.
Within each workspace, Wimi provides easy to use features that are most valuable for "purest" collaboration - group and individual (i.e. private) messaging, real-time chat, video conferencing with screen sharing, individual and shared calendars, document sharing, calendar-integrated task management, scheduled and ad hoc meetings, and more. If this wasn't enough, the Wimi team have also done a fantastic job of integrating with - Google, Dropbox, Box, Microsoft, Skype and Zapier.
Wimi has solved a collaboration problem I have struggled with for at least the last 5 years. For this reason, I strongly recommend Wimi to anyone seeking a workspace-oriented collaboration platform that is easy to use while remaining affordable for use cases that involve large numbers of external collaborators.
Pros
This software perfectly fits my use case with the right features in an easy to use interface at a cost that I can afford.
Cons
The things that I least like about this software are things that I believe the Wimi team are actively addressing for future releases. At the top of this list is the 2-hour "Time Out" behavior of the app. This feature forces me to log back into the app too many times a day. Obviously, this isn't a deal-killer but it can be annoying.
Also, at present, there is no desktop app to complement the web app. A desktop app would make it much easier to quickly add tasks to workspaces (i.e. via a hotkey combo) and to integrate with other desktop apps.
Currently, there are no Gantt Charts for project management.
And lastly, a key improvement to the mobile app would be to eliminate dependence upon a browser...make it a standalone app.