About Airtable
Airtable is a cloud-based project management solution targeting small to midsize businesses as well as departments within larger companies. This system focuses primarily on data organization and collaboration. The system uses a spreadsheet format to organize data. Related data can be linked together; for example, contacts can be linked to their companies or inventory items can be linked to their vendors. Airtable is compatible with multiple devices. On desktop computers, users see data in a spreadsheet format, while on mobile devices, data can be viewed as tappable cards. On both devices, users can add and remove data, attach files and share tables. Airtable integrates services such as Dropbox, Box, Evernote and Google Drive. Tables in this software are shareable, and users can track who is making changes to documents when. A chat tool is also included, which allows users to chat each other while working on tables. Airtable was founded in 2012 and is offered worldwide. This software is priced on a per user per month basis. A mobile app is available for iOS.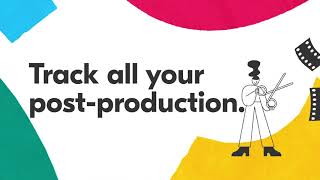 Airtable has a free version and offers a free trial. Airtable paid version starts at USD 12.00/month.
Starting Price:
USD 12.00/month
Pricing Details:
Airtable offers 4 pricing plans. Free: $0 per user/month for 1,200 records/base, 2GB attachment space/base & 2 weeks of revision & snapshot history Plus: $12 per user/month for 5,000 records/base, 5GB attachment space/base & 6 months of revision & snapshot history Pro: $24 per user/month for 50,000 records/base, 20GB attachment space/base & 1 year of revisions & snapshot history Enterprise: To receive an accurate quote, contact Airtable directly. Airtable also provides special plans for nonprofit and education organizations.
Industry: Computer Software
Company size: Self Employed
Used

Daily

for

2+ years

Review Source
---
A good organizer.
That's the one app I am using all day. Restrictions, everywhere, as it's a kind of pseudo-database, but something like an improved excell sheet with database in it.
Its my preferred app because of the easy fast way to organize my work.
Sharing tables with colaborators may be tricky because charge may come higher than you thought.
Pros
This is the case, when I can only tell cons, however I am using Airtable every day, organizing all my business with it.
It's not a powerful database like Caspio for example, there are lots of things don't work as should. BUT it's a handy, internet based database, allowing you to easy create views, and see information sorted, to hide fields ot group by a field it's probably the best way in my opinion, you can view the information the way its most productive for you.
check boxes, multi-select or single select fields, autonumbering and a range of colors you can use to see information , easy way to introduce colaboration with "Make" - ex- Integromat , and Zapier and Jotforms and more makes Airtable a handy tool.
I would not give 5 starts to any of its features. And still is the application I use everyday to plan my jobwork.
Cons
Deduplication fields. Guys, please: I need to deduplicate all lines, pressing one button. Why can't you include the option 'dedup all' - on my own risk and I have to do it one-by-one and ask me if i agree?
And the 'merge option' is buggy.
Automations are buggy. It's a feature supposed to run javascript code, that's not exactly working here.
Also, to combine tables and fields, as they say it's handy but doing many things here one by one, and can't press to apply some rule to all , is really missing.
However, if you do small tasks, it's probably the best app.
Industry: Retail
Company size: 11-50 Employees
Used

Daily

for

2+ years

Review Source
---
The Google Sheet of your dreams
There is a slight learning curve, but I found Airtable to be really customizable to your unique needs and also your unique perspective on how to use the software. Being able to change the views a zillion different ways and filter accordingly makes it easy for anyone on our team to jump in, find the information they need and organize their own work in a way that makes the most sense to them.
Pros
I love that Airtable largely functions (at least visually) like an Excel doc, which so many of us use to organize ideas and plan projects in a grid form. It maintains that structure but seriously levels up what you can do with the information you put in it.
Cons
There have been times when I did miss the simplicity of a Google Sheet/Excel in organizing my information, like being able to merge cells or intersect certain columns/rows visually, but not by the data itself. I wish there was an option that could give you an Airtable view that functioned like a flat excel doc if you needed it to.
Industry: Computer Software
Company size: 51-200 Employees
Used

Daily

for

6-12 months

Review Source
---
For the right company it would work
Pros
I think it was fairly easy to figure how to use most of the templates or features. I think it's good for very straightforward tasks.
Cons
For teams or companies wanting more dynamic use Like ours I don't think it was a good fit. We needed more robust tooling (no fault of Airtables). I wouldn't recommend the project/task tracking features
Industry: Financial Services
Company size: Self Employed
Used

Weekly

for

2+ years

Review Source
---
Airtable is our daily driver and trusted data keeper
Overall Airtable is a great product that we will continue to use because the alternative, competitive products simply do not have the feature set, and are even more difficult to learn. We find that with Airtable we can be as productive as possible in a reasonable amount of time, and feel secure that our data is safe.
Pros
Airtable, once learned, is simple to use for data collection, data management, and reporting. We like being able to build custom forms, quickly, to add data to records and it makes our employee's jobs easier. The mobile features are strong and allow us to get work done on the road by phone, and we feel like our data is safe and accessible.
Cons
Airtable has a learning curve for admin and users. Not to say this is Airtable's fault, but to say Airtble is "plug and play" would be false. This learning curve has proven time consuming and creates delays when onboarding new employees who's strength is not data management platforms.
Reasons for Choosing Airtable
ZOHO is clumsy at best.
Reasons for Switching to Airtable
Kintone could not support the amount of records for the price we needed, and Airtable had an easier interface that agreed with our style. As a non-profit one of our highest priorities is budget and Airtable accommodated our record needs at a fair rate.
Industry: Logistics & Supply Chain
Company size: 201-500 Employees
Used

Daily

for

2+ years

Review Source
---
Powerful and flexible collaboration tool
Overall, Airtable has given us a flexible collaboration tool which allowed us to work more efficiently, both internally, and externally with our various stakeholders.
Pros
I like how easy it is to switch between a tabular view and a kanban view for the same data. We always needed an easy visual tool (kanban) for our workflow but also needed a tabular view for an overall look of our work. Airtable seamlessly combines these two along with other features.
Cons
The dashboarding feature is quite new and is still a bit limited. The row limitation is a little too low.
Reasons for Choosing Airtable
We needed a forms functionality so we can take in requests from people outside our team.
Reasons for Switching to Airtable
Easy to share and collaborate with Google SSO, has more features compared to Trello.