About ActiveCampaign
ActiveCampaign's category-defining customer experience automation platform (CXA) helps over 130,000 businesses in 170 countries meaningfully engage with their customers. The platform gives businesses of all sizes access to 500+ pre-built automations that combine email marketing, marketing automation and CRM for powerful segmentation and personalization across social, email, messaging, chat and text. Over 75% of ActiveCampaign's customers use its 850+ integrations including Microsoft, Shopify, Square, Facebook, and Salesforce. Pricing starts at just $9/month. - Automate personalized experiences across all your customer touchpoints - Track buyer preferences, behavior, and many custom attributes across the entire customer lifecycle for deeper segmentation and more effective outreach - Customize sends based on almost any parameter, so your messages are always targeted for the right audience - Use data from the entire customer lifecycle to choose the best content, send time, and delivery channel for each customer - Create entirely customized campaigns with minimal effort, then improve your send strategy in real time based on customer behaviors - Replicate the 1-1 personal experience for every customer, no matter how big your business gets ActiveCampaign offers free customer service, including live chat and phone support, a self-help knowledge base and complementary data migration from other programs. It also offers one-on-one consulting, expedited support and free custom design services for enterprise customers.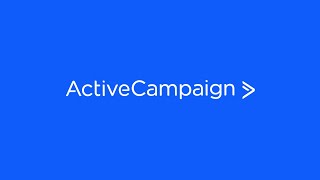 ActiveCampaign does not have a free version but does offer a free trial. ActiveCampaign paid version starts at $20.00/month.
Starting Price:
$20.00/month
Alternatives to ActiveCampaign
Industry: Marketing & Advertising
Company size: 11-50 Employees
Used

Daily

for

6-12 months

Review Source
---
Affordable and powerful email marketing & automation
Overall quite pleasant. If performance and speed of the dashboard improve, ActiveCampaign would have way more raving fans.
Pros
Affordability and range of features are probably ActiveCampaign's biggest strength when compared with other enterprise-level email marketing & automation solutions. Customer service is pretty good as well, usually expecting a response in less than 24 hours.
Cons
Overall performance and speed of the dashboard. Navigating to pages and making changes to data are not snappy enough, which sometimes can result in misconfigurations.
Reasons for Choosing ActiveCampaign
Mostly price and several unused features by Hubspot
Reasons for Switching to ActiveCampaign
Affordability
Industry: E-Learning
Company size: 2-10 Employees
Used

Daily

for

2+ years

Review Source
---
Our company depend on this software
I have been using ActiveCampaign daily for several years now and it is one of the most important software we use in our company. I am very satisfied and I plan on using it for as long I stay in business.
Pros
Very easy and user-friendly. It doesn't require a huge and steep learning curve
Cons
Customer support used to be better before they grew up as big as they are now. They had a live chat on every page and we could ask for help easily. Now, the customer support page is buried and hidden and not as easy to find.
Industry: Computer Software
Company size: 11-50 Employees
Used

Daily

for

6-12 months

Review Source
---
Automation Broken & Engineers Won't Fix
Kind & courteous customer service & onboarding. The chat support is decent & you can get questions answered; however, their achilles heel is that their engineering team is apparently asleep behind the wheel and not only don't fix bugs, but provide zero communication about fixing them.
Pros
Pricing is excellent, features are great, and the company is very innovative. Overall, I really want the relationship to work.
Cons
The automation rules are broken. I have one field update automation that's broken. It's a simple field update automation that says if field a) value = x, then update field b) to be y; however, it's broken and I sent ticket to them ~4 weeks ago. More importantly, I spend all of this time doing the implementation. ,and now their automated emails will not trigger. I submitted tickets to engineering ~4 weeks ago, and I haven't heard a PEEP from the engineers. They are kind enough to give me June service free; however, that's not what i actually want. I want the software to work so that all of the 100+ hours of time I've invested in building landing pages, automations, data imports, etc, can actually be realized.
Industry: Arts & Crafts
Company size: Self Employed
Used

Monthly

for

6-12 months

Review Source
---
Active Campaign
I had tried using several other free email services in the past. Getting people to actually sign up was nearly impossible, even offering discounts and more, hardly anyone ever clicked "subscribe"- Active campaign allowed me to create a pop up window integrated with my website design, that will only pop up once on the main page for first time viewers (or until the cache is cleared). I also created a secondary sign up page where people can go to sign up if they missed the pop-up. This has taken me to large numbers of sign-ups, plus allowed me a way to integrate a 10% off coupon for subscribers after their email was confirmed. This has lead to numerous coupon uses of that 10% off in my store, proving the use of the pop up and offer. I send out monthly emails, keeping my subscribers informed and up to date on what is going on, increasing regular visits to my site and bumping regular sales. The email system is very easy to use.
Pros
The sole reason I decided to start a free trial with this software was because of the complete customization allowed for your email sign-ups and pop-up windows. No one likes to click though email sign-ups that look out of place or run by a 3rd party. With this I could create a system that blended seamlessly with my current website, allowing everything to look 100% integrated into the site itself.
Cons
So far the system has more functionalities than I will likely ever use. However, this is not a 'dislike'. While there are many functions I don't currently need (or understand) there may be a day that I use them, and there are several tutorials and documents available to help me understand these other features. Nothing about the system so far could qualify as something I dislike.
Reasons for Choosing ActiveCampaign
I do not have the coding ability to create pop-ups or many other interactive options. I built and maintain my own website, but my knowledge is limited. I needed a way to get people to actually SEE that I had a mailing list, and optional links and banners were not doing the trick. I also wanted everything to be integrated on my website, to match colors and themes and look like it belongs there.
Reasons for Switching to ActiveCampaign
I accidentally clicked the wrong link. I was initially looking for a free service, but after customizing the pop-up and integrating it into my website, I was glad I did and decided the quality of this product was worth the price.
Industry: Health, Wellness & Fitness
Company size: Self Employed
Used

Weekly

for

2+ years

Review Source
---
Active Campaign is one of the best multifunctional email software out there
Positive.
Pros
All the functionality options that active campaign offers from doing simple to more complicated tasks.
Cons
Learning curve. I keep things simple and don't have time to learn the more complicated task options.
Alternatives Considered
Kajabi
Reasons for Choosing ActiveCampaign
Recommended from someone else as more options as business grows.
Reasons for Switching to ActiveCampaign
I felt it offer what I was looking for.