About AutoEntry
AutoEntry is an automated data entry platform designed to help accountants and bookkeepers with automatically capturing all accounting information. AutoEntry reduces time spent on inputting invoices, receipts, expenses, and statements by automatically extracting data from documents and publishing it to any accounting solution. AutoEntry includes document scanning, item capture, smart analysis and processing, purchase order matching, auto-publishing, document storage, and more. Utilizing item capture, AutoEntry allows accountants to capture item descriptions, unit price, and quantity line by line from any document/receipt. Accountants can scan and upload any document to AutoEntry's system. With seamless integration tools, AutoEntry is able to publish any extracted document data to any accounting solution. AutoEntry will also remember how invoices and receipts are analyzed and processed and offer the same configurations using smart analysis tools. AutoEntry is available for mobile devices via iOS and Android apps.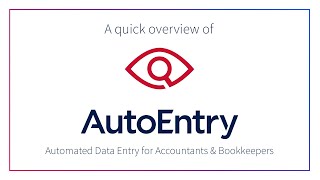 AutoEntry does not have a free version but does offer a free trial. AutoEntry paid version starts at USD 12.00/month.
Starting Price:
USD 12.00/month
Alternatives to AutoEntry
Industry: Accounting
Company size: 51-200 Employees
Used

Weekly

for

1-5 months

Review Source
---
Convenient, accurate and time saving
Pros
We have been using Auto Entry as a firm for a couple of months and we're really impressed at how much time it can save, level of accuracy and convenience. As a medium sized accountancy firm we are always looking at options to save labour hours inputting data and so far it is a good inexpensive solution.
Purchase invoices are easy to process, we mostly upload all the invoices we want to process as one PDF and leave Auto Entry to process them, but there are options to process multi-page PDFs and more detailed breakdown. It will read the Date, Supplier name, and amounts, net of VAT and gross including it.
When Auto Entry and QuickBooks are linked up, all the Suppliers, Customers and the Chart of Accounts are linked, to the supplier account and relevant nominal can be selected from a drop down, which Auto Entry remembers going forward. You can ''Approve'' invoices that are ready to import and sync up with QuickBooks.
Sales work very similar to Purchases.
Bank statements are processed quickly and are usually accurate, saving us many hours that our staff would have to spend manually summarising. The files at the end can then be either downloaded as an excel file or imported into QuickBooks. In terms of chargeable time it is inexpensive, freeing up time to work on other tasks.
When we first tried out Auto Entry, there is a chat box and the bottom right that lets you know what advisors are active at that time. They were very helpful at the start when navigating it.
- On behalf of Jerroms
Cons
Occasionally a figure may be incorrect when converting bank statements, however this is very rare.
Sometimes a duplicate items on an invoice may occur when processing purchase or sales invoices, Again quite rare.
Industry: Accounting
Company size: 2-10 Employees
Used

Daily

for

2+ years

Review Source
---
Change how you deal with clients and your own accounts
Cut down on time spent on repetitive and labourious tasks to free up staff to work on higer paid tasks such as accounts preparation instead of record-keeping
Pros
Easy to use
New users are enthusiastic about the package
Inexperienced users can make progress on data entry
the package skims documents to pick up dates and amounts but also picks up on invoices where the invoice is entered twice and points out duplicates
At the end of the accounts process everyone can log in and view an image of the actual invoice uploaded thereby cutting down on verbal explanations and long conversations and misunderstandings
Cons
Possibly too easy to use
Users sometimes click an invoice as paid which causes complications later
Reasons for Switching to AutoEntry
Receipt Bank ( RB ) didnt extract enough information, nor did it insert an image of the invoice in to our accounts package. RB was not reliable enough to do ''one-click'' posting in to Sage for VAT returns, it did produce a CSV file but that was too unwieldy to use.
Industry: Accounting
Company size: Self Employed
Used

Daily

for

2+ years

Review Source
---
Same service issues every month please address the issues and guarantee stability with your...
when I first made the decision to use Autoentry it seemed to be effortless and started helping with Carbon footprint and reducing the need to keep paper records, which is where we all want to be and still conforms with HMRC record keeping guidelines.
Over 2021 and more so the last 6 months continuous issued with publishing between Xero and Autoentry, and Xero is my preferred choice software. I have questioned since they were brought out by Sage the service would improve however the service levels and functionality and stability are getting worse month by month.
Pros
Easy to set up and an efficient way to keep digital records and very useful having a copy of Invoice attached to the transaction. Very smart way if ever having to go back on an Invoice for a query of useful data
Cons
Over the last few months Autoentry and Xero do not sync and publish. For customers delivering paperwork last minute results in fines from HMRC for late Vat filing. Having to keep unsyncing deleting the app and re setting up.
Month after month this is now becoming an issue and not helping cut down on processing time. Raise the same issues to autoentry every month and they may tweak the settings but these are not a long term fix. I only use Xero as the integrated supplier and over 2021 this is happening on a regular basis. I have become so familiar with the process to disconnect and reconnect for a short term solution.
Industry: Mechanical or Industrial Engineering
Company size: 2-10 Employees
Used

Daily

for

1+ year

Review Source
---
AutoEntry Accuracy and Time Saving
I have realized that I don't need to pay someone to do this work . I simply spend 10 mins a day on AE and then pay everyone myself at the end of the month. The accounts have never been so tidy and up to date and I can get figures out of Sage that I know are correct.
This product is outstanding and costs the business a fraction of paying someone's wages.
You can also use it for statement s and expenses.
Pros
I started using Auto Entry Last January after a member of staff left who looked after the accounts. We have about 250 purchase invoices a month and around 40 suppliers to pay so manual entry is time consuming and errors compound when statements don't tally.
Any change is daunting but I was talked through the install on our main server and within a few days I was flying along. You teach to AE which account to put invoices to then it remembers. The package attaches a copy of the invoice to the line in Sage. No need for hundreds of lever arch files of purchase invoices, or searching through them to find what yo u paid for something, accounts add up for payment .
I simply e mail them to AE from the main accounts e mail and to whoever placed the order so that they can be checked
Any questions and there is a chat on the screen and the help sorts out any little issues in 5 mins.
Cons
Occasionally there are delays in publishing the invoice through to Sage but these never last more than a few hours and by the morning everything is there , which is much faster than the manual way which sometimes took weeks.
Industry: Arts & Crafts
Company size: 11-50 Employees
Used

Daily

for

6-12 months

Review Source
---
Our experience with AE
Excellent. Very good help desk
Pros
Clear , links will in accounting products. Our staff are uploading their invoices and coding on line. Much better than paper invoices floating around.
Cons
Could do with expenses being a little more clear on the page for people not frequently in AE, they have a little trouble getting used to how to do their staff expenses - but we are getting there. Also some features like when an invoice was paid by debit card or credit card. not yet available for Sage users but on the development list. Now owned by Sage I expect it will work even better with sage as time goes on.
Reasons for Switching to AutoEntry
initially price and flexibility of plans. Now that Sage have bought it I think it will grow to be even better for us.