About CAKE POS
CAKE is a cloud-based point of sale (POS) solution for restaurants. Primary features include payment acceptance, guest and waitlist manager, online ordering, gift cards and table-side ordering. It allows users to track real-time sales at different locations, wages, hours and overtime. The reporting module allows owners and managers to drill down into sales reports to find sales by week, day or hour. Payroll reporting helps users calculate wages and overtime and sales can even be compared to labor costs each hour. Peak hours tracking and customer tracking are also available on-demand in real time. It offers an offline mode that allows users to manage restaurants and accept payments when internet connection is down. It offers integration with PayPal, Xero, Orca, 7Shifts, Quickbooks and Avero. It supports Windows, Mac and Linux operating systems. It can also be accessed by smartphones and tables. Support is offered via email and over the phone.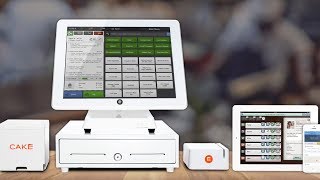 CAKE POS does not have a free version. CAKE POS paid version starts at USD 69.00/month.
Starting Price:
USD 69.00/month
Pricing Details:
CAKE Point of Sale: as low as $69 per month CAKE Guest Manager: $199 Activation fee, $79 per month CAKE Online Ordering: $49 per month, 5% processing fee per order
Industry: Restaurants
Company size: 11-50 Employees
Used

Daily

for

1+ year

Review Source
---
Review of CAKE
I enjoy that there is 24/7 customer support with any issues. (love the new text feature)
Pros
I like that I can access it anywhere remotely to make changes, add menu items, and view sales.
Cons
I don't like the new update. I feel the original version is easier to use.
Industry: Restaurants
Company size: 11-50 Employees
Used

Daily

for

2+ years

Review Source
---
CAKE is simply the BEST
A++++++++++++++++++ System and customer service!!!
Pros
The accessibility, functionality, storage and speed of the system in general. THE SEARCH BAR OMG!!!!
Cons
The chip readers inconsistency. The inability to be able split items more than 1 in a time.
Reasons for Choosing CAKE POS
Honestly... The tipping point was the card fee. But since then it has been awesome. Why we are staying put!!!
Reasons for Switching to CAKE POS
Everything said in the comments before
Industry: Restaurants
Company size: 2-10 Employees
Used

Daily

for

1+ year

Review Source
---
Cake(MadMobile) POS Review
Very solid, they have earned my respect and trust. I have appreciated the help getting everything going and the simplicity that the software provides.
Pros
Cake is an easy software to understand and use. Compared to Toast or Square the setup is straightforward, the interface is clean and the POS equipment is very high quality. Reports are instantly available, customer service is top-notch, and transactions are smooth and hassle free.
Cons
Customizing the online ordering screen as well as the second screen for the POS. Both are very limited and don't allow me to alter font, or layout/style. I'd like to represent my image better and I can't do that if I can't alter the fonts and add graphics.
Reasons for Switching to CAKE POS
Superior equipment(POS), easier setup, and maintenance.
Used

Daily

for

1+ year

Review Source
---
Not ready for Prime Time. Crashes when you need it most.
I can't think of anything this POS does better than the one we replaced. If it wouldn't crash all the time, we could benefit from not having the servers leave the floor to put orders in and run credit cards, but since they are constantly crashing, we don't have that benefit.
Pros
Easy to use interface.
Order Pads should allow servers to spend more time on the floor
Inexpensive POS System.
Cons
It doesn't work when we need it to. We've been trying to get the issues resolved via Cake Support and Sysco Management for more than 8 months. It isn't getting any better. As soon as the dining room gets busy the Order Pad Apps crashes. All of our servers need to have paper and pencil ready at all times to complete their orders and stand in line at the terminal to enter them every rush. It seldom happens when we are slow. Orders get lost during entry causing double work to recover the in flight order, after printing in the kitchen causing them not to be charged on the customer's bill, and customer credit cards have been double billed as a result of Order Pad disconnects. We are spending hours with Cake Support that we should be spending working our business. We have to keep 1 person available to capture trouble shooting information for Cake Support during our rushes when (not if) the Order Pads go down. Cake Support is always busy, but will eventually call back. When they do, they aren't very knowledgeable with troubleshooting, they don't seem to be trained to go any deeper than the Cake University screens. The cheap price of the Cake system has become a huge expense in manpower and wasted time in our restaurant.
Response from

CAKE from Sysco

Your CAKE hardware is definitely not performing as designed. Our Customer Success Team has reached out to resolve your issue. Thank you for the honest feedback, we'll use it to create better products and support in the future.

Replied 11/01/2018
Industry: Food & Beverages
Company size: 2-10 Employees
Used

Daily

for

2+ years

Review Source
---
Great System...WORTH every penny!
CAKE is excellent. We've had great customer service when we had questions or issues...and our software and hardware have worked GREAT for the past 4.5 years!
Pros
We love that each employee can easily enter and track orders, as well as clock in & out! That coupled with the awesome real-time reports available make this an unbeatable product!
Cons
We have a small frustration with how the POS screen aligns the option buttons in ordering windows. It takes us a few minutes to adjust after we change menu items, but is not a big issue.
Reasons for Switching to CAKE POS
It seemed to have all of the options we needed in one package, where everything else required additional programs, hardware or services.