About Online Check Writer
Online Check Writer is a cloud-based solution that helps businesses manage accounts payables/receivables, payment processing, reconciliation, and other financial activities on a unified portal. The platform enables administrators to create multiple users and provide access to data via role-based permissions. Online Check Writer allows organizations to capture data from multiple banks and gain insights into deposits and checks via automated statements. The application allows users to create and print checks using a drag-and-drop builder and receive recurring or one-time payments via automated clear house (ACH) transfers. Additionally, the system automatically aggregates reports for deposits, cash expenses, check drafts, and other transactions and segregates the information by category, bank account, payee or other attributes. Online Check Writer supports integration with numerous third-party systems such as BitPay, Zoho Payroll, Zapier, QuickBooks, and more. It is available for free and monthly/annual subscriptions. Support is offered via phone, email and other online measures.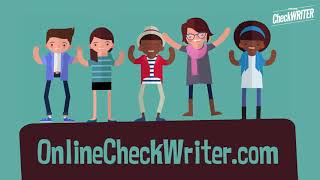 Online Check Writer pricing
Online Check Writer has a free version and does not offer a free trial.
Alternatives to Online Check Writer
Online Check Writer Reviews
Industry: Computer & Network Security
Company size: 2-10 Employees
Used

Weekly

for

2+ years

Review Source
---
Sometimes you can judge a book by its cover
OCW has met all my payroll and check printing needs.
Pros
Online Check Writer, or simply OCW, is a web-based platform that has expanded from its orignal purpose of creating and printing checks. Users will find that the platform still excels in its original function, and should not be faced with too steep of a learning curve when they start out with the easy-to-use web platform. OCW has continued to develop and improve the check printing features, placing them first-in-class for check printing, while maintaining reasonable fees.
Today's OCW offers far more than simply check printing. They have vastly expanded their offerings to include integration with all popular accounting software, added a powerful payroll management feature, and even integrated business banking accounts, payment processing, and ACH features such as direct deposit.
While the customer service can be difficult to reach and often subpar in the assistance offered, users who have some accounting familiarity or those with time enough to employ self-help features, will find the services offered to be unparalleled at the price offered. OCW is a true contender in a banking and accounting all-in-one solution for small businesses.
Cons
The customer service is minimally responsive and does not follow-through.
Response from

Zil Money

Hi Matthew,
Thank you very much for this comprehensive review. As you have noted, we have been laser-focused on platform development, and now users have a very advanced platform capable of handling all their finance-related needs. We promise to bring that quality focus to all aspects of our business, including customer service.

Replied 10/08/2022
Industry: Arts & Crafts
Company size: 11-50 Employees
Used

Daily

for

2+ years

Review Source
---
Will be dropping the software with the increased pricing and new charge per check printed
Overall positive for the 2+ years I used it, but with the increased cost, I no longer see it as worth the cost.
Pros
Easy to use, good check layout software. Overall, have had a positive experience with the software.
Cons
Customer support is limited, price hike has me looking into other options
Reasons for Switching to Online Check Writer
Can not print signatures on checks on QB Online Advanced
Response from

Zil Money

Hi John,
Thank you for the review. We have subscription packages with 100% cost refilled as usable credits plus transaction charges reduced by 81%. We also offer custom plans to high-volume users. Please call us, and we can provide a custom plan for you. We now offer a complete payment platform in a single plan, including the ability to pay anywhere with a credit card even if the vendor/merchant doesn't accept credit cards. We encourage you to please explore all our facilities and subscription plans; you will understand we are providing a robust value-for-money platform

Replied 08/08/2022
Industry: Nonprofit Organization Management
Company size: 2-10 Employees
Used

Monthly

for

1+ year

Review Source
---
Used to be a happy customer
Like I said, it was a great piece of software when we started using it. I've asked for the zil account and accompanying wallet to be removed because we are a nonprofit, only the board can make a decision about creating new accounts. But it's been many months and they haven't done it yet, so I'm pretty sure they never will. It's so frustrating, they even send us monthly zil statements. We're probably going to switch back to our payroll system for ACH, because it's too confusing the way it's set up now.
Pros
I used to like it much better before we added ACH. The check writing worked great, it was intuitive and easy to use.
Cons
The user interface changed without warning a few months ago from something that was really easy to use to something that doesn't even fit on my computer screen and I have to reduce my magnification to 90% to see it all. I have to hunt all over the place to find various features that were all previously in one place. At least they should have given us some warning, I was on vacation and the admin using it was texting me that she couldn't figure out how to send ACH anymore.
When we set up ACH they created a zil account for us which we didn't ask for and didn't want. It generated an automatic wallet that is identically named to our real wallet and it's been so confusing. It's unclear to me what enable wallet bypass means in the two different places it can be entered, both in the wallet settings and when we actually send an ach payment. We're always afraid we're doing something wrong.
Reasons for Switching to Online Check Writer
At the time it seemed easier to use and to give other people access to check writing. It has changed a lot since then.
Response from

Zil Money

Hi Lynn,

Please give us a call; we are keen to solve your issues with the platform.

Replied 28/07/2022
Industry: Real Estate
Company size: 2-10 Employees
Used

Weekly

for

2+ years

Review Source
---
Easy to use and can be used anywhere
Pros
You can easily know when, where and how much you have used at any time, even if you do not record separately, and it is easy to use and can be used anywhere.
Cons
Occasionally, when there is a change in the position of what I have designed, I have to go back into the design and adjust it.
Reasons for Switching to Online Check Writer
Selected by considering the convenience of use first
Response from

Zil Money

Hi Young Jun,
Thank you very much. The Pros you listed are what we always strive to deliver. Very happy to receive this feedback from you.

Replied 28/07/2022
Industry: Financial Services
Company size: 2-10 Employees
Used

Weekly

for

1+ year

Review Source
---
Excels porduct
I love this product. I would continue to use it forever.
Pros
Ease of use. Versatile. The options are very well thought of.
Cons
The initial setup was a little difficult but that only makes the product that customizable.
Response from

Zil Money

Hi Saif,

Thank you very much for this great review.

Replied 28/07/2022