About Online Check Writer
Online Check Writer is a cloud-based solution that helps businesses manage accounts payables/receivables, payment processing, reconciliation, and other financial activities on a unified portal. The platform enables administrators to create multiple users and provide access to data via role-based permissions. Online Check Writer allows organizations to capture data from multiple banks and gain insights into deposits and checks via automated statements. The application allows users to create and print checks using a drag-and-drop builder and receive recurring or one-time payments via automated clear house (ACH) transfers. Additionally, the system automatically aggregates reports for deposits, cash expenses, check drafts, and other transactions and segregates the information by category, bank account, payee or other attributes. Online Check Writer supports integration with numerous third-party systems such as BitPay, Zoho Payroll, Zapier, QuickBooks, and more. It is available for free and monthly/annual subscriptions. Support is offered via phone, email and other online measures.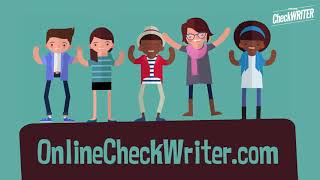 Online Check Writer pricing
Online Check Writer has a free version and does not offer a free trial. Online Check Writer paid version starts at USD 49.99/month.
Starting Price:
USD 49.99/month
Alternatives to Online Check Writer
Online Check Writer Reviews
Industry: Outsourcing/Offshoring
Company size: 11–50 Employees
Used

Daily

for

Free Trial

Review Source
---
I use Online Check Writer daily and I am satisfied that I selected that product
I started to use that product several weeks ago and I would like to say that I am fully satisfied user. I like accept my payment via the link. The overall experience is amazing.
Pros
I like the interface. It's very easy to digest. Secondly, I am amazed that my business bank operations are in pocket and I am able to recieve and ask for a payment. What I am grateful for is that there's Advanced Two Factor Authentication.
Cons
I am not sure I could see my default currency information on the Bank Data. It would be useful because I have 2-3 bank accounts with different currencies. On a business tools menu there's a View more button but I would prefer seeing that features listed right there.
Industry: Insurance
Company size: 2–10 Employees
Used

Daily

for

2+ years

Review Source
---
Easy to Use
Tech support is always there to chat or available by phone.
Pros
I like that you can print either Blank checks or just a PDF check. Easy use and able to work my own check design.
Cons
It has become a bit pricy now as a stand alone check printing software.
Response from

Zil Money

Hello Noe, we are thrilled to hear that you like our online check printing software. We understand that cost is always a consideration, so we offer various pricing options to suit every budget. We appreciate your feedback and hope that you will continue to enjoy using our software. Thank you!

Replied 05/04/2023
Industry: Events Services
Company size: 2–10 Employees
Used

Monthly

for

1+ year

Review Source
---
Poor Customer Experience
Online Checkwriter is very inconsistent with their processes and their phone agents are extremely rude. When it comes to paying vendors and you advise the estimated date of when their direct deposit should hit their account, you need to be very precise. It's okay to be a day off of the date advised but 1-2 weeks beyond that is crazy! I don't trust that I can continue using this software due to the lack of speed in processing ACH deposits.
Pros
I like the fact that this software is available online and that it gives me the capability of paying my vendors via ACH or check.
Cons
Online Checkwriter has poor customer service when it comes to their processes and procedures. Before implementing a process to pay my vendors via ACH, I called Online Checkwriter and walked through the process to ensure that I had it correctly. I even ran a couple of live test transactions to confirm the process works for me. When I started paying my vendors, I was advised that it would be 3-5 days for them to receive payment. After relaying this to a vendor I was then told that it's up to 9 business days unless I fund my wallet in advance. For the next vendor, I funded my wallet first and then processed an ACH which should have been deposited on the next business day. Again, the funds were not deposited and sat in the vendor's newly created wallet within Online Checkwriter (the vendor did not request this wallet account) for over a week. I called and spoke with the ACH department who said regardless of what I was told by a previous agent, I need to upgrade my subscription and follow a process that was never given to me.
Response from

Zil Money

Thank you for your positive review. Furthermore, we apologize for the difficulties you may have experienced. The customer service team is expanding its capabilities to provide better customer service and to address customers' doubts. We have a 24-hour chat team and call support between 8 AM CST to 8 PM CST. Feel free to reach us back for any assistance.Our team ready to help you

Replied 09/11/2022
Industry: Accounting
Company size: 2–10 Employees
Used

Weekly

for

2+ years

Review Source
---
Great for any size bookkeeper
Pros
The ability to sync with QBO and add multiple bank accounts or clients makes using this software amazing. It is very easy to setup and use and customize check templates as needed.
Cons
When they switched their billing model and the functionality of their site it made it very difficult to use for a time being as there were many glitches but their customer support was able to assist me.
Response from

Zil Money

Hi Dustyn, we're glad to hear that you find our software easy to use and customize. We're sorry to hear that you had some difficulty when we switched our billing model, but we're glad that our customer support was able to help you out. We appreciate your feedback and hope that you continue to enjoy using our software.

Replied 12/01/2023
Industry: Accounting
Company size: 5,001–10,000 Employees
Used

Daily

for

6-12 months

Review Source
---
Perfect
Pros
Perfect site.I love their interface. The are welcoming. Thanks for letting me know this your site
Response from

Zil Money

Thank you so much for the kind words, We're so happy to have you as a customer and we're glad you love our interface. If there's anything we can do to improve your experience, please don't hesitate to let us know. Thanks again for the five-star review!

Replied 20/06/2023