About Acorn
Acorn Performance LMS (PLMS) is the dynamic AI-powered platform for Learning and Development (L&D) experiences synchronized to business performance. Corporate learning is broken. Acorn is the antidote. It's the only solution that guides learners step by step to master the specific capabilities of their roles that will accelerate organizational performance. Both leaders and learners are tired of uninspiring training and performance reviews. People crave paths to excellence but are sick of wasting time wading through mountains of content because someone said so. They're learning outside of their organization's LMS by interacting with peers — and that learning is lost. Acorn captures things that are already happening and makes them easy to find. It facilitates knowledge transfer between employees and fosters a learning-in-the-flow culture where everyone helps each other get better. By presenting contextual learning opportunities while tightly linking learning and performance, Acorn equips people to grow and excel in precisely the ways that positively impact outcomes. Acorn enables companies, governments and other institutions worldwide to consistently align individual growth with business objectives through a performance-oriented LMS. Designed to codify and operationalize capabilities to improve organizational efficiency, Acorn curates internal and third party sources and intelligently serves up the right learning recipe for each person's betterment. It also captures key interactions hidden within organizations, transforming them into shareable learning assets that promote knowledge exchange at scale. Acorn's AI collects tangible evidence of behavior change, creating a comprehensive record of individual learning experiences mapped to their impact on performance. It facilitates continual employee assessment in a feedback loop that measures improvement not completions. This makes it easier for companies to identify people with desired capabilities, promote from within and enhance retention, engagement and satisfaction. Uniquely, Acorn addresses the issue of multiple LMSs plaguing organizations, providing one PLMS for employee, partner, customer, member and citizen use cases. Acorn envisions a world where organizations attain peak performance by empowering their people with the information to reach their full potential as impact players. Impact, not overload™ -- Meet Momentum - Acorn's HR workflow automation tool. The tool allows you to retire manual admin HR tasks and employ automated HR workflows. Momentum is the speediest way for HR professionals to reduce human error, connect better with their people, and eliminate redundant processes. Workflows, forms, automated custom emails, time-based logic, custom reports and exports. Set & forget with confidence. With Momentum, you can retire manual tasks and focus on your role to protect the company from risk and maximize employee productivity and performance.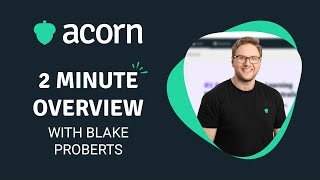 Acorn does not have a free version but does offer a free trial.
Industry: Marketing & Advertising
Company size: 11–50 Employees
Used

Weekly

for

6-12 months

Review Source
---
Amazing tool and support!
Amazing tool & service! It was difficult sifting through the seemingly dozens of LMS platforms out there - we must have done a demo with at least 6 or 7. Acorn impressed us with how easy-to-use it appeared, and we've not been disappointed in our decision. Their support is incredible, and helps being in the same timezone (lots of others were either US or UK office hours which wasn't very convenient for us).
Pros
Onboarding was as painless as could be expected. Reporting is simple but comprehensive, and the local support has been amazing at answering any of our questions.
Cons
No real negatives from my side except maybe a larger content library, but I know this is on the roadmap and being built currently. Plus integrations with content providers mean there's lots available.
Reasons for Switching to Acorn
Ease of use, responsive local support
Response from

Acorn

Hi Adrian, thanks for taking the time to write the review. Much appreciated!

We've built out a deeper content library since the review (especially on the compliance front) and we've also gone a best of breed route by integrating with the likes of LinkedIn Learning, Go1, SkillSoft (Percipio), MindTools for Business and more.

Final thing we've been working on his the concept that 'less learning is more', so we're getting super targeted and optimised with content based on learner impact.

Replied 12/02/2023
Industry: Nonprofit Organization Management
Company size: 51–200 Employees
Used

Daily

for

1-5 months

Review Source
---
Set up of new Acorn system
We needed a system that could have multiple tenancies which we have achieved that function in different ways. This has allowed us to have our internal training for staff and contractors separate from our external training that is a revenue line for the business.
Pros
The platform has been easy to set up with the support of the Pursuit Technology developer. The course set up structure is also easy to use.
Cons
There is no option to have a course changed from self-enrolment to admin enrolment only. There is limited functionality to choose different selections in setting up cohorts to use fields not equal to. The set up of new users is clunky with having to upload the whole user dataset again as we don't have a HR system to draw the data from. The other issue is the inability to change the home page to feature the elements we want to have eg a blog.
Reasons for Choosing Acorn
Many reasons including cost of the platform, functionality, multiple tenancies.
Reasons for Switching to Acorn
The ability to have multiple tenancies, the look and feel of the system and the cost.
Response from

Acorn

Hi Melinda, having been with us 3 years and going strong we value your public input on top of the private support you give us.

We took on-board the priority areas you mentioned for us to improve and are proud to share the progress to-date (thanks for all your patience!).

The homepage overhaul brought with it the completely configurable widget functionality, with a plethora of widgets to choose from ensuring the homepage that you create is not just branded but also to the design of your exact needs.

Cohorts is done and fixed up now, and an area we continue to invest in and the dataset upload is a rare use case for us without a HRIS, but we still intend to put more support resources (yes, real humans!) so we can help in anyway so it doesn't become the admin headache none of us need!

Replied 12/02/2023
Industry: Government Administration
Company size: 1,001–5,000 Employees
Used

Daily

for

1-5 months

Review Source
---
Thanks [SENSITIVE CONTENT HIDDEN]
Pros
[SENSITIVE CONTENT HIDDEN] is very responsive and clearly communicates how easy this product is to use.
Cons
People with admin access cannot view the learning profile/history of users.
Response from

Acorn

Thanks for the review Bec, support to this day remains important to us.

Replied 12/02/2023
Industry: Government Administration
Company size: 51–200 Employees
Used

Daily

for

6-12 months

Review Source
---
Acorn LMS
Having used many LMS systems, Acorn is the easiest and most intuitive LMS I have come across.
Pros
Acorn is easy to implement and administer, and intuitive for users.
Cons
The Acorn workflow system is relatively new and still needs more work.
Response from

Acorn

Thank you so much Emma, we appreciate your thoughtful response.

Re the workflow builder, this is a high priority for us right now and is in active development sprints to get it to a 10/10, so we look forward to sharing these improvements with you.

Replied 06/09/2023
Industry: Higher Education
Company size: 11–50 Employees
Used

Daily

for

6-12 months

Review Source
---
Enjoying it so far.
Pros
We have really enjoyed transitioning to Acorn as our LMS, and are finding that the software is particularly pleasing from a learner's perspective. We have had positive feedback from students and trainers when it comes to navigating course content. There are a host of useful features and functions including flexible enrolments, resources and activities, plus a great range of reports. I have been most impressed with the technical support received from [SENSITIVE CONTENT HIDDEN] and regular updates from [SENSITIVE CONTENT HIDDEN], which has made the experience much less stressful.
Cons
Due to the size of our RTO and the number of courses we need to create, the system can run slowly at times - this is being improved gradually. We are looking forward to seeing a user profile feature become available soon.
Response from

Acorn

Hey Erika,

Thank you so much for your review! Your terrific feedback is really insightful for us and is great for us to keep in mind as we move forward with the product.

We're on Acorn 2.0 now, have built out the new infrastructure which is fully live and the final step is as we are a SaaS company to ensure we work with all customers to help them have their own speed issues quickly resolved. Teams win together after all!

The user profile feature is on it's second release since the review, if you have any further feedback we're all ears as ever.

Replied 12/02/2023