About HelpCrunch
HelpCrunch is a customer communication platform combining live chat, email marketing automation and a help desk in one solution. The solution helps support, sales and marketing teams to acquire, convert leads and support their customers. HelpCrunch is suitable for SaaS, e-commerce and any other type of online business. Live chat works as a visitor engagement, lead acquisition and support tool. The feature enables companies to reply to customer queries instantly or later in the same thread, even after the customer has disconnected. An in-app messenger can be integrated with a website or application to engage with customers. Chatbot helps companies automate routine tasks and jumpstart their lead generation activities. Email marketing automation enables users to send email follow-ups right from the chat, launch one-time emails or create event-triggered automated email sequences for onboarding or marketing campaigns. The help desk module can organize all customer communication, prioritize actions, distribute tasks and manage each customer case. Pricing is tiered, based on the number of agents and emails.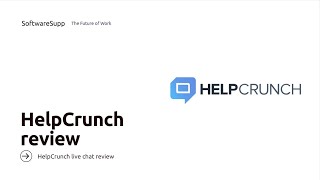 HelpCrunch does not have a free version but does offer a free trial. HelpCrunch paid version starts at USD 15.00/month.
Starting Price:
USD 15.00/month
Alternatives to HelpCrunch
Industry: Internet
Company size: 11-50 Employees
Used

Daily

for

6-12 months

Review Source
---
The software that really helps
HelpCruch has everything we need to automate the process of catching leads, providing necessary information to them and don't let them forget about us after we had a chat.
All the features are pretty detailed which helps to create what you really need. For instance, a pop-up. You can select different styles, colors, there is no limit on what you do. That's why your work with HelpCrunch is a pleasure.
One more thing, that will definitely win your heart is outstanding online customer support HelpCrunch has. They treat you not as a random user, but like a friend. Furthermore, they do release the features you request. They are just fabulous :)
Pros
HelpCrunch has a user-friendly interface with all necessary features supported. I would say, the team has thought for us by creating top-notch functionality. It was a great surprise, uniquely different pop-ups, and automatic follow-ups.
I would recommend to each new user to set up a demo call to see the full set of functions the HelpCrunch chat platform has.
Cons
There is nothing I can list here :) Like... really nothing :)
Reasons for Switching to HelpCrunch
The features, attractive design, functionality, price, online support have won in comparison with our previous platform (Drift) and a few that we were considering.
Response from

HelpCrunch

Lana, you made our team's day. Thanks for all the love!
We're super glad to have you and supporthunt team as our loyal customers.

Replied 06/09/2019
Industry: Internet
Company size: 2-10 Employees
Used

Daily

for

6-12 months

Review Source
---
Excellent value-for-money Software for our SaaS business
While we were only looking for a chat solution, and had two bad experiences with competitors who had "automated solutions" where no-one was actually there to sort their bugs out.
Helpcrunch, on the other hand was reactive from day 1. We were pretty quick to install it on our system (both website & SaaS).
We programmed dozens of automated messages, also use it to push product news to our customers, and get quick feedback through the chat for our on-trial customers.
Overall, I recommand Helpcrunch for Chat Messenging and E-mailing, though I have not tested all the options that are part of our package (such as the integrated Resource Center)
I look forward for further developments of the solution in 2020 !
Pros
- Complete suite for emailing and chat
- Simple enough, yet highly customizable
- Very reactive customer support teams
Cons
- No Drip email marketing implemented (well, not yet as of 12/2019)
Reasons for Choosing HelpCrunch
Customerly did not work properly, and there was no answer for 2 weeks to our questions.
Response from

HelpCrunch

Hey Thomas! Thanks a lot for all the comments. We're pumped you're with us.

Would love for your to explore the Knowledge base (Resource Center) as well - it's really helpful if you want to automate your support and provide a self-service option for customers.
If any questions, we're always there to assist you.

Replied 08/01/2020
Industry: Computer Software
Company size: 2-10 Employees
Used for

1+ year

Review Source
---
Web software ok. Mobile app non-functional. Service non-existent
Refused to allow me to cancel, even though I attempted to do so on the renewal date, and even though their app isn't working, so I can't respond to customers through the app. They suggested that I could enable email notifications - completely negating the point of instant response.
Pros
It was reasonably easy to install, although took a while to configure.
Cons
Mobile app didn't work, so when I did get enquiries I wasn't able to respond, making it look like I didn't respond to my customers.
Response from

HelpCrunch

Hi Andrew! We really appreciate your review. Indeed there were some issues with the mobile apps in the last few weeks which a very small part of our customers have, unfortunately, experienced. You were one of them.

We do realize that this has affected your communication with customers and your business. We're terribly sorry for that and just wanted to let you know that we listen to all the feedback and try to react asap. We're rolling out a new update already this week which is aimed to dramatically improve both iOS and Android apps performance and overall user experience, fix the issues you've experienced + provide some new exciting features.

We really hope you'll be able to try out the updated apps. Our team would be looking forward to your feedback! Please don't hesitate to get in touch with us at any time. Take care!

Replied 29/07/2020
Industry: Information Technology & Services
Company size: 11-50 Employees
Used

Daily

for

1-5 months

Review Source
---
Sales Acquisition and Retention With HelpCrunch
Initially, we tracked our user behaviour of users coming on to the page. With this we tried to figure out what time most of the user are active and online, this helped us to followup with the user effectively and also helped us to improve our conversion rates to 12%.
Now, we are trying to send multiple follow up messages from the start with strong CTA's and have seen significant growth in sales.
Pros
Iam a noob developer and i have a responsibility of finding better customer relation management chat bot which improve my sales, i was on hunt for chatbots which is easy to use and customise, this is when i came across helpcrunch as i saw it gives me many integrations like mail and text where i get notified when an user has any concern. Along with this i also liked the customisation menu which is properly structured so that every entity can be changed with ease. As it also give 14 day free trial, this will altogether will get a customer and retain them effortlessly.
Cons
I liked pretty much everything, only thing i feel like can be improved is widget customisation along with the sizes and colours, this will make completely handful to the user.
Reasons for Switching to HelpCrunch
Main reason of choosing helpcrunch over intercom is pricing as helpcrunch gives same features like intercom for the best price and affordable.
Response from

HelpCrunch

Hi Bhushan!
Thanks a lot for sharing your experience with HelpCrunch.
Seeing those conversion, sales and retention metrics improve is what it's all about.

As to the widget customization, we've looked at dozens of other live chat solution and couldn't find a more customizable chat widgets.
On HelpCrunch you can change widget size, colors, and there are many other customization options to play with.
Nevertheless, we're constantly adding new exciting tweaks and features to the live chat. Feel free to reach out to our team to share your suggestions.
Cheers!

Replied 05/09/2019
Industry: Newspapers
Company size: 11-50 Employees
Used

Daily

for

1-5 months

Review Source
---
Very good software that drives customer interaction
Very pleased. Nice people, good software and good value for money.
Pros
I love HelpCrunch. I have tried literally 50 programs out of the 200 or so that are out there. HelpCrunch was my choice after a long search, and I am so glad I did.
The ease of use is extraordinary, and I am thrilled with the help I have received.
I am a news editor so trying to actually launch a new software program is often hard as I found out doing free trials on other programs, but I was able to set up HelpCrunch in two hours one evening.
It was a great use of time, because now I am finally seeing results when other software would draw crickets.
So I would suggest HelpCrunch to anyone serious about communication.
Cons
I would like to see Facebook Messenger integration which I know will be coming soon, but I would like it now.
Reasons for Choosing HelpCrunch
I found it to be a little more difficult to use and very expensive.
Reasons for Switching to HelpCrunch
I liked the integration of a help desk with the news.
Response from

HelpCrunch

Thanks so much for the detailed review, BJ!
We're looking to improve our user onboarding soon so it takes even less time to completely set up your account.

And yes, facebook messenger integration is coming soon. Stay tuned!
Appreciate your business.

Replied 21/08/2019