About Direct Mail
Direct Mail is an email marketing solution for Mac that lets you create and send personalized emails to your list of subscribers. Designed for SMBs and large companies alike, Direct Mail includes customizable email templates, image editing, live previews, custom email sign-up forms, automatic and manual list segmentation, email tracking, campaign analytics, subscriber activity reporting, and more. Customize with images, videos, buttons, surveys, and more. Drag and drop images directly into your email and edit image within the app (including cropping, removing backgrounds, and adding filters). Conditional logic allows you to tailor custom content for each recipient. "Spam Tests" alert you to any mistakes before you send, including broken links, misspelt email addresses, and spam filter issues. Direct Mail allows you to target your messages to specific subscribers—either manually or automatically. Metrics include opens, clicks, unsubscribes, and bounces.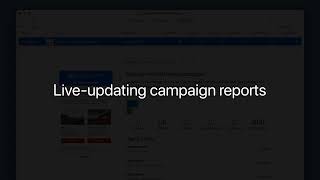 Direct Mail has a free version and offers a free trial. Direct Mail paid version starts at USD 15.00/month.
Alternatives to Direct Mail
Industry: Food & Beverages
Company size: 2-10 Employees
Used

Monthly

for

2+ years

Review Source
---
Nearly Perfect
I have maintained various mailing lists and mailings over the years and DirectMail has always been the perfect tool for me. Now that I am retired and I only use the app to organize my monthly dinner parties, it has scaled down nicely and is still the perfect tool.
Pros
Easy organization makes easy to maintain compliance with all laws and common decency.
Cons
It doesn't bend to my personal case use, but I could hardly expect it to.
Reasons for Choosing Direct Mail
Needed a single solution for multiple lists and html formatted mailings that could be administrated easily from a single source.
Reasons for Switching to Direct Mail
More Mac friendly.
Industry: Graphic Design
Company size: 2-10 Employees
Used

Monthly

for

1+ year

Review Source
---
The Perfect Email Marketing Tool...
Direct Mail allows me to send emails out about my calendars for sale, photographic workshops I am running and snooker events I am hosting. I love the way DM manages my email database and reports back on the number of recipients who have opened and clicked on the links.
Pros
I love the ability to easily create stylish emails without having to know any HTML and the analysis of sent messages is brilliant.
Cons
A dedicated YouTube channel with video tutorials explained in person (see [SENSITIVE CONTENT] at Weaver's Space for the perfect exponent of this) as this would be invaluable in demonstrating how easy and effective the software is. Also the ability to switch to a Light theme independently of the MacOS theme setting would be appreciated.
Reasons for Choosing Direct Mail
Direct Mail is easier to use and provided better features whilst being more cost effective as well.
Reasons for Switching to Direct Mail
Felt more comfortable using an app on my Mac rather than online.
Industry: Writing & Editing
Company size: 2-10 Employees
Used

Monthly

for

2+ years

Review Source
---
Great E-Blast Program
It's absolutely helped us to expand our reach. Recipients often comment on how beautiful our emails are. Very satisfying to use and to receive such feedback.
Pros
We've found Direct Mail extremely versatile, enabling us to send clear, elegant, eye-catching e-blasts to our main list (2000+ addresses) and numerous sub-lists organized by interests and geography. Also LOVE the reporting feature.
Cons
Still find it cumbersome to add smaller lists to our main one (for example list of 2022 program alumni) while keeping the original small list. I often have to do this several times or else the original (smaller) list winds up empty. Also, some issues with formatting paragraphs within sections of text and closings (ex, my name, with title underneath, comes out double-spaced no matter how much I've tried to make it single-spaced...)
Industry: Publishing
Company size: 2-10 Employees
Used

Monthly

for

2+ years

Review Source
---
Sending mails from an external database was easier before
Time
Pros
It is doing what I want. Connect to an external database, send mail via an externa provider. But things are not working so well. The thing is that data in database are evolving and, in the new version, I have to re-right the request to the database each time in different adress group coming from different database. Spam test is not working. Preferences ares sometime not kept, situation on the screen for exemple.
Cons
Again it does exactly what i want but less easier than previous version . Main point is database connection.
Response from

e3 Software

Thanks for your review, Pascal. If you are having any trouble with importing, spam tests, or preferences, please contact our support team and they'll be happy to get things straightened out. Thanks!

Replied 17/07/2018
Industry: Music
Company size: Self Employed
Used

Weekly

for

1-5 months

Review Source
---
The best email marketing
This software is so easy to use and so powerful . I wish I had found it before. It has turned my email marketing from pain (with previous systems) to joy ! It is so easy to set up a very cool looking email and send it. I can control my budget to my needs. Recharge my credits when I need it and pay nothing for 2 months if Im not sending anything. And ... the mailing list management system is just amazing. it is so easy now to admin my mailing lists, correct them as I go, group people in different categories and move them around if needed. I have even intagrated the Subscribe forms on my web sites . Again ... flexible and so easy to set up . I LOVE direct mail . My music promo has totally changed since I use this software ... and all from the confort of my own computer !!!
Pros
Everything !! this is a genious program I had been waiting for for many years. A dream come true
Cons
Nothing. I love everything about direct mail. Even the subscribe form is great to use