About Opmetrix
Opmetrix is a retail management system that helps businesses with sales automation, route optimization, customer relationship management and brand management. The platform enables managers to manage the entire sales process, from customer acquisition through to order fulfillment. It allows marketers to set up automated marketing campaigns, manage customer relationships and track performance. Additionally, Opmetrix lets supervisors monitor employee performance and customer interactions in real-time and track sales data.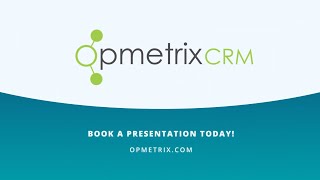 Opmetrix does not have a free version. Opmetrix paid version starts at NZD 75.00/month.
Industry: Wholesale
Company size: 2-10 Employees
Used

Daily

for

2+ years

Review Source
---
Candle Bark Creations
Extremely positive! We are able to keep the ranges more up to date with what we do and do not have available. Being able to display rough stock on hand amounts helps field users better plan their orders.
It's been able to save us time with no longer having to manually enter each individual order.
Pros
The integration process with the business was very easy. [SENSITIVE CONTENT] explained everything in easy to understand terms and we had the program up and running within a month or two of starting the process.
The user interface is easy to understand and navigate.
Pairing with our accounting software Account Right MYOB has been seamless and a massive time saver on our end as we used to manually enter each order.
Cons
The Opmetrix HQ Website can be hard to navigate sometimes.
The fact that if we disable an item from being available through the Opmetrix app on our accounting software, it can often be an hour or two before this change is visible on the app. Also, if during that one or two hour window, if a field user placed an order transaction for the recently discontinued item, we then have issues with the order importing into our accounting software.
Industry: Consumer Goods
Company size: 11-50 Employees
Used

Daily

for

1+ year

Review Source
---
Opemetrix for the PPE Industry
The team at Opmetrix are amazing. They are a NZ owned and operated company and NZ based which is huge for smaller businesses such as ourselves. This was a big drawcard for us as a company in the sense that we knew it was going to make training and/or any queries once implementation was complete that much easier to handle.
The Opmetrix team are super friendly and super helpful and anything they do not know they will find out for you, and try and figure out ways to get the software to work the way that works best for your company.
Webinars are a regular occurance and you have the option to attend or not. They are short and sweet but give you an insight into what might be useful for your own team. A fantastic ongoing training tool.
The Support team are fantastic and come back to you either the same day or within 24 hours. Quite often they will ring you to discuss over the phone and then follow up with an email explaining what you've chatted about which is brilliant.
Pros
Our team love that they can obtain customer information right at their fingertips and update easily without having to contact an administrator to do so.
Having the ability to load in promo deals into the documents area and assign them to particular customers or Area Managers/Devices has been of huge significance for our team. We run a lot of promo deals so knowing that the team can be prompted (as a reminder) in their task list each time they visit a customer to present a promo is fantastic.
Sales Aids can also be added into the documents area which has been a great help for our team having everything in the one area rather than jumping into Dropbox or the like to find this information.
From an administration point of view, having the reporting functions are great. By loading in Surveys and Objectives we can now obtain feedback from our Customers and have a record of it, which has been problematic in the past from previous systems we have used.
Having a live and adaptable Call Cycle/Journey Planner has also been a huge help to our team from both sides (Area Manager out in the field, and the Channel Managers back in the office). Having a record (Calling Card) of Customer Visits has been beneficial to everyone - not only for seeing what has been done in the past with the Customer, but also for Customers advising they haven't seen our Field Team for a while, we are able to go back and advise of the exact date the last visit was, who was spoken to and what was spoken about.
Cons
Some of our team struggle with the Call Cycle/Journey Planner and having to reschedule calls when they are on annual leave/sick etc. But this is just something that they haven't been used to in the past and something they are adjusting too slowly.
Pricing is a bit of an issue in Opmetrix at times - we have a large number of different pricing templates loaded into Sage at our end. Getting them all to talk to Opmetrix can sometimes be a little frustrating and some pricing doesn't pop up correctly. As most of our orders are done through EDI or sent through to our Customer Service Teams by our customer directly we don't really have the need for the "Order Function", however this and the Quote function are the only ways to bring up pricing for a customer.
Our team would also like to see if it is possible to list what Price List a customer is on in the system - this would avoid a call to our Customer Service Team.
Industry: Food & Beverages
Company size: 201-500 Employees
Used

Daily

for

6-12 months

Review Source
---
Solid CRM tool
Relatively intuitive, easy to use in the field, easy to set up.
Pros
The survey function has been critical to understand what is truly happening at shelf by individual customer. We can also measure and understand the success of individual product sell-ins and whether there is a common theme across our different territories. With free text options we can make quick decisions and change tack when required based on real-time customer feedback.
Cons
Maintaining product and customer lists is very manual and seems susceptible to errors.
Industry: Consumer Goods
Company size: 11-50 Employees
Used

Daily

for

2+ years

Review Source
---
Cannot imagine FMCG distribution business without Opmetrix!
Our order processing efficiency and accuracy has improved tremendously. Productivity of sales team and ability to meet customer expectations has gone up. Management is able to monitor and measure field activities effectively.
Pros
Ease of use, seamless integration with ERP, unbeatable support team.
Cons
Reporting can improve and more flexibility for the user to generate own reports will be great.
Reasons for Switching to Opmetrix
Opmetrix ticked all the boxes.
Industry: Food & Beverages
Company size: 11-50 Employees
Used

Daily

for

2+ years

Review Source
---
Chantal Organic Survey
We have had a really positive experience with Opmetrix and continue to see the benefits in using this system. All our queries and issues are resolved quickly and would highly recommend Opmetrix to other organisations.
Pros
The ability to view customer sales notes / contacts and know that all this history is stored within Opmetrix.
Cons
We feel this system fulfilled all our current requirements. Some teething issues with the Exonet integration and limitations with Exo, however we have managed to iron these out. Would like the ability to see real time stock levels minus the committed stock already in our system?