About BQE Core Suite
People and projects are the core of your professional service firm. That's why BQE Software created BQE CORE, an intuitive professional services automation solution that gives you complete visibility and control over projects, financials, clients, performance, and staff utilisation.

BQE CORE centralises and streamlines how teams enter and use accounting, time & expense tracking, billing, reporting, and project management details. This allows you to accurately stay within scope and budget, plan, and make quick and informed decisions.

Run Your Business from a Single Platform
● Use smart, customisable dashboards with actionable intelligence
● Monitor projects and have tighter control over budgets and profitability
● Automate the entire billing process to improve cash flow
● Easily capture every hour for projects, overhead and time off with pre-filled timesheets and in-built timers
● Quickly take action with clear, easy-to-understand, schedulable reports
● Manage your business no matter where you are with native iOS and Android apps
● Win more clients with CORE CRM
● Focus on the "Human" and develop talent with BQE CORE HR

BQE CORE offers integration with various third-party accounting software and certified partnerships with popular software such as QuickBooks Online, MYOB AccountRight Live, Dropbox, Google Drive, Stripe, Office 365, Power BI, and more!

With more than 400,000 users worldwide, BQE CORE is trusted by leading architects, engineers, accountants, lawyers, IT specialists, and business consultants. The scalable system is suited for small to large-sized professional services firms looking for a solution with a wide range of features and integrations at a modest price.

BQE CORE pricing is built in a modular fashion and lets you buy only the modules you need.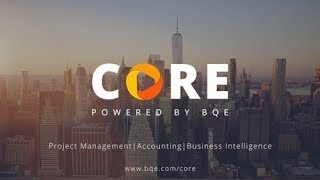 BQE Core Suite does not have a free version but does offer a free trial. BQE Core Suite paid version starts at $13.95/month.
Pricing Details:
Our pricing structure is simple, flexible and designed to fit your needs – you only pay for the features that you and your staff actually use. Annual and multi-year commitment options are available to support the unique needs of your firm. Start a FREE trial today to learn how CORE can maximize productivity and unlock your firm's true profitability potential.
View Pricing Plans
Alternatives to BQE Core Suite
Robert c. M.
Robert c. M.
Industry: Legal Services
Company size: 11-50 Employees
Used

Weekly

for

2+ years

Review Source
---
Valuable software for billing at a law firm
Bill quick is a perfect solution to create invoices and be able to bill many different attorneys on different projects.
Pros
The ability to customize many of its features is great. You can setup and keep track of time associated
with various cases, clients, projects. There are so many reports that you can run to keep track of your spending. Able to export invoices to LEDES format. Able to import time from excel spreadsheet.
Cons
It takes some time to learn the software, the tech support team was great in getting me up and running. If you want additional reports they have a custom report group but their cost is a bit high to modify reports. It looks a bit complicated but actually it is easy to use.
Industry: Architecture & Planning
Company size: 2-10 Employees
Used

Daily

for

1+ year

Review Source
---
Core has been an integral in helping us to understand and grow our business
Overall experience has been great as we use Core for our integrated accounting, time/expenses, and invoices, and it has been integral in helping us to understand and grow our business in the first year.
Pros
A little over one year back as we started up our new business I was researching for the best accounting, time and expense tracking and billing software. I selected BQE Core because it had an intuitive interface, easy reporting and it was on cloud. For any startup business the cost is always a big factor, the fact that BQE Core was a fraction of other similar software packages was an added bonus! We use BQE for our integrated accounting, time/expenses, and invoices, and it has been integral in helping us to understand and grow our business in the first year. At every moment, I have the info available to understand my cash flow, liabilities and A/R all in one interface, which never would have been possible if I used other accounting software.
Cons
In a separate excel doc I track our projected income and expenses for each two-week period so I can plan cash expenditure. If BQE had a feature to track overhead and projections in relation to billable work, that would really integrate all functionality in one software. Other than that, I don't have any suggestions for improvement.
Reasons for Switching to BQE Core Suite
Core is more intuitive and a complete package for professional services.
Industry: Construction
Review Source
---
BillQuick - A look at one year post conversion
Pros
BillQuick is a powerful tool in tracking project time and expenses for professional services. We converted from 7 years of Quick Books data. Although the conversion and integration was not a seemless process, and the learning curve was much longer than originally anticipated, we are now tracking project profitability at a much higher level than we ever have before.
BillQuick Tech Support is fantastic. They are patient and knowledgeable, and we have received a lot of added value by having the Gold Care Tech Support package added onto our services. Additionally, we have invested quite a bit of extra money on having Bill Quick Customization Department write customized reports. Although the standard reports section is extensive, we were unable to find reports that gave us exactly the data we wanted to see. It's nice that this additional service is offered, but it would be nice for them to give us a handful of customized reports as part of the conversion process and then charge extra from there on out.
Cons
The software is not as user-friendly as it could be. Some things are overly complicated and require detailed use before you understand the functionality of the software. It could not be more different that QuickBooks, and the transition for us was difficult. Personally, I highly underestimated the learning curve.
In the beginning, we were only using BQ for time and expense logging and we maintained our Quick Books file for all other general accounting, which I would strongly discourage. Although the SYNC feature does work to sync data between programs, it is not a clean sync and much of it needed cleanup on either side of the sync. This was very frustrating. We just recently converted all of our general accounting in QB over to the Accounting portal in BillQuick. This has helped to have all of our financial records in one software system and our data is much more consistent. However, the "Accounting" portal is not perfect and there are a number of features that are lacking where QB has it all dialed in. Examples: 1) in looking at a vendor bill, there is no indication or PAID FLAT to see it has been PAID or not. To see if it is paid, I have to look at the previous checks. 2) In a report that lists all AP checks written for a particular time frame, there is no TOTAL at the end of the report. 3) BQ allows duplicate check numbers. (This is not a complete list, but the top 3 things that drive me insane.) These seem like basic accounting features and for them to not be included in an accounting software is frustrating. DISCLAIMER: we have not yet upgraded to BQ2015 and remain on BQ2014 for a while longer. My understanding is that BQ2015 has updated a number of accounting features, so I look forward to seeing if any of those issues are remedied.
Industry: Civil Engineering
Company size: 2-10 Employees
Used

Daily

for

1+ year

Review Source
---
Industry: Architecture & Planning
Company size: 2-10 Employees
Used

Daily

for

1+ year

Review Source
---
We are particularly impressed with CORE's user-friendly, "all in one" design
Our small but rapidly-growing architectural firm was looking for a project management and billing solution. We were particularly impressed with CORE's user-friendly, "all in one" design.
Pros
It provides us with a single source to record employee time, manage project tasks, budget, invoice and track project performance. We took advantage of the various training packages and technical assistance BQE offers to help us get up-to-speed with CORE in a matter of months. BQE also worked with us to develop a custom invoice that provides our clients with current and past billing information in a clean and easy-to-read format. With the mobile app, our partners access CORE data anytime, anywhere, and can record travel expenses directly from their smartphones. BQE has demonstrated to us that they listen and responds to suggestions on how to make CORE an even better program for its users by providing regular updates and enhancements that incorporate our suggestions. We are very pleased with CORE and BQE."
Cons
Everything is working for us and if it does not then that is what support is for. Like any other new software implementation there is a learning curve. We took advantage of the various training packages.
Reasons for Choosing BQE Core Suite
We were using 4 applications to run our business We are Sharefile, Timefox, Quickbooks and MSExcel to track our projects and handle time/billing/productivity and forecasting. It was getting cumbersome
Reasons for Switching to BQE Core Suite
For its simple to use interface and definitely Mobil apps are far superior