About Turnkey Lender
TurnKey Lender provides an end-to-end system that automates every step of the lending process, from the loan application and borrower evaluation to origination, underwriting, servicing, collection, reporting, compliance, and more. The system is powered by proprietary deep neural networks and machine learning algorithms that allow for unmatched credit decisioning accuracy and overall security. TurnKey Lender offers loan origination Software powered by proprietary AI-driven technology, machine learning algorithms, and deep neural networks. With this system, loan decisions can be made in under 30 seconds with superior decisioning quality. It is achieved with the help of the TurnKey Lender decisioning engine which allows for in-depth adjustment of the scorecard and decision rules. The system fully automates all steps of the lending process through the loan¿s disbursal.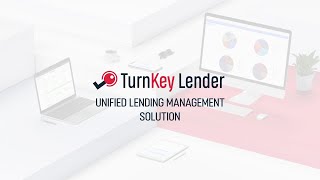 Turnkey Lender has a free version and offers a free trial.
Alternatives to Turnkey Lender
Industry: Investment Management
Company size: 2-10 Employees
Review Source
---
Great product - excellent support!
We used Turnkey Lender to stand up a loan origination system for veterinary services in short order. The product has the vast majority of the functionality right out of the box, was easily integrated with a credit agency to pull FICO scores and the support team did an outstanding job making our requested customizations.
Pros
Solid COTS product and very customer oriented support team.
Cons
While they do offer a SAAS model, pricing seems to be slanted toward outright licensing of the product. This might be something to refine.
Industry: Financial Services
Company size: 2-10 Employees
Used

Weekly

for

1-5 months

Review Source
---
Time saving automation
Overall the functionality has been a big positive. The initial set up fees were a bit steep but the ongoing rate is comparable.
Pros
I like the automation, it saves a lot of time moving the loan from origination to servicing and prepopulating the necessary documents. I also like that it has a customer portal where customers can see their balance, update payment methods, and upload documents to us, like proof of insurance. There are a lot of automated emails that help customers stay on top of getting us the required documents, which saves time.
Cons
Some of the set up was awkward. In one area it would have you use one code and then on the help page it would be a different code for the same item. The help team set up some of my codes because I didn't know which one I was supposed to be using.
Industry: Financial Services
Company size: 2-10 Employees
Used

Daily

for

1+ year

Review Source
---
I do not recommend
The worst system/platform I have ever worked with. Even if we stated everything in the original documents, they still managed to take 1,5 years to get things starting, and when they started it all went down every day.
All things have two sides, but in this matter, I will blame everything over on Turnkey. They have cost us so much money and we have had problems from day one. Nothing has worked, we have found bugs every day for 1,5 years even if they tell us they have fixed it.
I know they will reply that "this is due to client functions and xx xx xx" (as they do for all that complaints) but I am willing to document it all, for those who are interested.
I respect some of the workers there, but I will never ever again have something to with them again. The management completely ignores you when you complain, they point the fingers on you and they say it´s your fault, no matter how often you document that, it´s not our fault.
For companies that needs a stable broker/application/fintech service, stay away from them and their solution.
I do not recommend them.
Pros
There was NO pros with this software at all
Cons
Slow system, not flexible, server crashed, no understanding
Industry: Financial Services
Company size: 51-200 Employees
Used

Daily

for

6-12 months

Review Source
---
Very User Friendly Software to Grow Your Business
Software Capability wise is unquestionably great but for any new potential customer who are interested in this solution, these would be my advise to you.
1) Trial the software as much as you can in order to understand how the entire system works. Best is if you form a team dedicated in testing the software and all the nitty gritty details, documenting how the behaviors works. If you are not sure about how it works, ask plenty of questions and follow up questions. They are very professional on this.
2) Make sure you evaluate well whether this software can fit into your company business plans or not. It may take longer time for you but it will save you a lot trouble in the long run.
3) Ask lots of questions during the initial phase and requirement phase. Its very important.
Our experiences with Turnkey Lender is they tend to be open for negotiation on most things in regards of pricing, requirement and support. Kindly negotiate.
Pros
When you trial the software, you can know that they know their stuffs well. If your current solution can only gives you a 10 million portfolio monthly max and you would like to grow it to 100 million portfolio and above, this is the one that can give you the power to achieve it
1) Ease of Use. From Customer's Origination status to Bad Debt Status, the borrower will move into the relevant status automatically
2) Notifications to customers can be via SMS or Email. Customizing your notifications to your borrowers is very easy.
3) Easy File Export. File export can be easily exported by stating the correct status and the dates, available in excel and csv
4) Flexible customization for your credit products. Credit products can easily customized with your own interest rate, min and max loan amount and etc
5) fast customization and deployment
6) Scoring modules
7) Can launch a new offering easily
Cons
1) Stock version is mostly based on US requirements. For organizations not based in US which would like to use it, some customization will be needed in order to meet their needs. I would hope for more regional requirements will be appearing in the solutions
2) Many Processes are automated. Not exactly a con but more like a mental preparation for Organization that wants to grow from 10 million to 100 million monthly, some existing flexible processes that assist you to grow from 0 to 10 million will need to be discarded and this software will help you in a great way.
3) Most of the new updates done by Turnkey Lender will only be applicable to users who are using the stock version. If your solution is heavily customized, receiving new updates will be very subjective or not available. Its very important to include this into your initial contract negotiations on how this can be done.
3) Pricing is only in USD. Hope to see charging in regional currencies instead of USD.
Industry: Information Technology & Services
Company size: 11-50 Employees
Used

Daily

for

1+ year

Review Source
---
A fairly simple but powerful software in finance
practicality, effectiveness and performance to administer loans in a faster and more versatile fashion
Pros
It is a very versatile tool, easy and practical to use, our clients have inclined to make it a fundamental part in their administrative environment in view of the fact that the flow processes of origin, loan and payment can be monitored in a well-disaggregated manner.
its relation of cost by investment is quite low compared to other applications since it does not generate large impacts of application to a medium company or to a personal level if it is worked directly with loans, advances and short term promissory notes.
it is possible to have multiple users, in which each one can manage their functions separately and without invading the privacy or administration level of the current assets, it is important to recognize that to create such a complete software, the corresponding studies on the matenan and It is a very important point to highlight, which speaks very well of an application with a tendency to evolve.
Cons
It only needs an improvement to be able to carry out credit lines online, which would make the client-supplier personal time and interaction more manageable.