About Microsoft Project
Microsoft Project is a project management software designed for enterprises of all sizes. The tool includes project scheduling features, which allow management to create a project schedule, define and assign each project task, manage employee scheduling, and track project status. The software provides customizable templates and visual roadmaps for project planning. Microsoft Project also works as a resource for project budgeting, which can help management estimate costs for a complex project to determine resource allocation. Additionally, this tool offers project portfolio management (Microsoft PPM) features. Project proposals can be analyzed and compared based on strategic business drivers and resource management data. Microsoft Project provides interactive dashboards and reporting functionalities for managing projects. Management can use this tool to prepare insightful reports and make decisions about project proposals, project timeline, and employee scheduling. Scheduling features like a Gantt chart and pre-populated pulldown menu help maximize project scheduling and simplify the planning process for multiple projects. Microsoft Project can be deployed on-premise with a user license or on the cloud with a monthly subscription. The web-based solution allows management to collaborate with a remote project team using Microsoft apps via mobile devices.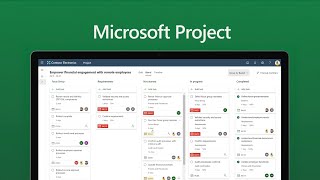 Microsoft Project pricing
Microsoft Project does not have a free version but does offer a free trial. Microsoft Project paid version starts at USD 10.00/month.
Starting Price:
USD 10.00/month
Alternatives to Microsoft Project
Microsoft Project Reviews
Industry: Industrial Automation
Company size: 2-10 Employees
Used

Weekly

for

2+ years

Review Source
---
A great software to carry out and manage business projects.
We are now doing a marketing project for our company which makes this software very important as we use it to be accurate with data. The benefits that this software offers us are planning, organization, time, saving money avoiding unnecessary expenses, better presentation of our projects.
Pros
This software is really good when it comes to developing projects, since each phase can be planned and reports can be made in real time, one of its important characteristics is that it allows you to have control of the resources and make an exact calculation. This software contains many tutorial videos where it helps you understand how it works and that it is not complicated when using it. In the company it has been and is very useful and necessary and its integration has been excellent and easy since we have prior training to be able to run the software and apply it in our business processes through the planning and execution of projects.
Cons
This software is complete and personally has many functions that I find it hard to say that they need to be improved, but in reality everything is perfect and very easy to use. Integration into our business processes has been easy and much needed as we run projects from this software.
Industry: Construction
Company size: 501-1,000 Employees
Used

Daily

for

2+ years

Review Source
---
best tool for design work schedules, monitor project % completion, and maintain control.
Microsoft Project helped us develop and approve a base schedule, and link it to later versions to compare the actual and expected progress of all project work, and it protects the team, especially when preparing claims and calculating delays.
Pros
Microsoft Project has the capabilities to create an integrated project schedule so we can track project expenses, manage human resources, calculate delays, and manage time claims. The development of Microsoft Project and the addition of cloud storage capabilities set it apart from similar applications, simplified the process of sharing updates and engaging additional members to collaborate on setting and tracking schedules. I like the fact how powerful the calculations that Microsoft Project does, especially with regard to Total Float and Free Float, which are great tools to help understand the behavior of different activities, as well as calculations of actual progress against planned progress and other tools that always help in decision-making the appropriate. Because it is integrated with MS Excel, it saves a lot of time and enables us to export and import data easily. I enjoy how easy it is to present resources, costs, and activities, and how the most recent dates appear automatically.
Cons
With proper training and practice, I believe users will be able to easily develop and update software and extract achievement percentages. It's worth noting, that sometimes when you make updates in Microsoft Project with tampering with base table activities, it can be difficult to notice these changes due to the limited capabilities that Microsoft Project provides. To unravel that process, which produces biased analyzes. Microsoft Project reports are, in my opinion, too simplistic and require more improvements to be added.
Industry: Information Technology & Services
Company size: 1,001-5,000 Employees
Used

Weekly

for

1+ year

Review Source
---
Easy to access project tool.
I use Microsoft's Project to track the individual items that I need to manage for a major project. The best parts of MS Project are that it evolved into the easiest to use Gant chart generator out there. My personal business calls for me to track several programs at one time and as an Instructional Designer/Architect, I tend to "chunk" projects into smaller, easier to accomplish bites. The Project lets me do that and helps me track my progress in completing the chunks of the larger project that I have to complete. I like that the interface allows me to enter the data about the project into what looks like a spreadsheet. The software then generates a Gant chart and helps me track where I might have finished ahead of schedule or where I might slip if I don't pay attention.
My main gripes about MS Project involve a lack of flexibility. I can't easily rename column headings because they're locked into Microsoft's view of what a project should look like. This is only a minor annoyance. That said, at times I often expect MS Project to behave more like MS Excel where I can manipulate and edit cells with ease, which you can't because the columns are locked to function only one way. Finally, I would like to have row separators that let me know where one project ends and another begins. I do this because I'd like to have a tool that lets me view all my projects in one place. Changing dates is also an annoyance because the date fields always default to the point in time in which you started the project and so if you expect the date fields to default to "today's date", you might have to make adjustments. It would be nice if the date defaulted as expected (today's date).
Tips:
1. You can roughly rename the titles of cells, but the contents will always function according to the locked nature of the cells.
2. If like me, you want to track multiple projects in one MS Project file, simply color code the different projects with the cell highlight function.
Pros
1. Ease of use
2. Fast data entry
3. Visible Gant chart
Cons
1. Columns are locked to function only one way
2. Date fields don't default to today's date
3. No means to separate one project from another
Industry: Computer Software
Company size: Self Employed
Used

Weekly

for

2+ years

Review Source
---
Microsoft Project is a Manager's Life-support
I've used Microsoft Project on more than a hundred projects over the years - from 5 to 7 figure budgets. This tool will reward the small time investment you supply with a level of control and tracking that will keep your projects running, accountable and 'on time'. Your customer (internal or external) will be impressed with the time, budget and resource management that you can achieve with this tool. It may take a few videos to bring you up to speed on the features you want, but it is well worth the time!
Pros
Microsoft Project has basic functionality that is straightforward for setting up projects and managing progress on your project. It has an interface that is a "what you see is what you get" with visual representations of your project timeline, dependencies and progress to-date. It is powerful and can be expanded to handle the biggest and most complex projects, or provide easy over-views for smaller projects.
Cons
Like any software, it has its eccentricities. One of the challenges is that the functionality is so deep that you can get lost with features that you do not need for the level of project you are undertaking. The software is more expensive, but you get what you pay for and the functionality and level of control you can achieve is worth the investment.
Industry: Oil & Energy
Company size: Self Employed
Used

Daily

for

1+ year

Review Source
---
How MS Project has helped me with daily activity logging
My experience with MS Project has been in the daily record of activities in projects in the Oil area, when the file in which you work is correctly done, it is only a matter of entering the data day by day to have all the information pertinent to the project, but in most cases the file has been prepared by personnel without proper training, which has made it difficult for me to obtain the correct data in the field, which is why I have had to modify the files in order to work correctly.
Pros
MS Project is the most widely used project control software in the industry where I work, so it has been of great help in managing any project. It also complements very well with MS Office, especially with MS Excel, which allows export the records in MS Excel format so that it can be filled out by people with no MS Project experience.
Cons
What I like least about this software is that it requires advanced knowledge to be able to implement it correctly in large-scale projects, it is not such an intuitive software, so prior training is necessary.