About Symantec Endpoint Security
Symantec Endpoint Security is a cybersecurity defense suite specifically designed for needs of the small business. Core features include antivirus, antispyware and a firewall to protect laptops, desktops and file servers from online threats and hackers. The solution also analyzes downloaded files and applications for potential threats, which prevent employees from triggering attacks. Symantec Endpoint Security has a central control panel and can be managed on-premise or through the cloud via an online portal. A single administrator has the capability to set policies for devices and users and can receive security alerts via SMS or email. Updates are delivered automatically via the Web to employees' computers which helps in keeping the security of systems up-to-date. Symantec Endpoint Security charges users depending on the number of licenses and that includes support via phone and email.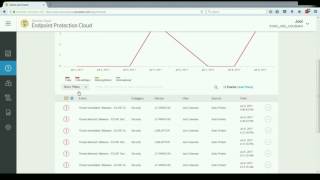 Symantec Endpoint Security pricing
Symantec Endpoint Security does not have a free version. Symantec Endpoint Security paid version starts at EUR 19.20/year.
Starting Price:
EUR 19.20/year
Pricing Details:
From €19.20/year
Alternatives to Symantec Endpoint Security
Symantec Endpoint Security Reviews
Industry: Computer Software
Company size: 201-500 Employees
Used

Daily

for

2+ years

Review Source
---
Traditional and trustful solution for corporative environments
It is my job partner, it protects me along my day without being disturbing. Rarely I see an advice for it or need to take a manual action, and it stills there, doing its good job. I recommend it, for sure!
Pros
In our company we use it for all the employees. Our IT department has full control over adjustments of all the installations. Employees don't need to worry about scheduled scannings, updatings, fine tunning or anything else. Its pre installed on all the machines and is there to protect, not to disturb. Its awesome!
Cons
What can be a pro in one hand, can also be a con in the other hand. The way it works on client machines, by being configured by IT department and not locally may cause some troubles. You just can't set an action different than quarantine a suspect object. But we all know that sometimes it can be a bad judgment from the antivirus side, like a driver for Android that I needed to install and it was classified as unknown source and therefore didn't allowed me to proceed with installation. At least an option to ignore the object could be better.
Industry: Information Technology & Services
Company size: 10,000+ Employees
Used

Daily

for

2+ years

Review Source
---
Symantec is one of the toughest antivirus software's out there
I must say that this is by far one of the greatest enemies of Support and in case you want to be sure that something won't be changed in any possible way ( Firewall, incoming connections from some PC in general or files copied ), make sure to get Symantec as you won't be disappointed while using it even a little bit and I can sign this as an agent who is working with it for a couple years so far.
Pros
This antivirus is so good, that it looks like an impossible obstacles sometimes on my work, as I keep encountering it daily while working on some of my Customers.
It is easy to deploy, password protected ( if you are trying to uninstall it or stop it, you can't do it without password ) and provides user protection from almost anything, especially as it integrates and utilizes Windows Firewall and Virus Protection on Windows 10 for instance, to provide impenetrable wall for any attack.
Cons
I can say that sometimes I don't like how tough this one is, as it is my daily job to make my software work fine with Symantec, but if Customer Administrator is not online, I am unable to do anything.
That's why I would recommend it to everyone out there, as I am battling it for a couple years so far and I know how good it is.
Industry: Computer Software
Company size: 11-50 Employees
Used

Daily

for

2+ years

Review Source
---
Essential Base protection for Small businesses
The price is really reasonable and the fact that you can centrally manage makes it better than independent Anrivirus. If you are moving from self managed antivirus youll really appreciate.
Pros
Low price, central update, and simplified user agent interface makes it do its job as required
Cons
Uninstalling is a pain, recovering password is worse, and the agent has a noticeable impact on resources for low spec machines
Reasons for Choosing Symantec Endpoint Security
Wanted a centrally managed and inexpensive option
Reasons for Switching to Symantec Endpoint Security
Pricing
Industry: Information Technology & Services
Company size: 2-10 Employees
Used

Daily

for

2+ years

Review Source
---
Use to be fantastic. But that was then. My, how things have changed.
For quite a few years I had Symantec Endpoint Protection (SEP) deployed across servers and workstations in multiple offices. At the time, I found it to offer the best balance of effectiveness and efficiency. Customers support was prompt and professional, and even after I fled the IT profession to preserve my sanity I kept SEP running on my own home computers. All was well until I upgraded to version 14, at which point everything pretty much went to hell.
Experiences that I have had with the new version of SEP:
• Total system lockups during every comprehensive system scan. The only way for me to get through a scan was to limit the scans to known file types.
• The SEP client grabbing every available CPU core without warning, even when there are no scans or updates scheduled.
• Technical support whose philosophy is apparently "Make the customer suffer enough and they will never complain again."
I spent a least than eight hours doing the bidding of the Symantec's support folks, but when it became apparent that they couldn't solve the problem I tried to close the support case as "problem not solved". At which point they made it clear that they intended to keep me jumping through hoops indefinitely. I finally told them that their constant stream of emails demanding yet more logfiles constituted harassment, and I blocked them at my email gateway for extra protection. Great job, folks. Now, I use Sophos.
Pros
Incredibly granular control of each security component, customizable to suit a broad range of business environments. IF you can get it to run, you get an amazing amount of control over the security policies in place for different types of machines and different offices within your business.
Cons
A tech support team trained in the dungeons of Mordor by the Dark Lord himself. Oh, and about SEP v14 bringing my system to it's knees: I'm sure that some of your customers love that, but I'll pass.
Industry: Chemicals
Company size: 201-500 Employees
Used

Daily

for

1+ year

Review Source
---
Complete device protection and good price.
We have used it on Windows workstations and also on Android smartphones and the experience has been great and pleasant. Protection is always on and protects 24 hours a day against any cyber threat. It's already saved us from a lot of trouble.
Pros
Symantec Endpoint Security is the main security software installed on workstations to protect against cyber threats such as viruses, data hijacking and malware in general. The software is quite fluid, lightweight and doesn't use a lot of CPU resources. Protection is excellent and has daily updates of new vaccines against malware.
Cons
The software hardly showed any problems or crashes on workstations with Windows installed. We have no negatives to comment on.