About Pipedrive
Pipedrive is a web-based Sales CRM and pipeline management solution that enables businesses to plan their sales activities and monitor deals. Built using activity-based selling methodology, Pipedrive streamlines every action involved in converting a potential deal into a successful sale. As a cloud-based application, the solution can be accessed from anywhere 24x7 using any web browser or dedicated mobile apps. Pipedrive provides sales personnel full visibility of different sales pipelines. A robust interface displays the progress stages for each deal with the complete details for next actionable items. The activity & goal feature allows users to track the pending activities in each pipeline. Pipedrive also offers custom sales reporting tools to monitor individual and team level targets, analyze sales data and generate visual reports. Pipedrive's mailing system seamlessly integrates with multiple email service providers including Outlook, Gmail and Yahoo. Users can send and receive emails from multiple accounts using their Pipedrive account. The solution also integrates with various leading CRM tools to transfer contact details, communication history and other information across applications. Apart from these, the solution also integrates with Google Maps, MailChimp, Trello and Zapier.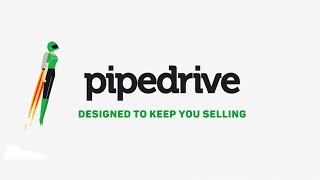 Pipedrive does not have a free version but does offer a free trial. Pipedrive paid version starts at USD 12.50/month.
Pricing Details:
A simple CRM starting at $12.50 per user per month subscription. It's easy to add or remove team members at any time.
View Pricing Plans
Alternatives to Pipedrive
Christopher J.
Christopher J.
Industry: Marketing & Advertising
Company size: 2-10 Employees
Used

Daily

for

1+ year

Review Source
---
The Best CRM In The Game
Pipedrive is by far my favorite CRM after extensively reviewing over a dozen of them. I recommend it to all of my clients because of how versatile it is with third party integrations. I also recommend it to any beginners since you do have the option of getting WAY more features than anyone else offers at the top-tier package; all while being one of the least expensive.
Pros
I like the simplistic UI, the customizability, and the fact that Pipedrive has the widest range of integrations in it's class. I would go as far as to call it MODULAR, meaning you can add pretty much any feature you'd like via 3rd party integrations. With this is mind, you'll never be limited to some of the things Pipedrive doesn't do as well. Alternatively, if you're looking for everything under one roof, Pipedrive does this better as a whole than any of the competition.
Cons
I'm not a huge fan of how some of the very simple features are blocked off from the lowest price plan. Since I prefer the 'modular' setup, this is the only plan that makes sense to me, but I do miss some of the features like important fields that display certain fields first based on where the deal or person / organization is in the pipeline.
I used to run the top tier package from Pipedrive, and I wasn't really impressed with the automation features. They're a bit limited and the triggers don't always work.
Reasons for Choosing Pipedrive
Trello does not scale well and was not comprehensive enough for my needs
Reasons for Switching to Pipedrive
Pricing, features and most of all a great and flexible UI/UX
Industry: Computer Hardware
Company size: 2-10 Employees
Used

Daily

for

2+ years

Review Source
---
Big fan of Pipedrive
I happen to be a Pipedrive user. I am also an independent reseller of the product, as well as an integration consultant (pipedriveexperts dot com). I have helped hundreds of customers integrated dozens of different CRMs. No single solution is perfect but I find that Pipedrive is the right choice for a large majority of our clients. Pipedrive strikes the right balance between features, ease-of-use and cost. I am happy to say that their technical support is (by far!) the best I have seen from any CRM. I recommend Pipedrive to many types of businesses.
Pros
Pipedrive really is built for salespeople. The reporting functions for management are there, and getting better every quarter, but is the ease-of-use for a salesperson that distinguishes Pipedrive.
Cons
Automations are generally a very strong feature of Pipedrive, but one type of automation is missing (unless you use an external service). That missing capability is date-based triggering of workflows. Pipedrive cannot yet send a birthday greeting or followup message based on a date (past or present). This is an inconvenience for us, and we have to use external tools to solve that problem.
Reasons for Switching to Pipedrive
Pipedrive strikes the right balance between features, ease-of-use and cost. I am happy to say that their technical support is (by far!) the best I have seen from any CRM. I recommend Pipedrive to many types of businesses.
Industry: Accounting
Company size: 11-50 Employees
Used

Weekly

for

2+ years

Review Source
---
Good CRM for small professional services firms, but underpowered for larger/faster organisation...
Excellent – for the right company at the right scale and stage.
Pros
Pipedrive is a breeze to set up, inexpensive, and easy on the eyes too – the UI is very intuitive.
Cons
It lacks some of the more powerful integrations that you might come to expect from a (admittedly more expensive) competitor.
Reasons for Switching to Pipedrive
While the alternative was (still is) free, Pipedrive was much better overall.
Industry: Information Technology & Services
Company size: 2-10 Employees
Used

Daily

for

2+ years

Review Source
---
A CRM System that just Works for Sales Management
Overall a good experience using the platform my new team members just needed two days of training and found it easier to use.
Pros
Easy to manage different pipelines for different sales projects. The email template is one of the key features we like as it allows us to format our emails and the fields are filled in automatically, so every client receives a quality email without spending time typing out individual emails. Like the filter system that allows you to select just the clients, you wish to target and even the group email shot is an excellent tool we use often. We have added out funnels and Xero to the platform and both work perfectly with Pipedrive. Our market profile is primarily created on google documents and we have ease of importing the information onto the Pipedrive pipeline. We use the activities to set reminders which allows us to keep track of our work tasks on a given day. For sales, you can modify the platform to include the key features that you would like for your company and client information to be saved. Allows you to make group amendments in list form for a high volume of clients so if you need to split the work between the team this is an excellent tool.
Cons
The emails received are not automatically assigned to a client and sometimes land on other client's deals in Pipedrive. There seems to be a lot of downtime of late and we have had several clients confirm that they have not received the email off Pipedrive. There is a lot of new additions to Pipedrive but not enough time to learn them this can be a pro and a con. The support is not always available for immediate help. There is no key information once Pipedrive is down of who you can contact for support. I don't like the Lead section it really just sits there quite useless to us.
Industry: Consumer Services
Company size: 2-10 Employees
Used

Daily

for

1+ year

Review Source
---
A solid choice for a small business CRM
I find Pipedrive pleasant to work with, it's simple and efficient.
Pros
I like that you can call a potential or existing customer directly from the application, that makes keeping track on your sales activities very easy.
Cons
Certain features are buried deep in the structure, you need to know what you're looking for.
Reasons for Choosing Pipedrive
Salesforce was too expensive for our company's situation.
Reasons for Switching to Pipedrive
Pipedrive offered a much better pricing structure for us.