About Zoho Projects
Zoho Projects is a cloud-based project management solution designed for small and midsize companies. It offers project scheduling and budgeting, which allows project managers to define project tasks, assign them to their teams, estimate project costs and follow up on in-progress tasks. Zoho Projects automates document processes such as revision tracking, access control and search and retrieval. Other product features include document management, which provides a portal for sharing documents within the team members. Zoho Projects also offers issue management features, which help managers resolve errors in the project tasks. Dashboards and reporting module helps users prepare business reports and management summaries. Users can use Gantt charts to get a visual presentation on the progress of tasks in comparison to what was planned. The resource allocation chart helps users know how many team members are free and how many are overloaded with tasks. Milestones and tasklists help users organize complex projects by breaking them into subtasks. Pricing is per month.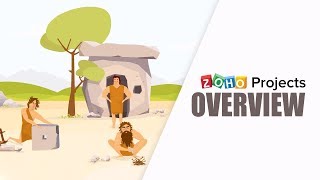 Zoho Projects has a free version and offers a free trial. Zoho Projects paid version starts at USD 5.00/month.
Starting Price:
USD 5.00/month
Alternatives to Zoho Projects
Industry: Telecommunications
Company size: 501–1,000 Employees
Used

Daily

for

2+ years

Review Source
---
A homogeneous distribution of responsibilities guarantees project success
In many occasions with the eagerness to achieve corporate objectives the allocation or distribution of the different tasks is something cumbersome and exhausting for some team members and tracking progress is much more exhausting, this causes that objectives are not achieved or that some members have much more workload than others, Zoho Projects allows us to optimally manage each and every one of our projects or tasks, distribute them homogeneously, make a detailed monitoring of both the progress of the task or the people involved in them; All this translates into work effectiveness, time optimization, a good use of this resource considerably increases the performance of the team and exploits the capabilities of its members.
Pros
Continuously our operation is measured with a series of operational indicators that show the status of the work group, many of these metrics depend on individual team members, but there are other correlated ones that depend on more than one member of the group, here comes into play and in a very efficient way Zoho Project as it presents us with a platform capable enough to allow us to schedule each and every one of the objectives that month by month are evaluated to our group, through the tool I can easily distribute the tasks to each team member and analyze their progress as the week or month progresses and based on this reassign other tasks or otherwise add more members to the task to achieve its completion, an important point is that we can realize that member is overloaded with work in order to balance loads, This is very useful and is reflected in productivity, all the above mentioned although it sounds complex in the Zoho Projects platform is not, even the interface is very intuitive and allows you to customize the views of the different projects according to our taste or need.
Cons
There are more benefits than negative points about Zoho Projects, maybe at first getting familiar with the different types of views where you can see the daily, weekly and even monthly distribution of the different tasks is a bit cumbersome, of course, the tool has filters and aids to adjust the view according to your own comfort, for example for some team members the kanban view is extremely clear although I particularly prefer compact and filtered weekly, so I realize the short and medium term objectives.
Industry: Information Technology & Services
Company size: 10,000+ Employees
Used

Daily

for

2+ years

Review Source
---
This easy-to-use app keeps track of chores and projects quickly
I really like the functions, the tools, and everything else that this software provides us with in order to manage a project. Those tools are really useful and important at the moment in order to manage a project and collaboration, and this software, it's absolutely useful if you want to manage like a professional.
Pros
Zoho projects have a number of great features, but one of my favorites is the option to personalize the parameters for the project management. In addition to being incredibly simple to operate, the customization function meets the vast majority of the needs that my firm has in regard to project management.
Cons
Zoho Projects is, without a doubt, one of the least user-friendly and most aggravating pieces of software I have ever worked with. It has some of the worst user experience and interface (UI) that I have ever seen, and it is missing some of the most fundamental capabilities that a project management software ought to have. It has been nothing but a hassle from the beginning to the end.
Industry: Research
Company size: 11–50 Employees
Used

Daily

for

Free Trial

Review Source
---
Project management for a research group
I have had very good experience with Zoho, especially with customer support.
Pros
Auotomated project reminders so I do not
Cons
the dashboard where users vs projects are listed could have more features.
Industry: Management Consulting
Company size: 11–50 Employees
Used

Daily

for

1-5 months

Review Source
---
Do not get Zoho Projects!
Terrible.
Pros
There is very little, if anything about this product that is likable. I guess, if pushed, I would say the calendar feature and the forum features are interesting but by no means makes up for the lack of features overall of Zoho Project. We are a small to medium business that recently, and regrettably, transitioned from Harvest to Zoho. There is quite a gap in pricing between the two platforms but you get what you pay for, mainly how many users you have. Zoho Project feels more like a bata test platform, then an actual product that should be live and used by any business. If you are doing very basic project management, like planning a wedding or a home renovation this tool would be good for you. But why would you pay for it when you can get any template on-line for free. The only other "pros" I could manage to list is their support. They have a help representative chat feature which is good and they are responsive. Unfortunately for them and mean most of it was used to inform me that "that feature is currently not available". Overall go with Harvest!
Cons
Does not integrate with Quickbooks. Can not add basic client contact information. Can't view all invoices that are due or in draft form (they force you to use another one of their clunky platforms). The Zoho Dashboard is terribly unhelpful and uninformative. You can not run basic reports like; time reports for team members across projects, expenses, invoiced projects, etc. You can't even simply alphabetize Client Users, so as you add clients they are sorted by when you entered them, only. You can only export information in one format and the reports provide very little (helpful) information; for example if you want to export your Clients. The report that is generated only provides the internal Client ID#, Name, User Name, Email Address, Role, Invoice. It does not provide State/End Dates, what Projects are associated with Clients, any Budget information, and so on, and so on. Invoice, Expense, and Time information are shown and available only through each individual Project. You can not see all invoices due, total amounts out standing, or time sheets across Projects and Clients. You are forced to click into each individual project to access that information and once again, the reports you are able to generate are very limited. I could go on about all the "cons" associated with Zoho Project but I don't have time.
Industry: Computer Software
Company size: 51–200 Employees
Used

Daily

for

Free Trial

Review Source
---
Great Experince working with zoho
It great , Most of the features available are good to use
Pros
Gantt chart activity + task get shifted to next date auto mantically
Cons
Zoho design not much user friendly , flow it little difficult for first time to understand
Alternatives Considered
Jira
Reasons for Switching to Zoho Projects
As i have already using zoho mail , so it was earlier to choose it