About Cerner PowerChart Ambulatory EHR
Cerner's PowerChart Ambulatory EHR is a hybrid EHR solution that caters to clinicians in hospitals and ambulatory facilities. PowerChart is designed to help with multi-entity electronic medical record creation. This solution can be hosted on the cloud or on-premise. It provides various built-in templates that cover various specialties, thus serving a wide range of medical providers. PowerChart coordinates care between multiple locations and practitioners, helping office staff manage medical record processes while still offering flexible documentation options. These options are reflected in the solution's database of clinical data templates, customizable procedure workflows, and patient chart options. PowerChart is ONC-ATCB certified and Meaningful Use Stage 1 and 2 certified. Its patient portal helps office staff manage patient communication by sending appointment reminders and enabling patients to access their medical records online. PowerChart Touch is also available for healthcare providers needing to access mobile workflows using tablets and smartphones. Cerner offers support via phone, FAQs, and Cerner's online client portal.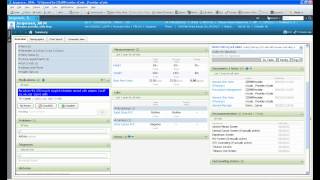 Cerner PowerChart Ambulatory EHR pricing
Cerner PowerChart Ambulatory EHR does not have a free version. Cerner PowerChart Ambulatory EHR paid version starts at USD 25.00/year.
Starting Price:
USD 25.00/year
Pricing Details:
Contact Cerner for pricing information.
Alternatives to Cerner PowerChart Ambulatory EHR
Cerner PowerChart Ambulatory EHR Reviews
Industry: Hospital & Health Care
Company size: 10,000+ Employees
Used

Daily

for

6-12 months

Review Source
---
Functional Software that plays an important role in the healthcare field
Overall, i have had a pleasant experience with this software, it is definitely user friendly and provides healthcare workers a variety of tools that make charting much easier. Also, it is extremely easy to find information about a specific patient due to the fact that it has different sections with up to date information about the patient and that takes off a lot of times from reading the physician's documentation, at least on my current job position. I highly recommend this software!
Pros
I work in the healthcare industry and use this tool on a daily basis. The software contains a variety of tools that allow healthcare workers to document patient's visits very easily and it is very user friendly. Moreover, it is an extremely well developed software where you are able to navigate through patient's chart, test results, patient's scheduled visits and many other tools that healthcare providers use to get acquaintance with the personal history of the patient. In regards to my position, the Oncology flowchart provides me with information about the cancer staging, treatment name and dates, BMI and lab results. It is a highly functional tool with multi faceted use.
Cons
In order for the software to function correctly, massive amount of updates need to happen monthly from the IT team in my organization. It can be very glitchy sometimes or freeze when there are large amount of information, for example, the MAR section freezes a lot. But other than that, it is highly functional and well developed software.
Industry: Health, Wellness & Fitness
Company size: 1,001-5,000 Employees
Used

Daily

for

1-5 months

Review Source
---
Makes things easy
It is a great place to compile all records and look up patient information when needed. It has helped me stay on track with clinic notes.
Pros
I like that Cerner is transparent enough so that nothing is too hard to figure out. I am able to find patients easily, write clinic notes easily, and view past records easily.
Cons
You can only see up to 500 records before things start to disappear. I do not like this. Additionally, it can be hard to find certain records, perhaps a search bar within the records would make things easier.
Industry: Hospital & Health Care
Company size: 5,001-10,000 Employees
Used

Daily

for

6-12 months

Review Source
---
Organized
Overall I think that it is a very in depth charting system with good organization. Some of the links are not as clear as they could be.
Pros
This software is organized and has many options within the system. I think the layout is user friendly but could be tidied up a little bit. There are plenty of options for medical use within the system and I appreciate its cohesive platform across different areas of the hospital.
Cons
I wish that the system had an option for messaging and chatting with other healthcare professionals.
Industry: Hospital & Health Care
Company size: 1,001-5,000 Employees
Used

Daily

for

6-12 months

Review Source
---
Tough to use for physical therapists
The software is an electronic medical record software that leaves a little bit to be desired especially compared to some of the other EMR choices out there. It is clunky, and a bit disconnected especially between departments which leaves communication gaps which can be dangerous in the hospital situation.
Pros
I understand where everything is located, and the multi-patient task list makes things easy to find in the course of my day.
Cons
I find that this software is not oriented towards the physical therapist, and it is very tough to integrate information between departments in the hospital. I do not like that my patients will "fall off" My list if they are off the unit or floor, which makes it very easy to miss people. I do not like that you can't see the orders for the patient right away and you need to click on each chart to get more detail which makes it cumbersome to schedule. I wish that you were able to use smart phrases similarly to Epic In order to make documenting more efficient. I also dislike the amount of clicks and grids that a physical therapy note requires. It takes a lot of time to document.
Krenciswel D.
Krenciswel D.
Industry: Hospital & Health Care
Company size: 1,001-5,000 Employees
Used

Daily

for

2+ years

Review Source
---
Excellent
Less paperwork, less patient waiting time, efficient and accurate management of samples through the use of barcode system within the software.
Pros
I have been working with cerner powerchart since 2016 and it has been very helpful with managing patient orders specially with regards to clinical laboratory test orders. It is very organized and all clinical orders are separated by classification. It has decreased the patient waiting time and processing time for the lab where I am working. Overall its very helpful to medical professionals like me.
Cons
There is really no cons for this software. Occassional downtime, updates and server problems but those were just minor technical difficulties. And are always adressed by the support team efficiently.