About Paylocity
Paylocity is a cloud-based human capital management (HCM) platform that provides human resources and payroll management tools to help businesses manage core HR functions. Key features include payroll processing, benefits administration, time management, talent management, employee engagement, an integrated applicant tracking system (ATS) and data insights. Paylocity's payroll module allows businesses to simplify payroll operations, automate processes, and stay tax compliant. With expense management, payroll administrators can eliminate spreadsheets and payroll calculators by automatically pulling expenses into Paylocity. With the pre-process register, users can preview, correct and verify employee paychecks before processing payroll. Businesses can also utilize Paylocity's payroll service to manage tax filings and wage garnishments. Paylocity's core HR enables businesses to manage HR functions using quick-edit templates, custom checklists, action forms, position management, and dynamic reporting.
What is Paylocity?
Paylocity is an all-in-one HR and payroll suite that provides modern workforce management solutions.

How do you use Paylocity?

With Paylocity's web application, users can access a unified HR and payroll dashboard with all employee details. A self-service portal allows employees to complete HR tasks, access pay information, and read company news.
Who uses Paylocity?
Paylocity is used by HR and payroll professionals in U.S. based businesses of any size across many industries including financial services, healthcare, manufacturing, education, and others.
How much does Paylocity cost?
Paylocity does not share pricing details publicly. Please contact Paylocity for information on starting price and available plans or tiers.
Does Paylocity have an app?
Yes, Paylocity has a mobile app (for iOS and Android) where employees can clock in/out, request time off, access pay info, and more.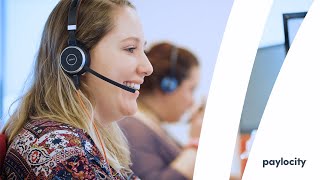 Paylocity does not have a free version and does not offer a free trial.
Alternatives to Paylocity
Industry: Health, Wellness & Fitness
Company size: 11-50 Employees
Used

Daily

for

6-12 months

Review Source
---
Slow but thorough
Personablity and productivity were high on their good side and the overall flow and application of the app or desktop site were both high positives, and even though you had to wait 48 hours usually for a response, when you needed help you at least know they're reliable and responsible...even if they're not hasty.
Pros
This company had excellent rollout of the product into the work environment with the most amazing customer support I've ever received. Training and utilization were easy to understand and execute, with very little hiccups at all. Their app is colorful and keeps you very updated on your progress and profile management issues!
Cons
There wasn't an easy way to find answers to questions "fast", you would always get a personable and functional response to your questions from a real human who knew your name, but sometimes an immediate assist is more important than an overly communicative/thorough one.
Industry: Retail
Company size: 11-50 Employees
Used

Daily

for

2+ years

Review Source
---
Great system that's flexible and I can pay for what I need
Pros
I love the interface and intuitive location of tabs. Finding what I need is easy and the search gets me answers to most questions without having to call tech support
Cons
I don't like that my account manager keeps changing, I understand turn over is high currently but it's much better to not have to "fill in" each person I call on whatever issue we were working on. There is currently a gap between what we can do remotely on the mobile app and what we can do in the browser based system. I need more functionality on the mobile devices.
Reasons for Switching to Paylocity
Their ability to give me what I need and not some giant package with things that cost me but I'll never use... Paychex was comparably priced but the company didn't seem like they would keep up with product development as well as Paylocity.
Industry: Commercial Real Estate
Company size: 11-50 Employees
Used

Weekly

for

6-12 months

Review Source
---
Cannot advise against it enough
I had so many difficult conversations with the implementation specialist and our "dedicated support team" aka 1-800 number. He was a senior specialist and was absolutely incompetent. We switched from BambooHR and they didn't transfer our data correctly- incorrect start dates and direct deposit info. They wanted me to manually collect everyone's bank information then enter it in when we ran the first payroll- unacceptable.
We had to wait a month before our hourly time clock was up and running because that's a different implementation team- we had to use Harvest in the interm.
The teams are too siloed to help with each other. At one point, the dashboard was broken and I couldn't access the help desk. The implementation specialist refused to give me their 1-800 number or email which is so odd. While I was on the phone with him, I googled it, found it, then asked him why he was being so difficult.
I would have questions about the onboarding forms which are not intuitive at all, and onboarding team couldn't tell me how to give certain admins access to the forms I was creating. Even when our accountant was given full admin account access (she was the one running payroll), she still wasn't able to call in and get help over the phone because she wasn't on the approved phone call list. Dated, clunky product, horrible service.
Pros
I liked that it had performance reviews, time tracking, and what I thought was customizable onboarding.
Cons
The teams are too siloed, sending offer letters isn't easy, it's not intuitive.
Industry: Electrical/Electronic Manufacturing
Company size: 51-200 Employees
Used

Daily

for

2+ years

Review Source
---
Decent HRIS system with cool features
Pretty positive experience aside from the constant page time-outs or error outs.
Pros
I really liked the community page where you could post updates and photos. Employees could then post comments responding to the original post and interact with the post.
Cons
It often times would time-out or error out while you were using it, so you would have to reload the page or log out and back in fairly frequently.
Industry: Real Estate
Company size: 201-500 Employees
Used

Weekly

for

6-12 months

Review Source
---
Good product, terrible support
Our team has lots of experience migrating large systems from one software provider to another; while these projects are always nuanced and challenging, we've never experienced the lack of support and integrity that we experienced with Paylocity.
Pros
The product is both well designed and executed. While implementation and support have been another story, the product's functionality and ease of use have been enjoyed by both our administrators and users.
Cons
Unfortunately, our organization had an extremely poor implementation experience. Like many, our industry has some unique payroll tracking and reporting requirements; however, through numerous meetings, Paylocity's salespeople and implementation specialists ensured the product could handle these requirements out of the box. With consultation from Paylocity's team, we scheduled over three months to implement and test the product before going live for a stress-free experience. Unfortunately, our experience was the opposite of what was promised. In addition to breaking numerous commitments and being misadvised by our implementation specialist on multiple occasions, we were not re-assigned an implementation specialist for over a month, which pushed us past our "go-live" date.
Ultimately, we had to self-implement the product to a large degree. After seven months with the product, we are still waiting on promised fixes to multiple issues. We have tried for months to address these experiences and concerns with Paylocity's [SENSITIVE CONTENT] of Implementation Services and other higher-ups. Unfortunately, our e-mails go unanswered for weeks, and the short responses we receive don't address the topics we have raised.