About QuickBooks Desktop Enterprise
QuickBooks Enterprise is an accounting solution designed for SMBs across different industry verticals such as construction, nonprofit distribution, manufacturing, and retail. With QB Enterprise solution, any business owner can expand business operations using advanced inventory, reporting, and invoice tools, in addition to premium support from Enterprise's CS and Payroll teams. Quickbooks includes inventory management, inventory tracking, expense tracking, payroll management, invoicing, multi-user management, advanced reporting tools, and more. QuickBooks Enterprise offers customizable reporting tools that help users analyze data and make informed business decisions. With over 200+ auto-filled templates and 70 industry-specific reports, this Quickbooks accounting software helps businesses find the QuickBooks data to solve any business issue. Quickbooks advanced inventory tools allow businesses to gain visibility and control over the inventory management process with the ability to track inventory movement, automatically scan and update inventory items, manage any purchase order/sales order from one dashboard, and plenty more. QuickBooks Enterprise also allows businesses to control, customize, and automate financial transactions with job costing tools, batch invoicing, invoice tracking, cash flow management, fixed asset tracking, sales tracking, payment processing, and more. Businesses also have to ability to scan and attach multiple documents including receipts and quotes for multiple accounting tasks. The tool enables businesses to arrange documents into categories and keep track of important accounting files. This solution also maintains a change log to record changes within each document with the proper date and time stamp. QB also offers different QuickBooks software such as QuickBooks Premier and QuickBooks Pro that includes include different functionality and features.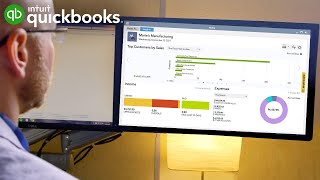 QuickBooks Desktop Enterprise pricing
QuickBooks Desktop Enterprise does not have a free version but does offer a free trial.
Starting Price:
Not provided by vendor
Alternatives to QuickBooks Desktop Enterprise
QuickBooks Desktop Enterprise Reviews
Industry: Real Estate
Company size: 2-10 Employees
Used

Weekly

for

1+ year

Review Source
---
Quick books makes it easy to track your business
QuickBooks was easy to set up and we love that our CPA and access everything directly. Ease of use was critical for us in choosing our accounting software and QuickBooks delivers!
Pros
Ease of use is at the top of the list. QuickBooks makes a lot of our small business accounting look easy.
Cons
Everything could be faster and more automatic with real-time auditing.
Reasons for Switching to QuickBooks Desktop Enterprise
Partially because of the Intuit brand reputation, but mostly due to the ease of setup and use.
Industry: Law Practice
Company size: 11-50 Employees
Used

Daily

for

2+ years

Review Source
---
Data Corruption Issues Spoiling a Great Product
I know Quickbooks Enterprise Desktop and it does everything I need to do and more. That part of it is outstanding. The strength, that it is compatible with so many other pieces of software, could also be the weakness, as I think other software accessing my Quickbooks data could be causing the corruption issues I am experiencing.
Pros
I love that Quickbooks is intuitive, works with many other software integrations, every accountant understands it, it is priced well, and easy to use. There is no other accounting software that works with so many different pieces of software. When it is working, it is the best!
Cons
We have had constant data corruption issues for over a year, despite using the Enterprise version of the Quickbooks. Our file size is around 250 MB, which shouldn't be a problem for Enterprise. Many times when I open the program, there are problems with the data. Oddly, I can just close the file and reopen it until my data verification shows no problems with my data. This means every time I open the software I have to check for problems with my data and every time I close the software I have to save a backup, in case I cannot solve the data corruption issues when opening. The only reason I am still using quickbooks, is that I also have an integrated software solution called Scanwriter, that inputs data to quickbooks for me. I have hundreds of invoices and payments on those invoices to enter every month, so I really don't want to lose the automation factor.
There is a Quickbooks file doctor, that you can use to fix your files, but it really shouldn't be needed on a daily basis. The corruption is such that I will occasionally open Quickbooks to find that none of my customers are there. Then I close and reopen the file a few times and everything is fine. Unfortunately, until I figured that out I went about my usual day entering data, only to find the corruption later and have to restore from a backup and re-enter all of that data. When I contacted support, the problem was not evident, so they couldn't do anything to help.
Response from

Intuit

We appreciate you leaving a review, Denise. To help solve some of the issues you can turn off the preference that requires a backup and a verification if you don't want it to run every time you open the file. This can be found under File> Backup company> Create local backup. In the Create Backup window select "Options". Here you can select to remind you to make a backup as well as if it runs a verification when it does backup. Should you open the file and see your info is missing we recommend contacting the QuickBooks Desktop Team to help look into resolving the issue. You can find all the methods to contact them here: https://quickbooks.intuit.com/learn-support/en-us/help-article/account-management/contact-quickbooks-desktop-support/L9d0ZUCrC_US_en_US Hope this helps. -Kristina, The QuickBooks Team

Replied 08/04/2022
Industry: Building Materials
Company size: 11-50 Employees
Used

Daily

for

2+ years

Review Source
---
Quivk Books desktop Review
Quickbooks has helped me keep track of my account books in one place therefore reducing confusion. I have intergrated the software with my other softwares like hubspot. The software enables me send my clients more professional and easy to understand quotations. However i have had problems with their phone support team, they are not easily accessible when there is emergency on the software. In a nutshell quickbooks software is a must get especially if you want to scale your small business up.
Pros
QuickBooks has a variety of features that supports small and medium businesses and it allows up to 25 users.
The software can intergrate with more than 500 business apps and softwares.
QuickBooks has a friendly user interface which makes it easy to navigate through its dashboard.
QuickBooks gives a 30 day free trial version which gives you a test drive of the software before deciding to subscribe.
Enables you to keep all your books of accounts in one place.
Cons
The price has been increasing throughout the years.
Less automated as compared to online version which takes more time.
Their phone support is not efficient and sometimes they do not assist by phone hence forced to migrate to online version which facilitate a quick live bookkeeping.
Does not facilitate split transactions and auto sales report hence need to migrate from desktop to online version.
Reasons for Switching to QuickBooks Desktop Enterprise
The simple looking dashboard of freshbooks looked too simple and unprofessional to me so psychologically i assumed QuickBooks was the best choice. I can safely say i do not regret the choice.
Industry: Consumer Goods
Company size: 2-10 Employees
Used

Weekly

for

2+ years

Review Source
---
Very Good Accounting Software for Small Businesses
It is a good business tool that helped me get a handle on mostly all of my expenses. It has a few buggy integrations which was frustrating. And I really disliked the non batch tagging system. Other than that, I have found it very useful and have used QB for the past 3 years for my taxes. I do not use it to file taxes any longer, as I now have an accountant and I prepare everything in QB first and then work with my accountant to file the taxes. Great for small businesses.
Pros
I like that QB is easy to use and that I can connect mostly all of my accounts to it. However, I was unable to connect my Home Depot credit card for some reason. I have used QB to prepare a profit and loss statement for my accountant. I have painstakingly used this software. I have used it almost on a daily basis, as it helps to give me a clear financial picture of my small business. I can't see myself managing my e-commerce business any other way, since I have many transactions.
Cons
The fact that I cannot group tag transactions. In a business like mine that has thousands of transactions throughout the year, the biggest gripe I have with QB is that I cannot batch select and change the tags. The tags are so important, especially if running multiple businesses, which I was. Since then, I have closed two of those businesses for the very reason that I cannot properly manage it all with one quickbooks account. I thought it would be easy to tag things, however, it truly sucks to have to go one by one. Also, I dislike the "rules" it auto creates because for any new transaction type, it pops up and really slowed me down when I was already having trouble with my tagging and categorizing.
Reasons for Switching to QuickBooks Desktop Enterprise
QB is simply the most comprehensive and overall the easiest product to use to account for my small business. I didn't like the other options that I explored and felt that for the money, it was a good way to do all of my business and personal accounting.
Industry: Transportation/Trucking/Railroad
Company size: 2-10 Employees
Used

Daily

for

2+ years

Review Source
---
All around the best software I've found
Quickbooks is the only software I use for my business now. It has taken years to learn how to use it in a way that works for me but now I wouldn't trade it for anything
Pros
I started using quickbooks to help me keep a better track of my inventory and to have an invoice that was easy to produce and also looked unique. But once I started using it I found that all of the feature compliment each other and with out quickbooks to help me organize every aspect of my business I don't know that I would still have a business
Cons
I'm the beginning it was very tedious for me to learn the software and on more than one occasion I had to Spend hours to undo mistakes that I unknowingly made. Some of the features and how to use them are not as clear as I would like them to be