About Livestorm
Livestorm enables powerful, yet pain-free video engagements at scale. Our end-to-end video engagement platform enables organizations to create professional video engagements that can be easily managed in one place. Livestorm is a browser-based platform that doesn't require a download, or setup. You can use Livestorm for on-demand, live, or pre-recorded meetings or events. Livestorm supports all the workflows around a video engagement; including landing pages, registration, email follow-ups, and sharing video recordings. Powerful end-to-end analytics helps you track and measure audience engagement. Our seamless integration with tools like Pipedrive and Intercom helps you manage all your insights in one place.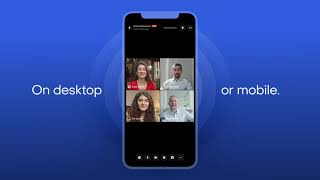 Livestorm has a free version and offers a free trial. Livestorm paid version starts at EUR 89.00/month.
Alternatives to Livestorm
Industry: Broadcast Media
Company size: 11-50 Employees
Used

Daily

for

1-5 months

Review Source
---
Perfect Webinar platform
We use livestorm in a daily case.
Producing live-webinars works fine.
Also a lot of daily webinars up to 200 participants to very different themes and attendees works.
A big feature is also the extensive automatisation possibilities.
Pros
It is easy to use, has an enormous compatibility and some outstanding features.
Cons
The compatibility mode for bringing attendees to stage could be a little more relaxed.
It doesnt work also on iPad pro as a "Mobile device".
Industry: Publishing
Company size: 51-200 Employees
Used

Daily

for

1-5 months

Review Source
---
Intuitive, high-quality next-gen webinar platform
Pros
Livestorm is easy to set up. There's loads of functionality for hosts in the back end but fundamentally it's the quality of the videos and the ability for team members/hosts to "direct" a webinar, selecting which speakers to go full screen, when slides should go full screen, sharing video etc.
Cons
There are a few simple things like a post-webinar survey that, while possible, needs a little more technical ability. I haven't really used the automation capabilities but I imagine once I try to we will be able to do things like this easily.
Industry: Medical Devices
Company size: 11-50 Employees
Used

Monthly

for

1-5 months

Review Source
---
DON'T subscribe to Livestorm!!!
- It is very difficult to run a video from a Powerpoint presentation on the platform, the sound simply doesnt work. You have to download other softwares and have a very special organization to make it work. Of course when it's your first webinar and you have no idea what the hell is going on... you are happy to be organized and rehearse as it took us 24hours to figure it out, thanks to the ZERO HELP from customer service!
- Sometimes... you don't know why or when... your speaker's Powerpoint presentation wont work on Livestorm. It will only be a black screen... For NO REASON AT ALL!!! Just that the platform is not technically ready!!! Again, we were luck to rehearse in advance but I lost 48hours of the time of a very important surgon who was my speaker and stressed out a lot about this technical problem, she went to buy new webcams, eternal microphones.... we even payed for 12hourse help from a technician to go see her in Israel and try to figure it out!!! Nothing worked! Of course NO CUTOMER SERVICE was answering my complaints except only one hour before the webinar to tell me that it wasnt a fixable problem... I had to PAY AN OTHER SUNSCRIBTION TO ZOOM 1 hour before my webinar and send the new link to all my participants... of course it worked perfectly on zoom in one second!
I cant tell you how disapointed I am in Livestorm, I have no trust in them anymore, I am complaining to everyone about it and cant even get an answer for the customer service !
Pros
The design of the software is nice. We chose it originally because it is a French company.
Cons
This software is not ready to be used for the general public. I have had many technical problems that completely enabled my webinar to start, mostly because of incompatibility with Powerpoint presentations. Powerpoint presentations are often at the core of a webinar... there CANT BE ANY INCOMPATIBILITY!
Also, there is NO COMPETENT NOR ACTIVE CUSTOMER SERVICE. I am paying 2500 dollars a year to speak to a chat bot and maybe have someone answering my questions 24hours after I need an answer!!!
ALSO, it is extremely EXPENSIVE, has no cost flexibility, if you need only one month webinar with more than 250 subscribers you have to pay for the whole year
Response from

Livestorm

Hi Hanna,
We are truly sorry to read about this experience. Our platform at that time only supported sharing PowerPoint slides via screen sharing, rather than sending.

Moreover, we are sorry to hear that our customer service did not meet your expectations. After examination, our Support team worked closely with you and was in touch within 1 hour of your first correspondence with us. We apologize if this was not sufficient.

With regards to our pricing plan, it's our mission to be as clear and transparent as possible. As outlined on our pricing page, we offer the ability to choose between annual and monthly plans. There's also options to further customize your plan.

We were sorry to hear about this experience and after discussion in December, our Support team had provided you with a full refund. We reviewed your comment again carefully and we'll take it into consideration to continue providing our customers and users with a great experience.

All the best,
Daniella from Livestorm

Replied 17/02/2021
Industry: Wine & Spirits
Company size: Self Employed
Used

Daily

for

1-5 months

Review Source
---
Go for it, cocorico !
I can really promote my business to a large panel of people, there is no download needed for the users, there is a unique and personal link for acces to the room for each attendee so i'ts safe !
I will also implement my livestorm page to my website with the program of my online meetings, I'ts very practical,
Pros
The fact that with livestorm my compagny LET'S DRINK SAS can reach people whom not attempted beacause they left their contact information during the inscription process, so I can re-schedule.
Cons
sometimes there is beugs, but they fixed it fast
Industry: Hospital & Health Care
Company size: 2-10 Employees
Used

Weekly

for

6-12 months

Review Source
---
Livestorm or how to organize a webinar with peace of mind
Very good experience with Livestorm to organize an online training: simplicity and efficiency in the use for the participants as well as for the preparers of the event, with the possibility to collect interesting statistical data compared to other software of the kind. I highly recommend this service!
Pros
-Easy to use for administrators, speakers and participants ;
-No technical problems found during our webinar which hosted almost 200 participants with 6 speakers and 3 technicians ;
-This service will be gladly used for our future online events ;
-Ease of obtaining analytical results for the company and ergonomic comfort
Cons
-Some analytical results difficult to obtain (e.g. participants by city)
-Some technical problems encountered with some speakers in preparation of a webinar