About TheraOffice
TheraOffice is an electronic medical records (EMR) and practice management solution specifically designed for physical therapy and rehabilitation practices. The single sign-on, fully-integrated application includes scheduling, documentation, accounting and reporting capabilities, and it is suitable for practices of various specialties and sizes. The documentation system allows users to customize each individual section resulting in uniquely-tailored templates for each therapist. This directly correlates with the potential to complete daily notes in 1-2 minutes and initial evaluations in 5-7 minutes. TheraOffice supports HL7-compliant messaging and other technologies to enable interoperability between healthcare systems. Users can securely transmit data from TheraOffice to enterprise-wide or hospital platforms such as hospital billing systems and large enterprise systems. The solution includes an accounting portion with clearinghouse integrations and accounts receivable management tools. TheraOffice also includes over 175 pre-built management reports to help make informed clinical decisions. The software supports multi-deployment architecture, allowing practices to choose between on-site and cloud-based hosting. Responsive client care is included.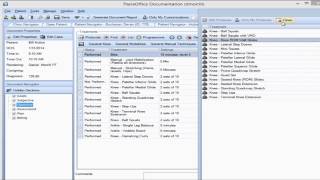 TheraOffice does not have a free version but does offer a free trial. TheraOffice paid version starts at USD 50.00/month.
Starting Price:
USD 50.00/month
Pricing Details:
Contact TheraOffice for pricing information.
Alternatives to TheraOffice
Industry: Hospital & Health Care
Company size: 11-50 Employees
Used

Daily

for

1-5 months

Review Source
---
The best industry-specific EMR software all of your practice's needs.
Pros
I feel like all I ever used to do when we didn't have TheraOffice was dealing with stacks of paper and transferring them from one room of the office to the next. Now with TheraOffice, all I have to do is walk to the printer if I need a piece of paper (which is rare). The TheraOffice team did an excellent job of helping us implement this product and they have been great customer support as we have adjusted to the huge change in our office.
Cons
So far we have had a lot of issues with the software freezing on occasion, however, that just gives me a moment to get up and grab a cup of coffee!
Industry: Medical Practice
Company size: 11-50 Employees
Used

Daily

for

2+ years

Review Source
---
Therapy West
Excellent. I have felt that Theraoffice has been very helpful with all inquiries. Also, we practice in rural Utah have therapist that often work in multiple settings. I feel Theraoffice has been very fair when it comes to pricing. Lastly, all staff at Theraoffice have been professional and follow-up has been excellent.
Pros
Theraoffice makes an effort to stay current with the software as it relates to changes in the industry. The product looks very clean and professional and those in reception, clinical care, and billing report good integration of all modules.
Cons
I feel Theraoffice could do better job with resources that help market the practice. Most therapy clinics do not have a marketing department and therefore cannot benefit from the benefits of good marketing. I think Theraoffice could help a lot of clinics with a drip marketing system that would integrate with each clients website. Also, a professional, easy to use, robust HEP program that is branded would be great. This would eliminate the need for paper as patients can have their HEP right on their phone.
Industry: Hospital & Health Care
Company size: 2-10 Employees
Used

Daily

for

2+ years

Review Source
---
Good All-in-One EMR
Pros
TheraOffice is a good all-in-one EMR, where we can schedule, document, and bill from one module. After demoing many EMRs, I realized this is actually a rare combination. The documentation allows for common phrases to be put into a drop down menu, so you can point-and-click. BCBS pulled our notes to review and said they were some of the best documented they'd seen.
Cons
There are a LOT of quirks. Once you figure them out, they become second nature, and aren't generally an issue, but you do have to understand that it may be frustrating to use at first. For instance, TheraOffice allows for charge checks, but it doesn't check them automatically, so you have to be sure to click the button on every claim. Also, TheraOffice recently went to one module and I can't say I'm a huge fan. If I'm entering an ERA that's $8,000 and the phone rings and it's a patient asking when their next appointment is, I have to close out of the ERA and start it again later, there's no "save" or way to push it to the background.
Industry: Medical Practice
Company size: 51-200 Employees
Used

Daily

for

2+ years

Review Source
---
TheraOffice for Physical & Occupational Therapy Clinic
Pros
I mainly used TheraOffice for patient scheduling, patient intake, and reporting. Searching patients in the database is easy, and there are many different categories that can be used to search in order to optimize results. Scheduling patients is quick and easy, and most of the most-used functions (for me) could be easily accessed just by right-clicking on a patient's name on the schedule. TheraOffice also has many helpful reports. I most often used the Patients not Seen in 2-4 Weeks report, which we used to track patients that were in need of follow-ups; and a report that would show patients who were low on authorized visits or patients who had an approaching authorization expiration date.
Cons
Sometimes, TheraOffice would freeze up and then crash. I would be left with a white screen with a red X through it, and often I would have to exit out of the schedule for my clinic and reopen it. Overall, this wasn't a huge problem, just a minor inconvenience when I was trying to do something quickly.
Industry: Health, Wellness & Fitness
Company size: 2-10 Employees
Used

Daily

for

2+ years

Review Source
---
TheraOffice team is dedicated to helping you maintain your brand while providing a superior...
I no longer have stacks of paper work to do. I no longer lose sleep wondering if I have met all documentation regulations. My time is more efficient because I save and lock each visit prior to treating the next patient.
Pros
The software system has a vast amount of flexibility within its design to allow each clinician and organization to customize various reports and user functions. The TheraOffice Team is very responsive whenever questions arise. I had one payer that required a specific change in documentation. The TheraOffice team problem-solved the need and immediately created a custom report that could be used for that particular payer. The team's quick response had me submitting the claim to that payer with the new documentation format at the end of the business day. I have not locked a single document without charges included. The system has built in protection to ensure that all plans of care are signed and that no unauthorized patient visits occur. The built in business reports are very helpful for knowing the health of the business. I love that it really, really integrates with FOTO. That has saved me time because I can easily see the FOTO information right within TheraOffice in a patient's case. I also really like the fax feature. This feature not only saves time, but is also logged in the system creating proof that documents were sent and received. The ability to create tasks with those on the team has improved efficiency by eliminating a lot of non-productive communication time.
Cons
I'm still having difficulty with the accounting system. At the moment, the accounting module isn't quite as intuitive as all the other modules.