About DALIM ES
Dalim ES is a cloud-based solution for digital asset management and project management. The solution helps users centralize, share and collaborate on digital assets. Organizations can control access to their digital assets with the system. Dalim ES allow users to locate documents by using metadata to search files. Metadata captures asset information such as location, creation date, format, description, rating and tags. Users can also categorize assets and then publish them on social media platforms including Twitter, Facebook, LinkedIn and more. Dalim ES helps users with workflow management by allowing users to review, rate and approve documents through a single interface. Services are offered on subscription basis. Support is available online.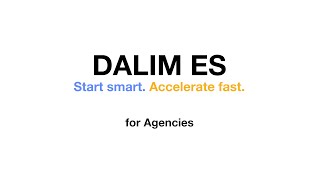 DALIM ES does not have a free version. DALIM ES paid version starts at USD 1,000.00/year.
Starting Price:
USD 1,000.00/year
Industry: Media Production
Company size: 11-50 Employees
Used

Daily

for

2+ years

Review Source
---
Orchestrate your business processes
DALIM ES can solve pretty any business process you may think of. Using the software, we solved classical prepress tasks as well as much more sophisticated process management tasks in the ETL & BPM world. Since we work with DALIM since a long time, we have created a lot of interesting and different solutions - and no project was like the other one!
From IT perspective, it can be said DALIM ES has very straight forward build in backup/recovery mechanisms and is very easy to maintain. Low/moderate costs of ownership allow immediate ROI.
Pros
I appreciate this software being one of th most complete solutions to automate processes not only in static definitions - instead workflows are build to behave agile driven by users and/or metadata. Through it's technical characteristics, the product can be integrated into pretty any environment. Scripting and API capabilities of the software allow the creation of pretty much any use case - just like classic BPM suites. Users can start with the smallest possible footprint and scale any time to match future requirements (adding features, performance or redundancy).
Just to give an idea of some options
- You don't like the look and feel? Create a custom interface and use the underlying engine
- Missing a functionality? Write your own plugins or workflow steps
- Integrate 3rd party products? Use the integrated rich API
- Want more throughput? Scale your environment by adding additional devices
Cons
Implementing such highly customisable software can quickly impact your project thinking - instead of rethinking and optimising your process!
Industry: Consumer Goods
Company size: 10,000+ Employees
Used

Daily

for

2+ years

Review Source
---
Absolut empfehlenswert
Pros
Wir setzen DALIM unterstüzend für unsere Betriebs- und Geschäftsabläufe ein. Die Software ist vielseitig einsetzbar und erleichter unseren Korrekturprozess immens.
Cons
Hier gibt es keine nennenswerten Punkte, Dalim erfüllt alle Anforderungen für unseren Einsatzzweck und auch darüber hinaus.
Industry: Cosmetics
Company size: 1,001-5,000 Employees
Used

Daily

for

1+ year

Review Source
---
Good option for end to end AW approval management in FMCG
Dalim ES is a very comprehensive tool for Artwork management. We have been using it for more that a year now and has really improved the speed and quality of our approvals.
Development of our own customization is relatively easy, although I suggest to keep up to standards as much as possible.
Pros
- Configuration / customisation possibilities by administrator.
- Speed of the engine.
- Engine for AW visualization / Annotation and comparison
- Ability to check different versions (automatic , page to page, overlay)
- Helpdesk is very reactive upon issues and open to new challenges.
Cons
- Overall product appearance is a bit old-fashioned (UX)
- It is so configurable, and there are so many options that non-experienced users get a bit lost.
- There is no "holiday" management for users (be able to direct tasks to other users while one is away)
- Notification philosophy is a bit out of standard.
Industry: Computer Software
Company size: 51-200 Employees
Used

Other

for

2+ years

Review Source
---
Dalim has an admirable history of leading the way in creative operations
Time & efficiency savings, There is support for many file types, including video and 3D, which is very clever, but I would like to see more interesting features for digital and social.
Pros
Dalim's workflow tools have been solving tricky problems that creative workers face for a long time and that is evident in ES . The interoperability between workflow automation, asset management, resource management and review & approval is unique because it is very difficult for other vendors to mimic in a meaningful way.
Great feature Set in a solid DAM
ES is a solid DAM that extends itself out to many other areas of production. It's flexible workflow design lets users use it for Photo Studio work where the photographer uploads directly to the software and the editors and Brand Managers have the ability to instantly rate and approve the images. At the same time InDesign users can use ES to find and place content and upload, Preflight, convert and deliver their pages.
Pros
Flexibility and Robust Architecture
Cons
Sometimes can be complex to setup.