About Factorial
Factorial is a cloud-based human resources (HR) solution that caters to small businesses across various industry verticals. Key features include a time-off manager, an organisational chart generator, a document manager and more. Factorial helps HR departments manage their employees' annual leave, absences and sick leaves. Users can accept or reject employee requests directly from the solution. Users can also monitor employees' compensation and offer tailored compensation plans to different employees. Factorial's employee portal gives employees access to their personal accounts to request annual leave, notify their employers of sick leaves and check their paychecks. The portal also helps managers communicate and share resources with their team members. Services are offered as an integrated suite, or users can purchase individual modules. Support via phone and email is included.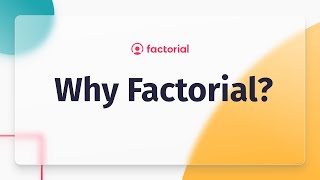 Factorial has a free version and offers a free trial. Factorial paid version starts at EUR 5.25/month.
Starting Price:
EUR 5.25/month
Alternatives to Factorial
Industry: Mechanical or Industrial Engineering
Company size: 10,000+ Employees
Used

Daily

for

1-5 months

Review Source
---
Easy Staff Managment Through Factorial
As of now, the Factorial Application is running smoothly and meeting all desired expectations in my business unit. Staff is much pleased with the software as they no longer need to visit my office to submit their leave forms physically as the application enables them to request these through the system. Likewise, never missed my tasks and not had any arguments with my subordinates with regard to their day-offs. All the above achievements emerged thanks to Factorial Software. You will never regret owning this software because this will help to save your human assets in the company.
Pros
One of the best aspects of the Factorial app is its handy Dashboard. This provides a great helicopter view to senior staff with regard to identifying many activities such as upcoming events, pending tasks, upcoming holidays, and community posts. The Dashboard is in blocked shape with enlarged text, which helps users to quickly capture the eyes of the user without missing any activity! Furthermore, the users can easily install many user-friendly applications that integrate with Factorial through a few clicks. Some of the great features you can enjoy using these apps are Goals, reviews, surveys, training and etc. Another superb plus point is users can integrate the mailboxes, including outlook. If somebody thinks this is an exaggeration; I must tell you that you should try their free version before purchasing this! You will surely be mesmerized by your output!
Cons
So far, I did not experience any issues, since I have been using limited features yet but there are many other areas to capitalize on. There are abundant capabilities this App has but I am yet to experience any misbehaves of this app. In a nutshell, there are literally zero issues for me as of now!
Industry: Marketing & Advertising
Company size: 51-200 Employees
Used

Daily

for

1+ year

Review Source
---
Factorial for our changing process
We use to make the payrolls with a company and for me this process was terrible, was that time of the month when i really not wanted to be on. Now all this process is really easy and the communication with payroll staff is vry clear and fluid so any doubt it´s solved at the moment.
Pros
What we like the most was how easy is understand the platform and used. There´s no one who can not be able to find what they need or registered in the platform.
How easily is complete the payroll process and how attent are the payroll staff.
That i can use the platform for more than just one use, as example: payroll, recruitment, as documentary, to share documents with the employees, etc...
Cons
What i like least is that in the lead product that i think is the payroll i mis some usabilities as do changes directly in the payroll when are ready, like last minute changes that make the process return to scratch. Will be more easy if i can do it online.
I really miss create differents document folders. I think that right now you have it but it´s a differente package.
Industry: Consumer Services
Company size: 501-1,000 Employees
Used

Daily

for

6-12 months

Review Source
---
All hr information Conected in one platform
for me it is a great HR Platform, because you can manage everything in one tool! even if you are from the HR Department, or an user (employee) that self manage their neccesities.
Pros
it's easy to use. to ask for a free day it's quick, because your manager receive an alert to be approved or denied, you can control the schedules of all the employees, vacations, the exact hours an employee has worked. Also, all the information of all the employees in one hand.
Cons
I think it is necessary to find another way to control attendance, either by synchronizing with a work tool to avoid forgetting to record worker attendance. In my case, I had to set a daily alarm to remember to fill it.
Industry: Information Technology & Services
Company size: 11-50 Employees
Used

Daily

for

6-12 months

Review Source
---
Factorial for IT
The "problem" that this has solved is abiding by the Spanish law implemented last year for employees to clock in daily working hours. If we get an inspection, thanks to Factorial, we Will not have any problems. It is also easy for our travelling consultants to clock in wherever they may be worldwide.
Pros
It is easy to use and as the administrator it is easy for me to see if employees are clocking in their hours and chase them if they are not. Also if one forgets to clock in one day it is easy to fill in the hours afterwards. I believe the payslips and time off work well (from a friend who uses it in his company) but we have our own system internally so I do not use this personally. Also when I have had an issue client services get back to me very quickly.
Cons
Can´t think of anything that I do not like about it.
Industry: Marketing & Advertising
Company size: 51-200 Employees
Used

Daily

for

1-5 months

Review Source
---
Easy to use, nice user interface
It has only been a short period but so far the service has been excellent and we are happy with the product in general. It is still quite simple and some complexity needs to be added regarding historical data and the employee journey but this feedback has been shared and is being actioned.
Pros
The day-to-day operational features are easy for users and administrators. Eg. clock-in, time off, employee directory, org chart, viewing and sharing documents, announcements, etc.
Cons
The product is still in its early stages. It needs more depth regarding employee historical data (eg. changes of position and manager). The reporting could be a bit more automated but the Customer Success team has been very useful to guide regarding any doubts.