About RazorSync
RazorSync is a cloud-based field service management solution that features both mobile and desktop capabilities. It is supported on Android and iOS and is designed for small and midsize field service businesses. Key features of this solution include customer management, scheduling and dispatching, field worker management and job estimating and invoicing. RazorSync sends email notifications and text messages to field technicians reminding them of their work schedules and jobs. The solution features on-site invoicing and automatic updates to customer records, as well as GPS tracking capabilities for offices to monitor and adjust field workers schedules and routes on the fly. Users can store customer records including communications, notes, photos and work history at one place. Users can also create new service requests based on previous work performed for a customer. RazorSync is suited for many different types of field service operations, including cleaning services, HVAC, lawn care, and IT or computer repair. Pricing is per month.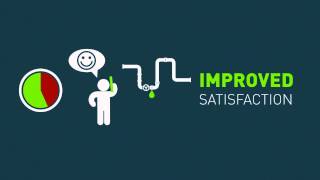 RazorSync does not have a free version but does offer a free trial. RazorSync paid version starts at USD 40.00/month.
Starting Price:
USD 40.00/month
Pricing Details:
Pricing Package Plans • Solo, up to 2 users, $40/month (annual plan) • Team, up to 7 users, $115/month (annual plan) • Pro, up to 15 users, $240/month (annual plan) • Enterprise, up to 45 users, $630/month (annual plan) All plans start with a 14-day FREE trial with all the features of the Enterprise package. We recommend you sign up for a Live Demo before beginning your trial. RazorSync offers training and technical support via phone, email and GoToMeeting offering a 14-day free trial and Live Demos to help support your business.
Alternatives to RazorSync
Industry: Consumer Services
Company size: 11-50 Employees
Review Source
---
Best Bang for Buck!
I run an energy auditing / inspection firm and I have tried dozens of other apps to help automate and track our workflow. We don't fit the standard mold of service companies since a majority of our business is new construction. We don't fit the mold of production companies since we are service based.
RazorSync is the only "of the shelf" solution that we could customize to fit our workflow. I have greater control and vision throughout our company now that everything is being tracked and measured through RazorSync.
Pros
Customized statuses... Hands down our most important feature. We have several different types of inspections that have stages and steps that require both field users and office users to complete. Since we were able to customize the statuses to fit the stages of the project, I can see where everything is at a glance. I can color code the statuses by the responsible employee so that when glancing at the calendar, I know that I shouldn't see any bright yellow statuses that are over a week old... That tells me to go check on Kevin and see if he has a pulse. That type of tracking is INVALUABLE!!! I'm not waiting on reports or taking an employee's word that their tasks are completed.
All the other features are great but you can find the same features elsewhere (and pay a lot more).
Cons
Most of my cons are specific to the odd nature of our work. We routinely have different inspectors team up for a day and separate the next day and there is no way of assigning more than one employee to a task/work order. This leads to creating place holder events to indicate that the employee should look to another employee's schedule. It works... it's just a bit clunky.
UI- RazorSync does not appear nearly as polished as it's competitors. Because of the functionality, I feel that it's an acceptable trade off. The web browser view is the largest problem design wise. Again, we have as many users in the field as we do in the office so half of our company uses the web browser view. If you just run through the mobile app, you probably won't notice the awkwardness.
Industry: Consumer Services
Company size: 2-10 Employees
Used

Daily

for

2+ years

Review Source
---
LOVE IT!
Love the way I can just put it on peoples routes and not have to remember to tell them. As long as they Sync it works wonderful.
Pros
I do all my scheduling through this system. I love the app and what I use on the computer. I can go any where and use any computer or smart phone and get the most out of it. If there's something not quite jiving with my life I can always find a way to make this system work. I don't think I use all the features to their fullest but it's there for me once I figure it out or have them figure it out for me.
Cons
I sometimes have to figure it out but can't think of much I don't like. When I started using it 5 years ago it was difficult till it wasn't. Everything takes some getting used to and this was some learning but not to challenging. Growing pains only.
Response from

RazorSync

Thank you for the great review Brenda! We are grateful to be able to help your business. If you ever need anything, please do hesitate to reach out to us.

Replied 09/04/2021
Used

Daily

for

6-12 months

Review Source
---
A lot of potential, but falls short on some very basic requirements
In many respects we are like most service companies. We receive a request from a customer, allocate the time, material and resources required and do the job. Typically the customer sends us a purchase order via text, email, fax, or the phone call. We have tried various to do programs, spreadsheets, google calendars, geo fencing. RazorSync was a life saver. A solution that eliminated our reliance on many of the tools we were using before. The support was great, and the limitations were minor compared to the benefits. The ability to add default items to each invoice such as driving to site are amazing. The automatic billing from the time the tech clocks on site to complete another amazing feature. The technical support amazing again. Unfortunately that is the wow factor stops.
Pros
Easy to use for the most part, but the training is definitely beneficial.
Technical support is second to none.
Cons
There is no field for a purchase order, in our days 99% of our customers use a purchase order.
Integration with quickbooks desktop is at best quirky, customers created in razorsync sync to quickbooks but not the other way around. That being said, quickbooks is definitely not the easiest product to integrate with, and their tech support is often sub-par. When a tech marks a job as completed an invoice is automatically generated, which is ok for a project only requiring one visit, but not for one where multiple techs or visits are required. There are some work arounds for that, but not easy to find.
When we used the sms to notify the customers that a work order was created and scheduled, most of the customers had no idea who it was coming from. The email send out looks more like an infomercial for razorsync with only a small portion of it displaying our company name and the pertinent information.
Attachments can be added to work orders, but not service requests. While this might not be a big deal, at times, it would make a lot more sense to add reference documents, copies of the customer's request or notes to the service request that are visible from every work order, instead of having to attach them to each work order thereafter.
The address field can not handle unit numbers at this time, and there were some issues with google verifying the address in some newer neighborhoods, and in order to fix them we have had to re-install the app.
At times we have some customers providing us with an address for the work to be done, their phone number and description of the work. The system forces you to enter a name in order to create a customer. More often than not, we just use an underscore. Perhaps there could be some default values in order to speed up the process. I do not need to know more than the customers first name and phone number.
The mobile apps are battery hogs on phones, so please make sure to have chargers on hand.
Industry: Construction
Company size: 11-50 Employees
Used

Daily

for

1+ year

Review Source
---
Okay software for the price
Razor Sync is a decent program and we are making things work the best that we can. The set up did not go as well as we were told it would and a lot of our customer information was not transferred over. I had to hire someone else to come in and move over our customer data.
Pros
Razor Sync is user friendly for the most part and I like that all customer info is in one place with unlimited space. I like that it is a cloud based program and can be accessed anywhere.
Cons
The software does NOT work with Quick Books as well as we were lead to believe which was the biggest factor for us when we decided to purchase. We have tried to get our Razor Sync to link to our Quick Books with tech support on multiple occasions which were unsuccessful so it has caused a lot of issues with out billing. We also have had over 6 instances where the Razor Sync invoicing and payments have caused customers to get double charged and I have had to call and have the second charge reversed. It does not show up in our Razor Sync only on the customers card statement. Also our mobile ap goes down often and our field techs can not use it.
Reasons for Choosing RazorSync
Wintac was not a cloud based software and we wanted an ap for our field employees to use.
Reasons for Switching to RazorSync
It seemed like a much better price point with all the same features however it does not seem to be comparable or work the way we were led to believe it would. If we hadn't just moved all our customers over we would probably look into other software programs.
Response from

RazorSync

We appreciate the feedback Brianna. Please reach out to support at 877-675-4395 ext. 2 so we can help with the issues you are having.

Replied 24/03/2021
Industry: Recreational Facilities & Services
Company size: 2-10 Employees
Used

Daily

for

2+ years

Review Source
---
What I would like have added or changed
I like it very much it suits our needs very well and I notice a steady improvement. So far the customer service has been great every time a call. I believe over the last 3-4 years we had a technical issue only once when Amazon servers were down or something. Will keep on using it and recommending it to my peers.
Pros
Custom service forms. I can create a standard form for pretty much any need. I like the automatic invoicing and Quickbooks integration, gps locator for field workers and time keeping is also great
Cons
I am not sure if it is a "con" but I wish after I import all invoices from Razorsync to Quickbooks, that the invoices already have the checkmarks for the allowed payment options, as now after I generate 50 invoices I need to open each one and checkmark the 2 payment options (bank transfer and CC). On the other hand that way I may catch a wrongly generated invoice.
Another thing I don't like is when I set the recurring services/ work orders and I add a service item when I set up the recurring service (i.e. the cost of the service and a service form to be filled by our employee), the next time I set any service for this client it will include the same forma nd the same service item - so I need to go in and delete those --- is there a way to add service forms and items in a recurring service without having those aper in every later job for the same client?
Reasons for Switching to RazorSync
Yes, I did, but back then when we were looking for that type of software the cost was the main factor, you were very reasonably priced and still are. For a small company, the $10-dollar difference per user really adds up on an annual basis.
Response from

RazorSync

Thank you for the great review Pavel! We are grateful to be able to help your business. If you ever need anything, please feel free to reach out to us.

Replied 08/11/2019