About Clover
Clover POS is an integrated point-of-sale (POS) system with custom hardware designed for several types of retailers. This POS system is available in both web-based and server-based deployment versions and offers countertop hardware options, a mobile POS option, contactless payments, plus more. Clover Dining is the main POS app built specifically for restaurants. With the Clover POS system, businesses can streamline payment processing, sales, and inventory management, plus more. Clover can replace outdated processes involving a cash register, paper receipt printer, label printer, barcode scanner, plus others. Payment processing supports PIN and chip card payments, credit card swipes, Apple Pay transactions, and contactless payment types. Additionally, the Clover POS program integrates with QuickBooks, includes a time clock to track clock-in and clock-out times, and manages vendor maintenance and purchase orders. Hardware components offered include the countertop Clover Station, Clover Go card reader, Clover Mini POS station, the Clover Flex mobile payment processor, plus more. Additionally, the Clover App Market offers various solutions including gift card branding, marketing promotions, detailed analytics, online store integration, plus more. With the Clover POS dashboard, businesses can visualize key data metrics in real-time. Other features include order tracking, menu editing, and data reporting.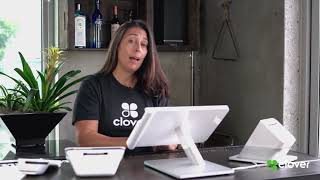 Clover does not have a free version but does offer a free trial.
Industry: Hospital & Health Care
Company size: 1,001-5,000 Employees
Used

Daily

for

2+ years

Review Source
---
Use in my small businees
Clover has been an excellent option for taking payments in my stores.
Pros
My coffee shop uses clover devices as our POS system. The software is convenient and easy to place in a store. It features many apps that make it applicable to nearly any market. They also have many accessories- the main one we use are the receipt printers (small and regular size), the handheld tablet, and the customer interface screen.
Cons
Over time the clover tablets do slow down. We frequently reboot them to rev up the speed.
Industry: Entertainment
Company size: 2-10 Employees
Used

Daily

for

6-12 months

Review Source
---
Almost Great...
My overall experience with clover has spanned from the creation of menus and items with sub menus and add ons for each item, as well as specials for days of the week as well as happy hour times to daily usage for pos transactions. Overall I have been very happy with everything, other than the need to set up account through bank, as I mentioned before.
Pros
I love how easy it is to use clover for grab and go, sit down service, or retail services. It is the only pos system I know of that is easy to use for one or all three of the above type of service. With one pos you can easily switch apps and have optimized layout and design for each of the above, while keeping the same items and menus/submenus.
Cons
I dislike that it has to be used through your bank. It makes it really hard for management to have the ability to access customer support and full features, since most owners dont want their employees, even management, to have access to full banking info.
Industry: Food & Beverages
Company size: 11-50 Employees
Used

Daily

for

2+ years

Review Source
---
Easy, simple and effective
Very positive. It's ease of use makes it suitable for every demographic and It integrates well with our other systems like Shopify and Shopventory.
Pros
Since this system uses android OS so it follows a familiar mobile OS layout.
The system is extremely easy to use. I repeat, EXTREMELY easy to use. So easy that the boomers in our company did find it too difficult to learn.
It's large buttons and integrated barcode scanner makes transactions quick and smooth.
It integrates with most common applications such as Quickbooks & Shopify.
The option to search for products by typing the name is extremely useful.
As one of our owners put it, "It's pretty hard to make a mistake on it, even for a caveman like me."
Cons
It's certainly not as advanced as other point of sales systems I've used in the past.
Sometimes simple commands are buried in sub folders. For example, if you want to delete an entire order, you are required to push three dots at the top of the order, then select the "delete order" option from a list of commands. While simple is steps, the lack of clarity when while locating the the action can slow you down when you are busy.
A massive con is the that it does not natively support variable priced items by weight. In order to add this as an option, we're required to pay an extra $10 a month.
Something that has also been massively disappointing is that you can not increase the price of an item during the sale. If an item is at a fixed priced, you can not increase the price, you can only reduce the price or provide an item discount. This is a disadvantage if you don't necessarily need an item to be a variable priced item, of if an item is priced incorrectly. It forces you to use the open item option.
Industry: Retail
Company size: 2-10 Employees
Used

Daily

for

6-12 months

Review Source
---
Clover Pos
From the pos system itself, we are multistore, so that is added complications for the clover system. On the register side, looking up customer names is complicated, you type the last name, but cannot enter the full name or it will not find it, so you enter the last name and have to scroll through the list of lets say 50 last name of smith, takes way to much time, and really difficult on the mini with the small screen. To increase quantity you have to go to another screen and then back again, more time, If one person does a price check by entering an item because a customer wants the total with tax, even though you delete the item, or clear open order, if a second sales person then logs in to check someone out the order still reads with the first person doing the sale even though they logged out. From the dashboard side, no ability to print many things such as transfer slips from HQ to the other 3 stores, once it is transferred it is on the screen until the store accepts the item in, after that the info is gone, and you cannot access for questions, etc. the lack of alphabetical order on many functions, the tax functions, if you use different tax rate for each of our 3 taxing authorities, as we did (and would prefer) say you have 10,000. in sales, 3 tax rates, when they are done separately the total income would then become 30,000.00, so many of the reports are not accurate as they read.
Pros
clover has been making some updates in the months since we have been using them, which have been good and helpful, but much is needed to make it functional for a multistore, without having to pay way to much monthly for apps to do things
Cons
to get even what I would consider basic functions, purchase more apps that would raise the monthly cost out of reach, sometimes the apps will show different figures, when creating an item, for our multistore setting, I can create for all 4 locations at once, with name, label, category, cost, price, but the tax rate, I have to go into a different screen for each location and fix all tax rates, very time consuming
Industry: Mental Health Care
Company size: 2-10 Employees
Used

Daily

for

2+ years

Review Source
---
Easy to use and a lot of features
My overall experience has been good with Clover. They do have a lot of features we love like invoicing clients directly to their email (it does not track your invoices but it has a pay now button where your client can free type their own information and their payment info is directly emailed to the main user). I also like the modern look of the equipment. I wish the banks and clover had a more direct with each other relationship instead of putting me in the middle.
Pros
I like the ease of using Clover. Our office has a clover mini that we pass back and forth to the client and we use the virtual terminal for clients who wish to pay over the phone for their telehealth services. Clover also has an invoicing feature that has helped us greatly during this pandemic.
Cons
The machines are costly and because we are on a contract changing your system as your business changes are not easily done. I am not sure if part of this is my bank but I am currently paying for a clover mini I am unable to transfer or switch. The communication between the bank and clover seems to be convoluted. I would make sure you choose a system that has the opportunity to change before 2 years.