About Clover
Clover POS is an integrated point-of-sale (POS) system with custom hardware designed for several types of retailers. This POS system is available in both web-based and server-based deployment versions and offers countertop hardware options, a mobile POS option, contactless payments, plus more. Clover Dining is the main POS app built specifically for restaurants. With the Clover POS system, businesses can streamline payment processing, sales, and inventory management, plus more. Clover can replace outdated processes involving a cash register, paper receipt printer, label printer, barcode scanner, plus others. Payment processing supports PIN and chip card payments, credit card swipes, Apple Pay transactions, and contactless payment types. Additionally, the Clover POS program integrates with QuickBooks, includes a time clock to track clock-in and clock-out times, and manages vendor maintenance and purchase orders. Hardware components offered include the countertop Clover Station, Clover Go card reader, Clover Mini POS station, the Clover Flex mobile payment processor, plus more. Additionally, the Clover App Market offers various solutions including gift card branding, marketing promotions, detailed analytics, online store integration, plus more. With the Clover POS dashboard, businesses can visualize key data metrics in real-time. Other features include order tracking, menu editing, and data reporting.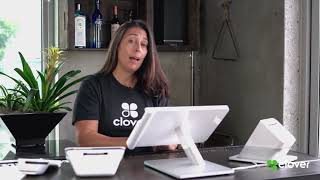 Clover does not have a free version but does offer a free trial.
Pricing Details:
Clover point of sale systems arrive payments-ready, with rates starting at 2.3% + 10¢ per transaction. Contact Clover for detailed pricing information.
Industry: Marketing & Advertising
Company size: 2-10 Employees
Used

Monthly

for

1+ year

Review Source
---
Clover Review
I have had ups and downs in processing and tracking payments for clients over time and the cost of using the product as well as their invoicing system takes a significant toll on report sales and tracking invoices if you have to use third party software with the systems.
Pros
I like the POS hardware compatibility with my bluetooth/phone data plans, PC/Printing equipment and also as an Inventory management since it provides a built-in scanner on the Clover Flex.
Cons
The Third Party apps are better than the built in programs and services which increase the cost to use the POS systems with Clover.
Industry: Health, Wellness & Fitness
Company size: 51-200 Employees
Used

Daily

for

6-12 months

Review Source
---
Simple to set up and configure. Simple to use. Flexible reporting options. Decent Support.
Clover simplified payment processing for us with easy to use devices and flexible reporting options.
Pros
Our overall experience has been great. The Clover portal is simple to set up and devices are easy to configure. Clover devices are wireless and easy for staff to use, with good user level security and flexible reporting options. We have had no issues with the devices or the service since going live.
Cons
If there is any WiFi interferance the devices can disconnect from the internet and prevent payment processing, this is not a Clover issue though.
Industry: Restaurants
Company size: 2-10 Employees
Used

Daily

for

2+ years

Review Source
---
I bought clover without looking at reviews
WARNING !!
TELL ALL YOUR FREINDS OR ASSOCIATES WHO USES CLOVER !!!
Take a picture of the screen showing how much money is made for the night before the system closes. then when it does close and print , compare the picture you took and what the print out says. Do this especially on nights when its a holiday weekend, Clover knows you'll be busy and know you won't be paying attention.. Then check the transaction app on the POS , and add up how many transaction each server or cashier did and compare it to what the printout says.. When you see the discrepancies, call the FBI and ask to be added to the growing number of clients that wants to sue Clover
Pros
duh ?? it lights up , doesn't use a lot of electricity
Cons
customer service , THERE IS NO OTHER CUSTOMER SERVICE ON THIS PLANET THAT IS WORSE THAN CLOVER CUSTOMER SERVICE./ They are the worst because they have to obey what their bosses say in robbing you the client. they will put you on a long hold and then you're disconnected. If you are lucky to speak to someone, whatever they have to say will never make sense to you !! Good luck
Industry: Wholesale
Company size: 51-200 Employees
Used

Daily

for

1+ year

Review Source
---
Customer Service
Trying to get the original set up support is terrible. You will spend hours on the phone on hold, then transferred to another line to start over waiting, only to be dropped and start over. I have had this experience every time we reactivate our machines. Billing is another issue. We use these on a seasonal and reactivation is a nightmare.
Pros
Nice user friendly once up and running.
Cons
Inventory is hard to duplicate in all machines. When you download the template it has several errors when importing.
Reasons for Choosing Clover
Update
Industry: Retail
Company size: 2-10 Employees
Used

Daily

for

2+ years

Review Source
---
Could be incredible, but appears to be more geared toward restaurants instead of retail
It's been okay. When something goes wrong, there can be a lot of runaround from different techs. There is a support number that we have to contact for technical issues, a different one for banking issues, and a third for issues with certain settings within the system. It would be helpful if there was one tech support contact instead of three. The main tech support doesn't usually seem to be very knowledgeable, and have to reach out to a specialist to figure out how to help most of the time.
Pros
Clover itself wouldn't be much more than a payment processing system if it wasn't for the many apps that you can add to make it work for your business. The catch is, most of the add on apps cost a monthly fee. The option to have these apps make Clover incredibly customizable to fit exactly what you need for your store. Overall, we still saved money switching to Clover from our previous company.
Cons
The software seems to be geared more toward the restaurant industry. When we got it, we did so because it was supposed to be for all retail. We likely would not have gone this route if we had known what we do now, but we have made it work for a retail setting with the help of certain apps.