About teamdeck
>>Teamdeck is the resource management and project planning software Key features: + employee scheduling + + skills-based tasks assigning + time tracking + timesheets + + workload + performance management + + project planning & budgeting + + availability management + + capacity planning + resource forecasting + + team utilization >>Teamdeck is developed by a software company that also works with Spotify, Uber, Netflix, and Viu. >>We're in use in the IT, financial, creative, retail, gaming, digital learning, and media industries. Live demo presentation + SETTING UP for FREE. Sign up for a demo. Teamdeck key features: - team scheduling - project planning & budgeting - workload management - team utilization - timesheet management - time tracking - availability and absence management - performance management - customizable reporting (team utilization, project budget, employee payroll, absence reports) >Teamdeck.io is a cloud-based resource management solution selected by IT, tech, but also creative agencies, digital learning companies, gaming industries. >Teamdeck helps project managers to schedule work milestones, balance employee workloads, and plan projects and supports both internal and external teams. The solution also helps managers in reporting and visualizing the overall project statistics. >The time tracking feature lets users calculate the remaining budget based on hours worked and analyze the difference between actual hours and budgeted hours. Additionally, the solution enables all team members to assess staffing assignments and manage individual tasks.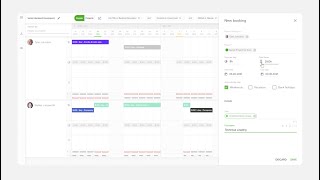 teamdeck has a free version and offers a free trial. teamdeck paid version starts at USD 3.99/month.
Starting Price:
USD 3.99/month
Industry: Computer Software
Company size: 51-200 Employees
Used

Weekly

for

1+ year

Review Source
---
Value for Money
Overall it is a great tool, they have their fair share of challenges trying a new UX that is not seen in similar softwares in the industry. The initial onboarding was hard and we had our VP of Engineering championing the teamdeck and answer everyone's questions every day for some time, but now we are past that phase.
Pros
Calendar is really good, where I can see everyone's allocations, leaves (sick/casual/annual), availability and time spent in a very intuitive way. I did however had to get on boarded on the different sections like allocations/leaves/ and time worked, those icons are very small and weren't self explanatory in calendar view.
Cons
I dread the reports section, because I have seen it provide incorrect numbers. Also, I don't find it easy to use and easily customisable.
Reasons for Switching to teamdeck
We do use Harvest in a different setting and for different people, but we have found Teamdeck to be cheaper. Also, teamdeck's calendar view is really good, it just needs to be more intuitive for new users.
Industry: Information Technology & Services
Company size: 201-500 Employees
Used

Daily

for

6-12 months

Review Source
---
A nice product that allows you to work efficiently
Good service that allows you to record and analyze everything during the work and speed up your business process ..
Pros
Timesheets and time tracking feature for Teams is the most useful for me.
Thanks to the time tracking tool, it helps us monitor the performance of our team and compare facts to predictions, allowing us to master everything about the business process. By generating reports based on timelines, we can calculate KPIs we choose, generate financial reports, and more. Teamdeck is a great choice for managing your team's workload and tracking your company's profitability.
Cons
The speed of use is not exactly what I want, sometimes it works slowly.
Industry: Computer Software
Company size: 51-200 Employees
Used

Daily

for

1-5 months

Review Source
---
Planning & Tracking is fine, Reports are poor, experience is slow
I can deal with it, but once a week the experience with Teamdeck is just frustrating
Pros
Planning & Tracking features
Flexibility in filters
Cons
Loading all the timetable for all the time - no need for that, it takes time to load and laggs a lot if we use view for the entire team (~50 people). Would be good to display only selected month at least.
Reports can't be exportend in PDF, with a quality layout, that can be showed to our investors.
Teamdeck doesn't show the real time sutiation, you have to refresh the page all the time to see latest updates from colleagues.
The tool sometimes laggs and shows wrong data in report, we have to do triple check before collecting stats and calculate budgets based on timetracking.
Reccuring bookings would also be a great feature (e.g. each week on Monday & Tuesday, etc.)
The timetable is also taking too much space on the screen. Imagine 50 people add 10 tracking objects each day. Scrolling through 500 records + 50 empty spaces for "+" symbol for adding new record is just painful.
Industry: Information Technology & Services
Company size: 2-10 Employees
Used

Daily

for

1-5 months

Review Source
---
I use this software daily at work, it works great even with low internet bandwidth.
I select the project I am going to be working on, start tracking time, and start to do my tasks, when I need to leave my computer I stop the time tracking. If you need to switch between projects is cool and allows to track time you spend on several projects. By far and til now it has been a great experience.
Pros
It helps to track the time I've been doing a task for a project, and have some sort of idea of the time is taking on the tasks and projects.
You can track time by projects which is cool.
You can create reports of the time spend by projects on your team.
Cons
It does not have a user idle function which stops automatically if you leave your desktop, it's not something that bad, you just have to be careful of stoping the time tracker when you leave you computer for a moment.
This will be good or bad depends on the honestly of the team you manage as admin.
Industry: Computer Software
Company size: 51-200 Employees
Used

Daily

for

6-12 months

Review Source
---
Track Daily Employees working hours
So far Team deck is very easy to user software and every employee whether he is technical or non-technical can log its hours very easily.
Pros
- Admin can easily track the daily to daily working hours of an employee
- There are every type of options which are used to track the hours of an employee by HR
- User can add the hours according to its project which are saved by its project manager
Cons
I am just a user of this software which just log its hours in the team deck. so I am not so sure about the cons here