About Easygenerator
Easygenerator is a cloud-based learning management system solution that serves businesses of all sizes. The solution allows users to create learning courses. Key features include course creation, co-authoring, user management and customer success management. Users can author their courses by creating content and defining learning objectives. Authors can apply their own instructional and graphical designs to the courses they design. Publishing tools are also available that enables authors to deliver the course. Also, authors can use predesigned templates and color customization to design courses. Easygenerator allows learners to set objectives and take assessments. Learners can track their learning performance by analyzing assessments. A user-approachable interface is also available that lets users design courses without scripting or programming. Easygenerator is priced on a monthly subscription basis. Support is provided via email, a knowledge base, videos, an online help desk, live chat and over the phone. In addition, the solution provide a mobile application as well.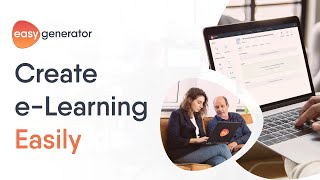 Easygenerator has a free version and offers a free trial. Easygenerator paid version starts at USD 99.00/month.
Pricing Details:
Pro: $99/month or $1188/year Team: $495/month or $5950/year Enterprise: Contact Easygenerator for a price quote.
View Pricing Plans
Alternatives to Easygenerator
Industry: Higher Education
Company size: 2-10 Employees
Used

Daily

for

2+ years

Review Source
---
A Game Changer!
We are a small textbook publishing company that utilizes Easygenerator as the platform for our online textbooks. After researching software solutions, we chose Easygenerator and have never looked back. The flexibility of the software as well as the ease of use has been a perfect fit for our company. Thank you!
Pros
We are a small company that was looking for a solution that we could manage in-house without having to hire new technical staff or utilize a third party. Easygenerator allows us to manage the software with staff that has limited technical skills, thus the "easy" part of the name really lives up to its billing. The development team is always updating the program and very receptive to our ideas for new features. New features are added monthly and the support staff is incredibly personable and talented. We are extremely satisfied with Easygenerator!
Cons
We have not learned how to integrate Easygenerator into various learning management systems and it seems that it might be an overwhelming process for our limited skills set.
Industry: Leisure, Travel & Tourism
Company size: 201-500 Employees
Used

Monthly

for

1-5 months

Review Source
---
An easy to use authoring tool
Pros
An easy to use system for an author of e-learning content, using a drag and drop functionality. It was easy to implement across our team and the ability to brand the learning pages is great. The customer support team are quick to respond and are very helpful.
Cons
If the system was able to have an option to create an assessment only section which is the part that is only scored.
The ability to download a report of ALL completed courses rather than the need to run a report for every single course.
Industry: Government Relations
Company size: 1,001-5,000 Employees
Used

Weekly

for

1-5 months

Review Source
---
Intuitive and Smart Online Training Solution
Easygenerator allowed us to easily develop internal computer-based training courses such as Onboarding, quality management, specialized training and refresher training courses. The ease of use and the intuitive training features help our team to respond equally fast to both planned and add-hoc requests for internal training. There is a learning curve to master EasyGenerator, but their customer service is always there to help.
Pros
These are the EG features we like the most so far:
- Robust training environment with powerful learning and testing capabilities
- User-friendly interface and intuitive structure
- Easy to get going, particularly using the provided templates
- Useful add-ons such as PPT conversion
- Good integration capability with other LMS
- Excellent customer support - very friendly and supportive
- Constant improvement and development
Cons
The product could be enhanced in the following areas:
- Give users more content formatting tools
- Add more fonts or let users upload their own fonts
- Provide optional training image and video library to build content easier
- Keep adding more templates based on typical training models/subjects, e.g. software training.
- Add LMS capabilities eventually
Industry: Consumer Goods
Company size: 10,000+ Employees
Used for

1-5 months

Review Source
---
Easygenerator Review
Customer support from [SENSITIVE CONTENT HIDDEN] was 5star. She is calm, attentive and hardworking with a great can do attitude. thank you [SENSITIVE CONTENT HIDDEN] for all your help too.
Cons
The most frustrating element of the software is that you need to 'log out' in order for the system to recognise and count as 'complete'. Tis should be corrected and be applicable at the results page. This is causing a lot of frustration internally at Unilever where people are completing the course but as they have not clicked out at the end it did not count as completed only started. This is far from ideal and I would look at alternative solutions for learning platforms for further courses.
Industry: Logistics & Supply Chain
Company size: 201-500 Employees
Used

Daily

for

1-5 months

Review Source
---
The ticket to successful trainings!
Our company is growing fast, we have multiple departments so it's difficult for us to train new employees one on one. Easygenerator gives us the ability to create short and easy-to-understand courses for employees to do so they can start to learn terminology and the basics of the industry. The team has been amazing to work with, making sure I know how to utilize the features within the platform. They even set me up with a consultant to go over best practices and how to cater to my learners.
Pros
It's simple to use, I was able to spend a day or two learning how to navigate and then I could really focus on creating content. The features such as the objective creator really help me to ensure I'm creating focusing on one topic and not getting off track.
I have not tried to integrate with or LMS yet, we're using this as a stand-alone platform.
Cons
You can reuse sections, which is great, but if you change something in the section for Course 1, it will change it in Course 2. It's not a problem, but it would make things a bit easier if I could duplicate the section and change it to fit whatever I needed in that course.