About GoToMeeting
GoToMeeting is a video conferencing and collaboration software that can launch meetings from various locations such as email, Microsoft Office, and instant-messaging tools. The solution is suitable for businesses of all sizes and can be deployed both in the cloud as well as on-premise. GoToMeeting enables users to organize, invite and attend online meetings, presentations, trainings, and video conference calls. Customers, colleagues, and prospects can view any application on users' PCs. Its HDFaces video conferencing functionality can share up to six high-definition video feeds per session. GoToMeeting provides features such as synchronous editing, project management, cooperative writing, minutes management, invitation management, two-way audio and video, chat and messaging. The solution offers a free mobile app that can start an instant or scheduled meeting from devices such as Windows phones, iPads, or iPhones.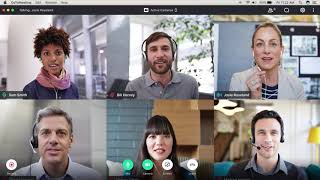 GoToMeeting does not have a free version but does offer a free trial. GoToMeeting paid version starts at USD 14.00/month.
Starting Price:
USD 14.00/month
Alternatives to GoToMeeting
Industry: Information Technology & Services
Company size: 11-50 Employees
Used

Daily

for

2+ years

Review Source
---
Good solution for online meetings and presentation
I have offices, customers, account managers, partners and even developers in severalc countries. With this solution I can keep meetings or presentations everywhere in the World where I have Internet connection.
The sound can be by Internet or phone call, I can share my screen ot my webcam, and aldo I can save the meeting, to keep track of it.
Pros
I've tried other solutions and for me the best from this solution is how easy is to access to the conference for my customer. Just one click and they are inside the conference.
Cons
I would like to send invitations to my customers from the same interface instead than copy&paste the content of the access. It has plugins with main mail solutions like outlook and GMail, but sometimes because I am in a customer with firewall email rules that don't let me access to my server from outllok but only by webmail, I have to create the conference form one site copy&paste and send the invitations from my webmail.
Industry: Utilities
Company size: 1,001-5,000 Employees
Used

Daily

for

2+ years

Review Source
---
GoToMeeting isn't great, but it isn't bad either
Overall it does exactly what I need it to do, but I'm really comparing it to WebEx. With WebEx, I could record meetings, create meetings through Outlook, and it had SSO enabled. GoToMeeting seems like a step backwards, but it still gets the job done. Just a little more tedious in my opinion.
Pros
I like that it allows me to hold conference calls and screen share. Really, that's all I need it to do. I do a lot of demos and walkthroughs with clients and customers, so GoToMeeting is critical for my success. It also allows my customer to share their screen so I can see what errors or issues they're having on their end. It really helps with the show-don't-tell aspect of my job. I also like that my PIN never changed. It was a little on the long side, but after a week or so, I had it memorized. Made opening meetings really fast.
Cons
I'm realizing the things I like least about GoToMeeting may be on our configuration side. For example, we don't have single sign-on (SSO), so anytime I need to open GoToMeeting, I need to log into my account. That gets a little annoying. It also doesn't integrate with Outlook, which is also annoying. I have to go into GoToMeeting, copy my meeting information, and then paste it back into an Outlook appointment. Just a lot of needless steps. But this could just be on my side - something that we could configure if we wanted to. And I don't have the ability to record meetings, which may be a licensing issue or configuration issue. Either way, I don't like it.
Industry: Information Technology & Services
Company size: 2-10 Employees
Used

Daily

for

Free Trial

Review Source
---
GoToMeeting is an excellent remote access software
I got the free trial and tested it fully by connecting to my local PCs (I have three) and working on them remotely. I also tested connecting to my son's computer and to a friend's computer to perform routine maintenance on them. Everything worked beautifully.
Pros
GoToMeeting allows for simple remote access and control of remote PCs and also provides a simple way of servicing computers remotely. It is simple to set up, simple to use, and effective in performing its tasks. Very well conceived and executed remote software.
Cons
The price after the free trial is substantial, and since I am retired, I don't need to pay for this service. Were I still working, it would be a fine alternative. I am a retired Computer Service Company owner, and would have found this an excellent option when I was working
Industry: Photography
Company size: Self Employed
Used

Weekly

for

1+ year

Review Source
---
Poor Product, Worse Dupport
My relationship with LogMeIn and GoToMeeting was bad from the start. As I was looking for a product to deliver webinars and charge for events, I was promised the moon by sales reps that I later learned didn't understand the tool and gave me erroneous information.
I was also assured before my purchase that their support was top notch. It wasn't.
My biggest complaint, aside from things that didn't work as promised, was the inept support. I frequently got techs who knew less about their product than I did. I was frequently given incorrect information and many times was promised a call back that never came.
When the pandemic hit and I increased my for sale webinar events, I experienced problems with the integration to PayPal. From the first time I called, they refused to consider that the problem could be with them and insisted it was with PayPal. They refused to investigate, even though PayPal reps had thoroughly investigated and had some suggestions. They simply refused to consider the possibility of a problem on their end. This despite the promises and hard sell they gave me about how well this feature worked. It was the primary reason that chose their product in the first. After forcing the escalation of my concerns to upper level people in the organization, I thought I'd found someone to listen and dig into what was going on. Instead, I got more hollow assurances and promises of follow up and call backs that never happened.
overall, a disaster.
Pros
Not much. I was able to offer webinars, but many of the features promised by sale reps didn't pan out or work as promised.
Cons
Poor integration with PayPal when selling events. Bugs in applications, things that worked only if you did an end run around a problem that went unfixed for the entire time I had the product.
Industry: Computer Hardware
Company size: 11-50 Employees
Used

Daily

for

6-12 months

Review Source
---
Perfeito para treinamentos em larga escala (auditório)
No geral a minha experiência tem sido boa, usamos como software principal para dar treinamentos em larga escala (100+).
Pros
Sem dúvida o ponto positivo neste aplicativo é a quantidade de pessoas que suporta.
Antes de conhecer o GTM era bem complicado ministrar treinamentos para os parceiros da empresa, devido a quantidade de pessoas simultâneas que precisamos atender (100+).
Hoje conseguimos controlar quem fala e a hora que fala, e isso facilita muito a apresentação do treinamento, sem interrupções e ainda gravar o treinamento, que fica disponível por link posteriormente.
Cons
O fato de ter de instalar um software na maquina me deixa um pouco insatisfeito, e tenho a certeza que afeta outros usuários.
Em meio a uma era digital em que na internet sofremos com vírus em tudo praticamente, o usuário fica desconfiado com um download e execução.
Outro ponto é que em várias empresas a instalação depende do TI para ser executada, dificultando a realização e participação nas reuniões executadas no GTM.