About JustCall
The Cloud Phone System of choice for modern sales and support teams. We help end clueless conversations by adding context to every call. Call software, virtual numbers, SMS campaigns, native CRM integrations, and lots more at just $30 per user. 100+ integrations with CRM & Business tools. Click to call from CRM. Go live in 70+ Countries. SMS Workflows & Automation. 3 sales dialers to choose from. Call queueing and forwarding. Comprehensive analytics. Conversation intelligence & much more. Sign up and get a 14-day free trial.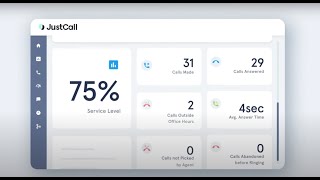 JustCall does not have a free version but does offer a free trial. JustCall paid version starts at USD 30.00/month.
Starting Price:
USD 30.00/month
Industry: Information Technology & Services
Company size: 2-10 Employees
Used

Daily

for

1+ year

Review Source
---
Fast implementation, great support team
Painless, easy onboarding. Support is easy to get hold of and they even configured a few lines and integrations that weren't part of the normal set-up. The software works great - both inbound and outbound calls, but the thing that really sets the company apart is the support. I've thrown some next level problems at them, expecting them to say "sorry, but no" - I always get "sure, no problem". Well done.
Pros
It's so simple to set up. From purchasing the number, through to setting up complex redirects, configuring end user devices and support is outstanding.
Cons
Not much, maybe they could have a few more integrations, but maybe I should also ask them if they could make them!
Industry: Education Management
Company size: 2-10 Employees
Used

Daily

for

6-12 months

Review Source
---
Integrates well with most CRMs
We use AgileCRM and although they integrate with Twilio, there's no mobile option, and I'm on the go a lot. We needed to be able to answer at the desk and on the go at the same time. By not using the telephony features in Agile, we are able to go with their cheapest plain, which saves money. JC integrates pretty will, although there's no way to do automated sms campaigns from Agile via JC. The integration allows us to look at the customer history which also displays emails, notes, deals and anything else we want. We used to have to search many places to see conversations, but now we can just look at the history in Agile since it includes phone calls and texts.
Pros
JC is very versatile in that it offers the ability to make calls from an app, cell phone or desktop. This allows us to quickly switch from one platform to another. It also integrates pretty will with our CRM which means we can see call and texting information along with other client history.
Cons
The call quality is subpar, but acceptable, especially from the app. They say that my internet is too slow, but I never had these issues with my previous provider. However, I've found a way around this, and that is to forward to a Google Voice number rather than ring the app. This way, it isn't using my LTE signal. Luckily, the main people answering calls are stationary and on strong wifi, so it's not a huge problem for me as the owner. However, we still have random glitches where we'll answer and no one is there or we try to answer and it doesn't work. But this only happens maybe once per week, so again, not a huge deal. We put up with these things because there isn't a good alternative if we want to continue. integrating the phone with out CRM.
Industry: Hospital & Health Care
Company size: 51-200 Employees
Used

Daily

for

1-5 months

Review Source
---
Best Customer Service Out There
Good but not great on product. Great every time on customer service.
Pros
Software is fairly easy to use, but I went with these guys for customer service. Period. They respond so quickly, no matter how small the problem. I love that and need that with my team.
Cons
The interface is a little clunky (like the IVR), and we have had some glitches here and there. It would also be very nice for administrators to be able to edit their user's settings.
Reasons for Choosing JustCall
We used Aircall and it was a bit expensive and seriously bad with customer support. Making me do login to a separate support site to submit and track tickets? Really?!
Reasons for Switching to JustCall
They were unresponsive. I liked their product but their team was not on the ball with communication. If you can't email me back when I'm trying to buy your product then what the heck do you want me to expect of the service!
Response from

JustCall

Hai Joseph, Thank you so much for sharing your JustCall experience. Our support teams are always striving to ensure a seamless experience for your business. Regarding the technical glitches you can contact our support team anytime they will be ready to help you out! Also, next time whenever you face any glitches please feel free to write us at [email protected] for our product team to look into it!

Replied 06/07/2022
Industry: Consumer Services
Company size: 11-50 Employees
Used

Daily

for

1-5 months

Review Source
---
A Versatile Service
JustCall's wide range of functionality has been invaluable to our team's productivity, and the flexibility they provide for modifying existing features and building new ones has been impressive. The interface could use an update.
Pros
JustCall has a wide range of functionality. Their name is a misnomer because they do so much more than "just call". The features we use the most are calling, call transferring, texting, and texting campaigns. JustCall integrates so nicely with Hubspot, which is a literal lifesaver for our team. You can also create saved text templates so you don't have to type out the same message if you're sending it multiple times a day. JustCall's support team is relatively responsive (chatbot on site) and can usually accommodate special requests for new features or modifications of current ones. This has been really nice for our team.
Cons
JustCall's support team is based in India, and the language barrier can occasionally become an issue. Sometimes calls drop, the interface isn't super appealing, and the Chrome extension that allows you to easily text or call often has issues. Using the same account with more than one user is difficult at times, as notifications will only go to one user, and the notifications don't always update automatically so you have to refresh manually a lot.
Reasons for Choosing JustCall
Grasshopper has a limit on how many messages you can send an hour, which we capped out at very quickly. They also didn't have as much functionality as JustCall.
Reasons for Switching to JustCall
Price point, functionality, customer service.
Response from

JustCall

Hi Kyra, Thank you for taking the time to leave us a detailed review. We truly appreciate your feedback. We are thrilled to hear that you are enjoying the Justcall features and the HubSpot integration. Regarding the issues, Please mail us at [email protected] and we will be there to help you throughout.

Replied 18/05/2022
Industry: Airlines/Aviation
Company size: 2-10 Employees
Used

Daily

for

1+ year

Review Source
---
Tight integration with Copper and Zapier
We rely 100% on JustCall now. We had used Aircall previously and in another life, we used Skype. JustCall is the most complete solution for our tech stack and setup. Their support team is a key to ongoing satisfaction and prices are reasonable given the functionality provided.
Pros
We selected JustCall because of its native integration with Copper CRM.
We have found that also integrates easily with Zapier and the team does have a range of other native integrations that are useful.
Since using JustCall we have found the Support team to be very responsive, available and effective in their support. The Support is 10/10.
What we also like is that JustCall is always releasing new features. Not all of them are applicable to our use case but it shows that the team is proactive and on the ball.
Cons
We implemented JustCall early on and at the time it was a bit buggy which was frustrating. However the Support response was very fast and attentive and the team would work out practical solutions. We find the app very stable now.
Reasons for Choosing JustCall
JustCall has better integration with Copper CRM