About Buddy Punch
Buddy Punch is a cloud-based time clock solution suitable for businesses of all sizes. Key features include overtime calculating, GPS tracking, PTO accrual, time card approval and job costing. Buddy Punch enables employees to clock in using different job codes and locations as needed. Employees can also be required to share their GPS location or use an authorized IP address in order to clock in. The solution also has a webcam feature that can automatically take a picture of the person doing the punching as they click on the punch in or punch out button. Managers can view and edit information on employees assigned to them and approve time cards and PTO requests. Users can set up rules where punches are automatically rounded up, down or to the nearest selected increment. Overtime can be calculated in multiple ways based on requirements. The solution also integrates with QuickBooks Online and Desktop.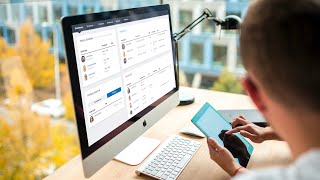 Buddy Punch does not have a free version but does offer a free trial. Buddy Punch paid version starts at USD 3.99/month.
Starting Price:
USD 3.99/month
Alternatives to Buddy Punch
Company size: 1,001–5,000 Employees
Used

Daily

for

2+ years

Review Source
---
Buddy -punch gives us the value we seek.
Pros
Intuitive ,and a much cheaper option than Toggle which we have tried in the past ,and they completely avoided the per user billing system,which I find very ridiculous.
Buddy-punch provides my team with an easy to use clock based punch in/punch out time management application, which didn't require a fingerprint scanner and still works. Buddy-punch has generally given us value for our money.
Cons
Anytime our employees have failed to sign in , they get multiple email notifications which some have found to be very pestering.
Response from

Buddy Punch

Thank you Ifeoma for the review! I appreciate the 10/10 rating and it's great to hear that we're giving you great value! You are correct, we do not have per user pricing, so you do not have to be concerned with thinking about increased costs when you add a new user. We appreciate your business!

Replied 10/07/2018
Industry: Staffing & Recruiting
Company size: 11–50 Employees
Used

Daily

for

6-12 months

Review Source
---
The best time tracker for employees
So far, I'm enjoying it!
Pros
It is very feasible and easy to use. As an employee, I can easily check my attendance sheet. It does need for me to click other features to be able to access it.
Cons
The design is not that appealing. Aside from it, I think other productive reports should be added.
Response from

Buddy Punch

Thank you for your review! We're thrilled to hear that you're finding Buddy Punch feasible and user-friendly, Jonel John. Your input on the design and report features is incredibly valuable to us. We're always looking for ways to enhance our service, and we'll take your suggestions into consideration. Thanks again!

Replied 06/11/2023
Used

Daily

for

1+ year

Review Source
---
As an owner, I don't have any problems with Buddy Punch, but my employees have several...
Pros
It makes it easy for me to view and edit time cards as needed. I also like how I can create different categories for employees to clock in under.
Cons
My employees have a terrible time with Buddy Punch. The app does not work on a couple of their phones. When they do punch in on the computer, the buttons don't function like they're supposed to. For instance, they try to punch in and edit time, but it just punches them in and doesn't allow them to edit their time. It has also automatically punched an employee out five minutes after punching in (they did not punch out).
Response from

Buddy Punch

Hello Sean, I'm glad that we've been easy for you to use. I'm sorry to hear that your employees are having problems but thank you for the feedback. We have 2 features that will automatically punch an employee out. We can split shifts at midnight, which keeps time within each day, and we have a maximum hour in a shift. This will automatically punch an employee out as well. Sorry for any confusion on these features. We appreciate your business.

Replied 09/05/2018
Industry: Law Enforcement
Company size: 11–50 Employees
Used

Daily

for

2+ years

Review Source
---
Buddy Punch is a helpful tool in the time keeping system.
My experience has been good.
Pros
For people who are computer literate it is very user friendly.
Cons
If an employee punches in an incorrect time or date, they cannot change it themselves.If an employee is computer illiterate, they have more problems handling the program.
Response from

Buddy Punch

Thank you Dawn for the review, it is great to hear that your experience has been good and your users have found us user-friendly. We do have the option to enable editing for employees, which can involve an approval process. This way employees can request edits if they make a mistake. We will reach out with further information, thanks again!

Replied 30/08/2023
Industry: Legal Services
Company size: 11–50 Employees
Used

Daily

for

1+ year

Review Source
---
Excellent time manager
In my personal opinion Buddy Punch help me to control my work time and break time to be more productive with my daily work.
Pros
Friendly interface. Easy to use. Allows you to add break time. Send efficient reports to administrators.
Cons
I would like it to have a more dynamic interface
Response from

Buddy Punch

Thank you Pamela for the review, we're happy to hear that you're finding the interface friendly and easy to use.

Replied 02/10/2023