About Workiz
With Workiz, field service pros can grow their business by ditching antiquated business management methods such as pen and paper, Excel spreadsheets and Google Calendar.Workiz provides an easy-to-use platform that allows service pros to manage their scheduling, invoicing, payment processing, phone systems and much more.Workiz is designed for small to medium-sized on-demand field service businesses, such as locksmith, carpet cleaning, junk removal, handyman and appliance repair.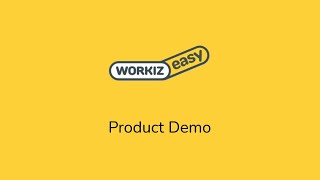 Workiz does not have a free version but does offer a free trial. Workiz paid version starts at USD 109.00/month.
Starting Price:
USD 109.00/month
Industry: Consumer Services
Company size: 2-10 Employees
Used

Daily

for

1+ year

Review Source
---
Excellent development team.
We can provide you over the phone more details of our experience from our technicians.
Pros
Interface, excellent for appliance repair industry. "Custom fields" option is great. "Product and service" is very good.
Cons
Missing user guide. I wish to get more changes in CRM soft for our needs.
Response from

Workiz

We do have an amazing dev team! We just launched a new academy, highly recommended for new employees and clients. Check it out here: https://www.workiz.com/academy/

Replied 12/04/2021
Industry: Transportation/Trucking/Railroad
Company size: 2-10 Employees
Used

Daily

for

6-12 months

Review Source
---
Our Moving business is running more efficiently than ever!
Workiz has been a great asset to our business with ease of use between the office and the techs, scheduling & mapping the job, contacting customers using the Workiz phone and invoicing/billing. This software has reduced the amount of multiple software & apps to 1, nothing is more efficient than that!!!
Pros
Integration of the software with our business was extremely easy! This software has helped our moving business streamline information to our techs with ease and efficiency; it dramatically reduced misinformation, errors & helps to get last minute changes our quickly.
Cons
Customization of our documents is not as efficient, it would help to have our already established documents translated using PDF's instead of having to re-create the documents needed.
There is some issues when viewing job reports in the filter results - when you have selected the dates, then select a job within those dates and want to review other jobs in the same selected dates you must re-select the dates, there is no option to keep that same selection of dates. This can be time consuming when verifying jobs for payroll, techs & hours.
Response from

Workiz

Thanks Octavia. We love working with moving companies like yours and are excited by your great review. We've updated the product team with your feedback.
Thanks!

Replied 04/06/2021
Industry: Construction
Company size: 2-10 Employees
Used

Daily

for

1-5 months

Review Source
---
Mediocre at best
I would say overall would never come back to utilize the service. I've utilized plenty of different softwares and this used to be great when it was SendAjob but since the transition to Workiz. You guys fall short and don't meet our needs. Maybe a one man show and or someone who doesn't need detailed, efficient workflow.
Pros
It seemed like a great software that would be able to customized to our needs. They used to be "SendAJob." When they were the service was great and flowed well.
Cons
The cons can go on and on. Very hard to distinguish the schedule. if you need a client with multiple properties and sub addresses this is the worst software I have ever encountered for such client management. The card processing wasn't efficient. the technical team when needed would only answer very generic and not try to create solutions.
Response from

Workiz

Sorry to hear you didn't like it Philip. We're always listening to our clients and we want to thank you for submitting this review. We're making Workiz even more robust this year.
We've just launched an update to our CC payments and we're soon launching more automations for owners of larger businesses as yourselves.

Check out another software and share with us your experience. No software is perfect but we're sure we can beat our competition...

Would love it if you gave us another shot soon :-)

Replied 12/04/2021
Industry: Construction
Company size: 2-10 Employees
Used

Daily

for

1+ year

Review Source
---
WorkIz is a game changer!
After testing out a few other client/job platforms, WorkIz turned out to be head and shoulders above the rest. The customer service people are super-responsive to input, are easy to reach, and take care of their clients. Highly recommend!!
Pros
Being able to have client/job information at our fingertips has transformed how our business is able to function. Before Workiz, job & client information, as well as job scheduling, was a manual process.
With WorkIz, every one on our staff, from people in the office to staff out in the field, is able to access job & client information from their phones or laptops.
Sending estimates to clients has enabled us to add photos and other information with our quotes. This has really set us apart from our competitors.
Online payment capability is a real plus, as some clients don't feel comfortable sharing their credit card information.
Cons
Search feature isn't as good as I'd like, but still better than the manual system we had prior to WorkIz.
I wish there were a more streamlined process for setting up one account for repeat clients with multiple jobs. WorkIz has improved this somewhat in the past year, and I hope they will continue to do so.
Would LOVE to be able to enter more than one email address on the main client page.
Response from

Workiz

Thanks Beverly!
We're keeping improving with time and our product team just got a whole lot bigger.
Stay tuned for more feature updates!

Replied 12/04/2021
Industry: Construction
Company size: 2-10 Employees
Used

Daily

for

1-5 months

Review Source
---
Great Product
Excellent product, excellent features, Awesome customer service, Great prices. We are fairly new with Workiz, but loving it so far.
Pros
The modern technology that is built right in such as 2-way texting, notifications, email, automation. The App is amazing and full of almost everything the desktop offers. It has a built-in full phone system to call customers from and to receive calls and records all communication with every lead/client that calls. They have built-in CC processing payments, online booking tools, online chatbot features that can also serve as a booking tool.
Cons
They have a "Leads" feature you can turn on so for a company like myself who does all estimates a lead is where about 90% of the communications occur, but you can't set notifications and text alerts to clients when they are in the lead status. This should be updated and hopefully will be. Once a lead becomes a Job or someone that owes you the money you have full range to communicate with them via text, email, and auto-notifications. This works great for a service business that doesn't do many estimates and only sets up service appointments for service work, but not so much for a company using Leads and doing estimates.
Response from

Workiz

Great review Richard - we really appreciate it! Feedback noted and will be shared with our product team.

Replied 12/04/2021