About Freshsales
Freshsales is a salesforce automation solution that enables businesses of all sizes to streamline lead management, client interaction, marketing insights, customer relationship management and other operations. The platform enables organizations to design custom workflows with event-based triggers to automate repetitive tasks. Freshsales allows teams to create custom sales pipelines based on geographies, team, processes or other criteria and maintain a product catalogue with pricing, discount and tax information. It offers a host of features like customizable email templates, sales goals management, predictive contact scoring, sales forecasting, audit logs, role-based access and more. Additionally, administrators can view and track KPIs, teams' performance, sales, client communication and other data via the analytics dashboard. Freshsales facilitates integration with numerous third-party applications such as Microsoft Outlook, PandaDoc, Xero and more. It is available on monthly/annual subscriptions and support is provided via phone, email and other online measures.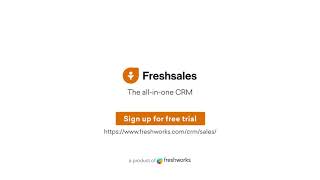 Freshsales has a free version and offers a free trial. Freshsales paid version starts at USD 15.00/month.
Pricing Details:
Free: Free for Unlimited Users Growth: $15/user/month billed annually (or) $18/user/month billed annually Pro: $39/user/month billed annually (or) $47/user/month billed annually Enterprise: $69/user/month - billed annually (or) $83/user/month billed annually
View Pricing Plans
Alternatives to Freshsales
Industry: Computer Software
Company size: 11-50 Employees
Used

Daily

for

1-5 months

Review Source
---
Easy On-boarding and setup, fast support.
We are too big for no CRM, but not big enough to implement the HubSpot and Salesforce CRMs of the world. We tried those systems thinking we needed the features and analytics, but the spend and maintenance for those systems are too high. Freshsales, Freshchat, Freshmarketer, and Freshdesk make a seriously well priced and powerful system full of the features we need to produce the right results: a good relationship with customers.
Freshworks' customer support is spot on. It seems no matter when I need help, they are less than a few minutes away from a solution. Freshchat is king! We've even deployed the same support structure on our website (Freshchat) and lead conversion has gone way up. It's nice to see a company have a product good enough to use themselves. I also like being able to achieve the same results for my customers as Freshworks has produced for me without major customizations.
Pros
I was able to easily onboard to this system from HubSpot and Salesforce. The features in this system just work. You expect something to operate in a certain way, and it just does. Mail and calendar integration is super easy and really responsive (I used both Office 365 and Google Integrations). I love email templates and sales campaigns, they make working with leads and customers so easy and are not tucked away in a corner.
The UX is much better than other systems, which means my salespeople are more likely to use the CRM, which is a common problem among salespeople and CRM systems.
Cons
Freshsales is right-sized for us. It lacks some of the major enterprise features of bigger CRMs; but you also don't have too many features right in the way.
I'm not a huge fan of the field paging UI on leads, deals, accounts, and contacts. I get that it makes it so you can add as many fields as you want, but it's hard to navigate and organize my screen just the way I like it. I resorted to using the Edit screen though, even when I'm not necessarily editing and that works well enough. Definitely not a big deal compare to all the other awesome features.
Industry: Cosmetics
Company size: 11-50 Employees
Used

Daily

for

1+ year

Review Source
---
If you need support, look elsewhere
In short, great app, downright awful support
Pros
Very easy to implement. Currently using FreshDesk, FreshCaller and FreshSales. Great integration, everything works quite well.
Cons
As long as you do not need help from support, you will be fine. Every time that I have contacted support it has unfortunately been very disappointing. Even the most basic question takes an inordinate amount of time to get a response. Specific issue on FreshSales that really was upsetting is the fact that under the blossom program you get absolutely no reports, zero. In order to get reports, you have to upgrade to the next plan, garden. The cost per user goes from 12 to 25 if you are on the annual plan or 19 to 35 on the monthly. It is really hard to understand why some basic reports were not provided under blossom. Yes, the app is very useable without reports, however, if you are managing a team and want to see data across users, forget about it. You need reports and will have to migrate to the next plan up. I cannot stress the fact that the support is just simply not a priority for them, for many folks this could be the one thing that will force them to look somewhere else.
Reasons for Switching to Freshsales
The decision to choose freshworks was for most part driving by cost.
Industry: Marketing & Advertising
Company size: 2-10 Employees
Used

Weekly

for

6-12 months

Review Source
---
Does the Job - Economical compared to others in the market
It is a good CRM for small organizations. It did the job but with a lot of limitations
Pros
Good all round CRM for small organizations loaded with lot of good features.
Cons
Reporting has limitations and the interface is not fluid compared to others in the market. Customer support is a challenge across Freshworks.
Reasons for Choosing Freshsales
Looking for marketing integration
Reasons for Switching to Freshsales
We took a trial and found it decent enough
Industry: Computer Software
Company size: 11-50 Employees
Used

Daily

for

1-5 months

Review Source
---
Legitimately the Worst CRM I've Ever Used
Our experiences have been lots of problems, no solutions.
Pros
They always remember to say "thank you for your patience" when telling us our support tickets haven't been resolved yet.
Cons
Off the top of my head:
The program will randomly delete calendar events, sending cancellations to prospects but not alerting the user. Multiple meetings were missed because of this. It's been 3 months since we reported it and no fix has been offered. Subsequently all the calendaring has to be done manually.
The email editor will randomly delete the line ahead when hitting the backspace key or the space behind when hitting the delete key. To make it interesting it will sometimes do nothing when you hit either key.
We have a report in the system showing overdue tasks. This report keeps pulling tasks that have actually been deleted from the system. There's no way to clean up the reports because you can't access the deleted tasks they are listing.
We just switched credit cards for the account because the previous was expiring. This came at the same time that they've extended us a credit because of all the problems we've had with the system. The result is that the invoice due is less than the minimum charge level on the card ($0.01 due, $0.50 card minimum). As a result they haven't been able to add the card and we keep getting a banner stating access is cut off in 2 days. They've stated this has been fixed but the banner is still there.
Those are just a few things... did I mention that if you take notes in the Notes section of a Calendar event the system will randomly forward those to the other party? Found out about that one the hard way...
Industry: Banking
Company size: 1,001-5,000 Employees
Used

Daily

for

1+ year

Review Source
---
Best high end software for sales manager and their team working in startups
There are many alternative sales tools out there but freshsales helped me in my initial days of lead generation, hence I will recommend this tool to those who have just started into marketing & sales department.
Pros
I was using this software for 1 and half year, I started with just live real-time chat service and now I have started using its premium features to manage my leads and sending them sales pitch and updates with easy campaign manager.
I loved the user interface which takes no brains to understand the features that you need to solve your purpose. I have used their reporting tools that helps me make decisions based on results I have got from campaigns.
Cons
I would love this tool if they provide integration with social networks too like Instagram and Facebook messages along with LinkedIn. Currently they have limited integration modules.
Also importing files takes much time then managing and sending them sometimes it got stuck and I need to reiterate everything again.
Reasons for Choosing Freshsales
tawk.to is much easier tool but its not beneficial for lead generation, its mostly useful for customer support or after sales service. Freshasales is all round tool that made me choose this software.