About Vagaro
Vagaro is a cloud-based salon, spa and fitness business management solution that allows professionals to book appointments and manage various facility roles. It offers an integrated solution to manage bookkeeping, payroll, client databases and inventory management, as well as featuring email and text notifications to clients and automated email marketing. Users can list available appointment slots, and customers can then look for salon facilities nearby and book appointments through Vagaro's website or the Vagaro app. VagaroPro, the business app, is available for Android and iOS smartphones. Users can create customizable promotional web pages to showcase upcoming events and special offers through Vagaro's website or connect with their customers through email and social media platforms. Customers can also create personalized profiles with their contact information, booking history and feedback. Users can keep records of their customer service histories and generate customizable reports with graphs and charts to track business performance, customer retention and more.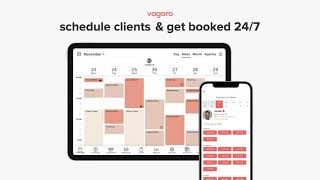 Vagaro has a free version and offers a free trial. Vagaro paid version starts at $45.00/month.
Pricing Details:
1 user: $45 / mo 2: $60 / mo 3: $75 / mo 4: $90 / mo 5: $105 / mo 6: $120 / mo 7+: $135 /mo
View Pricing Plans
Industry: Higher Education
Company size: 1,001-5,000 Employees
Used

Daily

for

6-12 months

Review Source
---
Good value for the price
Pros
I set this software up for a massage therapist shop. It was for an individual who needed to contract out 2 services, yoga and massage therapy. In order to do that, we had to buy 2 subscriptions what was sort of a pain. However, the ease of use of software was great. There's integration into yelp and facebook. It integrates right into your google calendar which is super important for people that are really busy. Also its way cheaper than mind body so that's a bonus.
They provide everything you need in order to setup a successful massage shop or whatever in fitness you are doing. They even take credit card for services. If you swipe it on your phone in the mobile app, it will ask you for a tip. On ipad, it doesn't.
Also vagaro allows you to rebook an appointment on the spot which I found very convenient for rebookings.
Cons
It was really hard to setup multiple services within the shop. I had to setup yoga and massage under 2 different employees but the same name, with 2 different google calendars. It was really messy. It works best when you have employees and can set them up under services they provide, if your solo and provide more than 1 service that aren't related, its hard.
Industry: Cosmetics
Company size: 2-10 Employees
Used

Daily

for

2+ years

Review Source
---
I love Vagaro
It's been great it is a great software for a great price can't beat it
Pros
I love Vagaro I have used many scheduling software and am picky about what to use because I need software that is robust. Vagaro and allows me to manage my business all in one place and it keeps getting better. Some of my favourite features are taking deposits to book appointments, Forms, branded app, booth rental management, reports, and classes. It is more than scheduling software it allows me to run all aspects of my business in one place which is why I love it so much. It is a must for any beauty professional.
Cons
Vagaro is constantly adding new features and always listens to users feedback to improve. It is one of the reasons I love it so much because they build it and improve constantly based on what users need.
Reasons for Switching to Vagaro
Inexpensive and had all the features I need. It is also innovative and constantly adding features so I know it only can get better. The other software choices lacked features and were too basic for my needs
Industry: Sports
Company size: 11-50 Employees
Used

Daily

for

1-5 months

Review Source
---
Great Product with FATAL flaw
Terrible. Absolutely horrendous experience. I strongly warn against using them, because, while they seem easy and great to use and get started, they have the potential to freeze your business in its tracks for something as small as a $1 test transaction. Don't use them, unless you are okay with risking all your revenues being frozen. Seriously, run. I know the software looks great, but there are others that will do the same stuff just as easily.
Pros
Easy to use, simple, great features. I own a large personal training studio and was able to set myself up on this app easily and it had ALL the features i wanted. Only problem is....
Cons
my account was flagged for suspicious because I ran a couple test transactions on my own credit card for $1. They will not unban my account, despite me providing tons of proof (bank statements, LLC certification, etc. etc.) that I am who I say I am and am a legitimate business.
So great product if you like setting up your entire business system and then having them shut down your payments (90k revenues per month from ~200 clients). Then they put you through a bunch of BS to prove you are legitimate, but then still keep you banned afterwards.
Response from

Vagaro

Hi Chris,

We're sorry to hear about your frustration with the merchant account setup process. However, your merchant account was frozen due to suspicious activity as identified by the banking provider. These security policies are in place to protect Vagaro businesses and customers, as well as to avoid potential fraud with our banking provider.

Due in part to money charged to your merchant account from your personal credit card which is illegal, and another card belonging to a customer you entered under your own name, while your account was under review, in addition to other factors, the banking provider decided it was in their best interest to not move forward with your merchant account.

We do not have any say over decisions that bank underwriters conclude.

As our customer support rep previously mentioned, you are welcome to continue using our platform for scheduling and reporting purposes, but unfortunately, you would need to find a third party for credit card processing.

Replied 02/06/2022
Industry: Health, Wellness & Fitness
Company size: 2-10 Employees
Used

Daily

for

2+ years

Review Source
---
Vagaro Love (it's a real thing)
Great, great. I love Vagaro. Like, sincerely hands-down I am fan all the way. It's format is user friendly for my clients and my staff to learn. The vagaro university on YouTube is so useful. Of course, their customer service rocks. The learning curve with my previous CRM was painful and long. Vagaro is a joy to work with.
Pros
The customer service. The majority of reps are great and very helpful. I also love the a la carte pricing, it makes it so much more affordable and you can add what you need as you grow. I also love how they are consistently adding new features. I also feel like they listen to user feedback and implement changes. Vagaro University on Youtube is great! The electronic forms are a lifesaver to help enforce our cancellation/refund policy. Thanks to Vagaro I could run my business with peace of mind and be seen as more professional by the public.
Cons
I wish the logging in part was faster for the client and also it feels like the experience is more on vagaro than our brand. I would like the option to create a brand app more affordable. Also, if a client already has an account from another user, it erases the information placed it by me and makes me start all over. I would also like the client to add their mailing address and date of birth on their intake. The mailing address is an important aspect of our marketing. I wish the star rating on employees could be a feature that could be turned off or on. At times, it makes it hard for newer therapists to get bookings.
Reasons for Choosing Vagaro
MindBody was terrible. The monthly price was ludicrous and expensive. They raised prices four times in one year without notice. All the "bells and whistles" they offered were so hard to use that it wasn't worth it. It was way too expensive for a start up. I hated the learning curve.
Reasons for Switching to Vagaro
Outstanding customer service, the learning curve was a quarter of what MindBody was. The price was so reasonable for a solo provider which is how I started.
Industry: Hospitality
Company size: 2-10 Employees
Used

Daily

for

6-12 months

Review Source
---
Two time user
Pros
I recently switched back to vagaro, they added some features that I wanted and decided of all the scheduling software I've tried, with the updates, this is the best solution out there. Easy to use, almost every option I need or want and pricing is comparable with others.
Cons
The pos tablet is expensive and often freezes, but the software itself is great!
Alternatives Considered
Squire
Reasons for Choosing Vagaro
I didn't like DaySmart at all
Reasons for Switching to Vagaro
The option to have both booth renters and commission employees