About ActBlue
Trusted by grassroots organizations, ActBlue is a free online fundraising solution that utilizes a single-click payment system and customizable branded forms to create online donation pages. With ActBlue's payment system, ActBlue Express Lane, organizations can easily embed links to fundraising emails, enabling higher conversion rates. For ongoing support, ActBlue provides a customer service team that handles all donation questions and issues. ActBlue provides an unlimited number of forms that can be branded to match any fundraising cause within minutes. All contribution forms are designed to be mobile responsive for any mobile fundraising campaign. In order to optimize forms for the highest conversions, built-in A/B tools are available for every contribution form. For ticket events, organizations can easily set ticket prices, add event details, and access guest lists for every form. ActBlue can integrate with major CRM platforms and real-time data integration providers.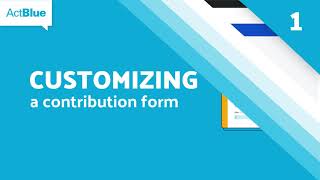 ActBlue does not have a free version and does not offer a free trial.
Industry: Government Administration
Company size: 2-10 Employees
Used

Monthly

for

1-5 months

Review Source
---
There's a reason its the standard
Raise funds for club organization.
Pros
Total donation management for campaigns. I also appreciate that donors are used to and expect this platform. I find that it makes the donation process more approachable when your donors already know the process. It makes it less awkward.
Cons
This is personal, but our organization took time to set up Actblue because the current board did not know if we were registered as 501c4 or c3 and that was required to begin.
Industry: Law Practice
Company size: Self Employed
Used

Monthly

for

2+ years

Review Source
---
Non-existent customer support for correcting errors
I have been using them for as long as they have been around and this is the first year that I have had this problem. Are they getting too big to focus on customer complaints? If they are making what I think they are making, they need to hire people to respond and take care of these issues.
Pros
Ease of use. Very easy to make donations
Cons
They have absolutely the worst record I've ever encountered in correcting charging errors. On two occasions their system doubled my donation and I let it go the first time because it was small, but the second time I went to their website and logged in and wrote THREE TIMES asking to have it corrected. NO ONE responded. Considering the algorithms available to financial websites today, there is no excuse for this double billing. They should have an automatic response whenever this happens and ask the donor if that was what they intended. Instead, they make inadvertent double billings EASY to happen and then WON'T CORRECT IT even when you complain! What is going on with these people?
Industry: Telecommunications
Company size: Self Employed
Used

Other

for

2+ years

Review Source
---
Never Had a problem donating or cancelling a recurring donation
Excellent way to donate. Easier than trying to locate an address to mail a check to.
Pros
The tool makes it easy to find specific persons or organizations for my donations. It even cancelled a recurring donation automatically when my favorite person dropped out of the race.
Cons
Nervous about it at first as I was not sure of the legitimacy. Good now though.
Used

Other

for

2+ years

Review Source
---
I used ActBlue to donate money to a political cause. It turned out to be a nightmare.
Pros
When things are working, they are a great idea to collecively service small donors so that they can have a collective voice in political and social causes.
Cons
They are known to turn your one time donation into a recurring donation without asking your permission. I had to cancel my credit card because there was no way for me to turn off the donation at their end. I tried to cancel my account with them and they refused to do it. There is really something wrong going on. Why politicans and social groups use ActBlue to manage their donation solicitations is beyond me. you cannot go online and stop or change your credit card that is being used for the last donation. Criminal behavior. Check out all the complaints online.
Industry: Accounting
Company size: Self Employed
Used

Other

for

1+ year

Review Source
---
You cannot trust these people.
I would NEVER donate money to a candidate via this organization.
Pros
Ease of you in doing donations.
That is pretty much it.
Cons
My experience has been that ACTBLUE is unethical in their practice of getting on-line donations for candidates. My husband was very ill and not thinking clearly. He wanted to donate money to a candidate during last years elections. Because he was not clearly I was checking our credit card charges routinely and noticed repeated charges by ACTBLUE in ever increasing amounts. I talked to my husband who was not clear on things but was adamant that he did not do donations as frequently and as in large amounts as were being charged against our card. I reached out to ACTBLUE via email and phone in an effort to explain the situation going on with my husband and ask them to delete him from their mailing list. They repeatedly promised to do so and for a few months we would be fine. Then again I would see more and more charges in higher and higher amounts. At that point my husband was so ill he was hardly out of bed much less approving these amounts. I finally had to send ACTBLUE a threatening letter which included the me having power of attorney over my husband's affairs. I also told them that if they did this one more time I would go to Senator Lindsay Grahams office (I live in SC) and explain that ACTBLUE was actively abusing the elderly and disabled, and that I imagined Senator's Graham's office might find that interesting. That I am a lifelong democrat but my primarily was to protect my family. That did seem to stop it.