About GoProof
GoProof is a cloud-based proofing solution that enables marketing teams to streamline processes related to creative collaboration, client relationships, video reviews, and more. It provides mobile applications for Android and iOS devices, allowing professionals to review and approve shared content using version-controlled workflows. Key features of GoProof include file export, version history, commenting, email notifications, language translation and reminders. It provides users with tools to edit submitted content and collaborate on web campaigns, advertisements or on-site video recordings. Additionally, using the insights reporting module, collaborators can track designers/clients' proofing activities, key performance metrics and time spent on tasks. GoProof integrates with Adobe Creative Cloud, enabling professionals to add clients and send/receive documents on a centralized platform. Pricing is available on request and support is extended via phone, documentation and other online measures.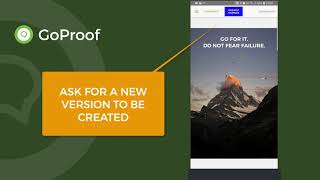 GoProof does not have a free version but does offer a free trial. GoProof paid version starts at USD 1,500.00/year.
Starting Price:
USD 1,500.00/year
Industry: Graphic Design
Company size: Self Employed
Used

Weekly

for

1+ year

Review Source
---
Great Proofing System on User End - still some simplifying required on client end
I love it! It has helped me streamline my graphics proofing process. I no-longer have to take my file into another file to create a low-res, watermarked PDF. I just click the client's name, and submit the artwork to their email - all from withing CC.
Pros
As a Designer, I love this product. It works as a plug-in to the Creative Suite - so when I'm finish a design or edit, I can easily send the project to the client... and when it's been reviewed, I can see their requested markups.
Cons
The only think I don't like (right now 'cause I know you will improve it further) is the fact that customers have difficulty understanding what is happening, and so I have to instead email them screen captures of the artwork for review instead.
My customers tend to be people who know their craft inside out, but don't know the digital design world. It becomes overwhelming for them. I get emails from a few asking why they have to sign up, etc.
Please find a way to make the end-user experience even more streamlined so its a simple as them looking right at the file from the link and no other confusing messaging.
Response from

Oppolis Software

Thanks Christina for the amazing feedback! The good news is there are ways to simplify the collaborator experience, such as allowing them to see work and sign it off directly from the notification email. We'd love to show you!

Replied 01/10/2019
Industry: Food & Beverages
Company size: 201-500 Employees
Used

Daily

for

2+ years

Review Source
---
Right out of Creative Cloud and into reviewers hands
The ease of use for everyone who touches GoProof is a huge benefit. Also, we're making fewer errors, if there's a comment, it's easy for us to see what's been addressed and what has not.
Pros
I love that our creators can push their work directly from the Creative Cloud software to their reviewers and access their proofs in the software, no need to toggle to a different program to read the needed changes. Our reviewers love the easy commenting tools and that they can review projects where ever they are.
Cons
For big files, publishing the proof can lag. Sometimes, my users wonder if it stalled, but if they're patient, it always goes through.
Response from

Oppolis Software

Thanks Sarah, we're glad you like it! And we're working hard every day to make it even better!

Replied 14/08/2019
Industry: Retail
Company size: 501-1,000 Employees
Used

Daily

for

6-12 months

Review Source
---
Web Platform Ok, App Needs Work
We operate 30+ retail locations in four states with each store having a separate manager that we rely on to review our weekly, bi-weekly and monthly print advertisements. GoProof provides us an easy-to-use, central platform that allows us to efficiently communicate, collaborate and share creative that would otherwise have to be distributed via email.
Pros
The tool helps to keep our proofs organized by client and/or project type and it is very easy to use.
Cons
One gripe we get all the time is that the app doesn't refresh when a revised proof is uploaded. This could be user error and/or just part of our situation, as many of our project stakeholders are working away from the office and w/out a wifi connection.
I also wish there was a check box of some sort next to each comment so edits can be marked completed once they've been made. As of right now, it seems the only way to ensure something has been done is to leave a comment.
Response from

Oppolis Software

Thanks for the review and feedback Andrew! The great news is you can check off edits as you do them. Here's how you do it https://www.goproof.net/adobe-creative-cloud-designers-can-mark-requested-changes-as-done-or-not-done-and-give-reasons-why/

Replied 10/10/2019
Industry: Real Estate
Company size: 501-1,000 Employees
Used

Daily

for

1+ year

Review Source
---
GoProof Review
I really do enjoy using GoProof and it has made our proofing and editing experience with our clients much more efficient then emailing back and fourth.
Pros
I really love that it works right in our Indesign, other competitors we have looked at make you upload your proofs to an online platform every time.
I also like that you can send reminders, and it's super helpful that Clients are able to attach documents, photos, etc. to their edits.
Cons
The app doesn't always show the Client the most up to date version of the proof.
We aren't always made aware if there is a glitch in the program and the proof doesn't get sent through.
There is no way for us to edit a Clients email address, the resolution we found for this is to edit the client and re-add them, this isn't the easiest resolution.
Response from

Oppolis Software

Thanks for the awesome feedback Laura. Feel free contact our Customer Success Team to discuss versioning and we'll dive in!

Replied 26/09/2019
Industry: Real Estate
Company size: 201-500 Employees
Used

Daily

for

2+ years

Review Source
---
Great Product
Overall very pleased with the product. Wish it had more customizations but I understand this is still a small company and hopefully those will happen later.
Pros
How easy it is to send clients design proofs without the extra emails in between. All comments and revisions are handled directly in InDesign.
Cons
It loads slowly - and sometimes you have to restart the Extension within your programs.
Response from

Oppolis Software

Thanks for the great review Candie! We're working hard to keep improving speed and stability. Please contact our Customer Success Team if you have specific cases.

Replied 26/09/2019