About Weave
Weave is a comprehensive software solution that includes a web-based phone system, a two-way texting function, customer insights, payment processing, plus more. This solution was built to help businesses with customer communication and growth. Weave's phone system intends to help businesses tackle busy call times while maximizing opportunities throughout a customer's journey. Weave provides a dedicated business line with up to 10 Yealink phones, which include call recording, tracking, and forwarding capabilities. Additionally, Weave's customer insights feature allows teams to see contact information when a customer calls, which includes previous interaction notes, upcoming appointments, account balances, plus more details. And, Weave's messaging function allows teams to send texts to customers for appointment reminders, office closures, follow-ups, etc. Weave offers a mobile app that is compatible with iOS and Android devices. Pricing is on an annual subscription basis. Support is available via phone, email, and live chat.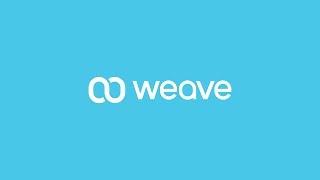 Weave does not have a free version. Weave paid version starts at USD 1.00/month.
Starting Price:
USD 1.00/month
Industry: Hospital & Health Care
Company size: 2-10 Employees
Used

Daily

for

1+ year

Review Source
---
One of the best things we have done for our practice!
Our experience has been great. Customer service is easily accessible and ready to help you. It has cut back on our time spent reminding people of their appointments and made communication with our patients so much better!
Pros
We love that we are able to easily text our patients about upcoming appointments, when their glasses or contacts are ready, and just communicate in general! It saves us a lot of time and in this age of texting, our patients love it too!
Cons
The only thing that we don't like about the software is the ability for the software to make phone calls for us to the few people who don't receive or want to receive text messages. We are a practice with older patients and some of them just don't do text messaging.
Industry: Health, Wellness & Fitness
Company size: 2-10 Employees
Used

Daily

for

2+ years

Review Source
---
Great product, support is lacking
Good, we love the features and functionality. We use it everyday and our practice has greatly benefited from it.
Pros
We love the mobile app, two-way texting, call recording and automated review system. Overall, we are very happy with Weave.
Cons
The support is seriously lacking. I've had multiple minor issues that Weave support has failed to address or fix. For example, we have had problems with patient photos being taken out of our practice management software by Weave. No one at Weave's support was able to help with this problem and they eventually gave up. Some add-on features are too expensive. Fax should be available for much less than $50 per month. The dashboard metrics add-on would be great but it's overpriced.
Industry: Hospital & Health Care
Company size: 2-10 Employees
Used

Daily

for

2+ years

Review Source
---
Favorite feature is the Text!
Weave has been a big help with our practice. It has smoothed many things out for us in the normal office setting.
Pros
I love the ease of texting feature. Most patients these days would rather answer a text at their convenience than a call.
Cons
The confirmations weren't working well with weave so we switched to another software for this. Looks like it is a patient problem about phone numbers changing constantly.
Industry: Medical Practice
Company size: 2-10 Employees
Used

Daily

for

1-5 months

Review Source
---
When my phone number was transported over to Weave they did not have my number working for 2...
[SENSITIVE CONTENT HIDDEN] and the rest of the company are not fully trained in both how to set up your phone line or the phone and how to use their system. I called customer service 8 times today to be hung up on. So I finally called the sales line to get an answer. There online help support didn't have access to the PIN number. So i have asked for a phone call back like I did two weeks ago left on the online help support message and the phone does not take messages. The help center through the sales department didn't know that PIN
Pros
I was sold on all I was told is was going to do for me and my business. None of it true. There is no phone personal message even thought I have set one up both on the phone and on line. There is no forwarding the call to my cell phone number. The training videos do not cover how to set up call forwarding and text messaging that me or my office staff understand.
Cons
I had no phone service for 2 business days. We I called my assigned customer representative she didn't care that I had no phone service. She even called the number the next day and couldn't get through as the phone service had not been turned on by Weave. They did not send us a cordless phone that we ordered, they sent 5 separate phones which would ring randomly in set up in different rooms. You could not answer the call in the room you were in I had to leave a patient and run into another room to answer. the video she sent us to set things up was a different model. Afterall of this I decided to take my numbers to my prior service. They will not give me the information to do so. I explained I was going to do this and why. I had to call back to get my account number which took me several phone calls and waiting on hold to do. I explained why I need the account number. I sent the signed consent off to my new phone service, it was refused as they now needed a PIN number. This is odd as no one at Weave knows anything about PIN numbers. This has been going on for two weeks now.
Industry: Hospital & Health Care
Company size: 2-10 Employees
Used

Daily

for

1-5 months

Review Source
---
So far, so good!
Great experience, great to be able to access all systems from the app and great to have the phones so integrated with our software. Makes patient communication very efficient and more personalized.
Pros
Weave app is easy to access from home.
Lots of platforms and features to improve office systems and communicate with patients.
Cons
Some integration issues initially but customer service has been very helpful in getting our office set up.
I have heard that some offices have issues with the phones occasionally, but this has not been the case yet in my own experience.